Building a site without SEO is like building a road without direction. Although your content is to benefit people, without optimizing it for SEO, there is no path to reaching them.
Without proper content optimization, you miss out on all the good stuff, like ranking, page visibility, lead generation, and traffic, as well as your desired call to action.
Here are our top 6 content optimization tips for you to create content that wins.
What Is Content Optimization?
Content Optimization is making sure that any content written is perceivable by search engines, so those search engines can present them to your target audience.
6 Content Optimization Tips To See Your Rankings Skyrocket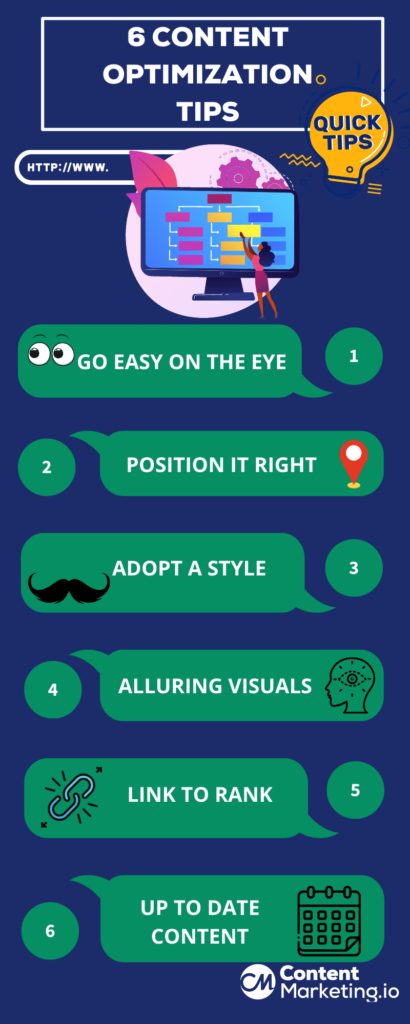 1. Go Easy On The Eye
Structuring your content is the only way to make your content easy for people to skim through. According to an article in Times Magazine, a blog approximately holds only 15 seconds of attention for an average reader. 
To make your content more appealing to the eyes, structuring it is your go-to method. Break down your content in a logical way, using heading tags, like H2, H3, or H4. These headers make the information more laid out for the readers.
With the span of attention becoming less and less, typing smaller paragraphs makes more sense. Put important information in bullet points, use comparison tables and bold the keywords that need your readers' attention.
3. Position It Right
This content optimization tips is all about keyword placement. For search engines to see your articles, you should place your keywords in all the right places. Here is a list of must-finds of your primary keyword: 
TitleTag
Headers, like H2, H3, and H4
Throughout the content
In the introduction and conclusion
Page URL
Meta description
3. Adopt a Style
No matter what, your content should not beat around the bush, and should be clear for the audience. But, each blog can have different styles based on the criteria. While writing any topic, first check if it can fetch information enough for a whole webpage.
Search engines only recognize high-quality content, so mere fluff is not going to do you any good. Your content should be witty and can have puns, but not so much that it confuses the readers and derails from the original perspective.
Instead of using long, clumpy sentences, break them into clear, shorter ones. Long sentences tend to lose the attention of the readers. Overdramatizing your content with difficult words might seem eloquent, but your readers are not going to be impressed by words they don't understand.
Use simple words, but put them in a way that attracts your readers to your writing style. You can include quotes from famous people or even add case studies, success stories, or experiments to jazz up your writings.
4. Alluring Visuals
Visuals are the most important element in content. Among other content optimization tips, they have the power to do what even a good article cannot, which is to hold the readers' attention. Any content that is interwoven with captivating visuals can bring in more views. 
You could let your creative side run wild with infographics, photos, GIFs, graphic quotes, or even memes. Videos are also a great addition to your webpage. Not just your readers, but search engines are also a fan of visuals, and they help your page rank higher.
It is not just your content that needs to find ranking in SERP, your images also can rank and bring readers to your blog. Use unique images, image captions, and alt tags so that these search engines can easily perceive what your images are about.
5. Link to Rank
Linking is one of the best things you can do to make your website rank well. This includes both internal and external links. Internal linking is when you link articles from your own blog. This helps your readers easily find other relevant content on your website.
Linking articles that are already performing well on your website can also pull up the ranking of the newly published page. Have beneficial anchor texts to direct your audience toward the answer to their queries. 
Backlinking to authoritative sites is also a very powerful way of escalating your page's ranking. While backlinking, keep an eye on do-follow and no-follow links. Do-follow links are those that pull up your page rankings so make sure to include those first.
6. Up To Date Content
Revising old content can aid in keeping up its position, or even in pulling up its ranking in SERPs. You can revamp your content by improvising it with fresh information that is on trend, change all the dates to recent ones, and revise the products if it is an article on products.
While updating your page, you should check if there are any broken links, the site of your page, if the images and videos load correctly, and if the redirected links are proper. Outdated content is pushed down to the bottom as search engines find your blog inactive.
Keeping your content fresh is highly essential so that you don't lose out on your rankings. Make sure that your team is dedicated to revamping old content every now and then, as well as keeping it in the best shape.
Frequently Asked Questions:
How does social media help with increasing traffic?
Although there is no direct connection between social media sharing and rankings, it helps redirect the audience to your blogs. Social media posts generally fetch a large audience, so by leveraging that, you can promote your blog and gain an audience for your site. 
What are do-follow and no-follow links?
Do-follow links are those that link to an authoritative website while no-follow links do not transfer the signals of PageRanks.
What is off-page optimization?
Off-page optimization is inputs that are made apart from your blog to increase your site's rankings by generating essential backlinks. 
Optimize To Rank
Content optimization should be at the top of your list of content strategies, owing to its powerful part in skyrocketing your rankings. With the content optimization tips we have mentioned above, boost your rankings and see your traffic start rocketing. 
Suggested Reads: