Are you familiar with AI tools for content marketing? You probably already know how AI tools can assist you with creating content and improving your writing process. Here's a detailed view of Al's content marketing tool if you answered no.
Most marketers follow the latest trends in content marketing, such as Al tools for content writing, blogging, and copywriting. Nevertheless, some content writers feel that Al tools reduce the quality of their work, but AI tools can help you produce high-quality content quickly. Ultimately, it assists you in your content marketing strategy.
This article aims to guide you through 6 AI Tools for content marketing worth checking out.
Related Posts
Table of Content
What Is AI?
The term "artificial intelligence," or "AI," refers to the capacity of a computer or a robot to be programmed to perform duties that ordinarily require human intelligence and judgment.
What Is AI for Content Marketing?
Content marketing is an essential marketing strategy for all businesses. However, the procedure takes more time to produce excellent and pertinent content for your target audience. By providing data analysis for content creation, optimization, and distribution, AI can assist you in this stage of time management and workload reduction. This can result in the distribution of high-quality content to your target audience.
How is AI Used for Content Marketing?
You might think that, as a content writer, you spend more time doing research than actually writing the content. AI can give content marketers the information they require to create their strategy.
The Application of AI for Content Marketing
Here are a few examples of AI applications that use content marketing.
1. Develop Your Buyer Journey
An excellent content marketing strategy begins with understanding your target audience. But sometimes, it is challenging to find who your target audience is and where they are standing in the marketing funnel. As a result, AI can assist you in evaluating predictive data and providing relevant content that aids in the buyer journey process.
2. SERPs
Companies want their websites to appear on the first page of search results. Using AI tools, you can find the relevant keyword that ranks your page first and increases engagement.
3. Creation of Content
It is challenging to give the relevant content within the due time. AI helps you reduce the research, analyze the time, and give relevant content ideas based on where your audience is in the funnel stage.
4. Editing Content
AI tools assist in checking the article and identifying the errors you made because sometimes, when we write, we make mistakes but forget to go back and fix them.
5. Unique Landing Page
Here are some secret tips for converting your website visitors into your leads by providing a timely, specific, and relevant landing page. By tracking your visitors' interests, demographics, purchasing patterns, and other data, AI tools enable you to create personalized landing pages that increase conversion rates.
AI Tools for Content Marketing
Here are some of the AI tools for content marketing to boost your content marketing strategy.
1. Grammarly
Every piece of content you create should be error-free, engaging, and relevant to your target audience. With this knowledge, Grammarly is a fantastic AI tool that can assist you in producing excellent written content with faultless spelling and grammar, maximizing the use of each word. Additionally, it checks for plagiarism and offers alternatives for overused words.
You can download Grammarly for free or pay a premium subscription. There are limited options in the free version, as usual. The price of the premium versions starts at $12 per member per month.
Pros
Grammar checking in real-time
The explanation is simple to understand.
Easy to understand and use
Cons
Some platforms do not support it.
It occasionally overcorrects and suggests things without thinking them through.
2. Scoop. it
Scoop. it is an effective way to boost lead generation and website traffic. It is the best AI tool for content marketing management, sourcing content, publishing it, and measuring ROI. As a result, your brand can develop within your professional networks, your website's SEO is enhanced, leads are generated, information is found and shared throughout the company, and brand awareness is created and maintained.
Scoop.it is available in free and premium versions. The price for the pro version is $14.99 per month, billed annually.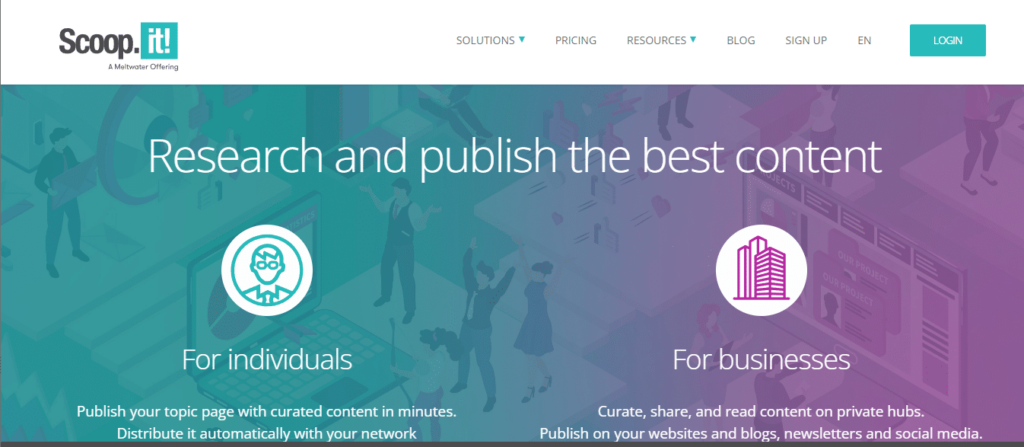 Pros
Scoop.it is a platform for content curation that you can use to market your content and connect with your target market.
Finding good content is quick.
Cons
It is not simple to use. You must educate yourself before using it
3. Writesonic
This is an AI email assistant that allows users to read through all of their emails much more quickly to save time. In addition, it facilitates the creation of blogs, product descriptions, and advertisements. This AI programming is the perfect marketing copy.
You can sign up for a free trial if you are a new user. Monthly fees for the premium plan are $12.69.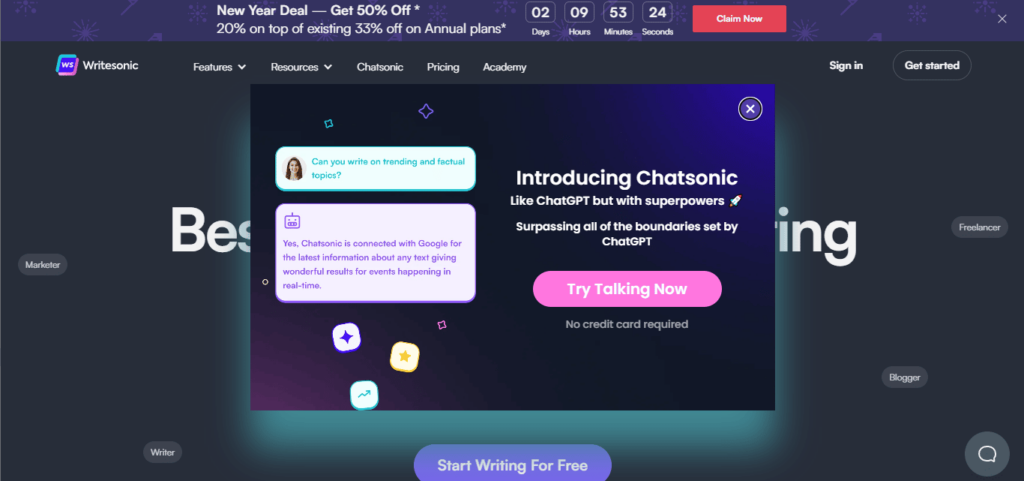 Pros
The program is easy to understand.
It will create a title and content in a short period of time.
They have a promo code that can save you up to 60% off.
Cons
The free trial includes only ten credits.
The quality output is not consistent.
It does not always strike the right tone.
4. Jasper.ai
Jasper.ai is one of the top tools. It is a copywriting tool that gives users the power to create content with high conversion rates using AI. It can save you time by creating clever copy and attractive headlines.
You can try it free for five days, and the premium price starts at $29 per month.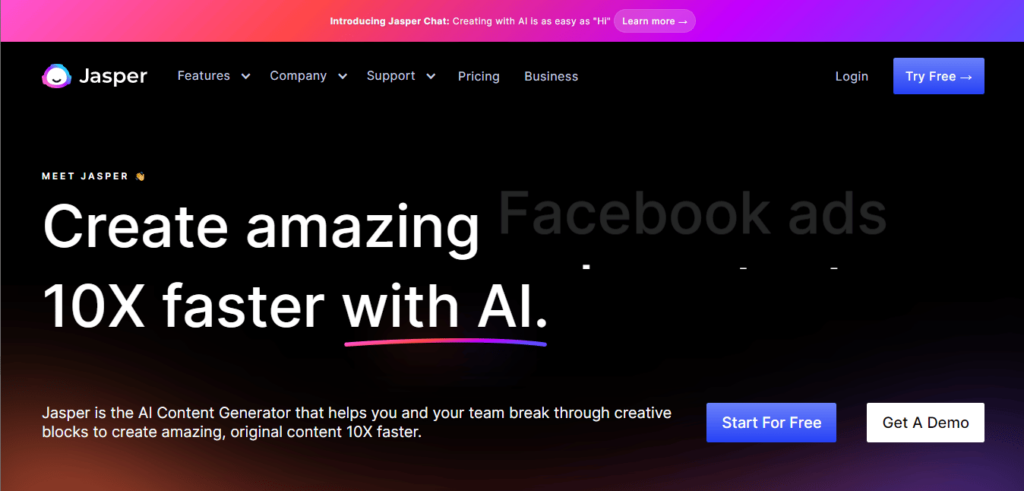 Pros
The content is considerably accurate.
You can Integrate it with surferSEO.
It can translate more than 25 languages.
Cons
It takes time to understand how this software works.
Sometimes, the resulting content is inaccurate.
5. Market Muse
This artificial intelligence (AI) content marketing tool can assist you with optimizing your content, raising publication rates, and choosing the proper focus keyword. It is the ideal tool to assist you with search engine optimization. The program creates briefs for you to follow and examines your posts to determine what you must do to enhance content optimization.
Market Muse offers free seven-day trials with no restrictions; the premium version costs $79 per month.
Pros
It can help you to improve the quality of your SEO campaign.
It automatically generates keywords and will review your content in real time.
AI tools use tremendous data to produce suggestions for your content briefs.
Cons
Market Muse is expensive.
The program cannot automatically generate content.
It can be difficult to work certain keywords with content.
6. Clear Scope
This tool cannot automatically produce material for you, but it can aid in content optimization. The application can generate briefings that propose keywords for you to use. Additionally, it will draw attention to particular terms that belong in headings. Even connections to some of the top rivals and ideas for content-related issues to address are provided.
Clear Scope offers a free trial. Clear Scope Essentials costs $170 per month, while Clear Scope Professional costs $350 per month.
Pros
It researches your competitors.
It evaluates and grades your material.
Cons
It can take a long time to generate keywords for your content.
When compared to other applications, it is more expensive.
Frequently Asked Questions
1. What are the three domains of AI?
The three domains of AI are formal, mundane, and expert tasks.
2. How is AI content generated?
AI-generated content, such as blogs, marketing materials, articles, and product descriptions, is written by machines.
3. Is AI content good for SEO?
AI is a great tool for data analysis, which plays a big role in creating an SEO strategy that works.
4. How does AI benefit content marketing?
AI can exploit data. Your material becomes more polished and web optimized, and as a result, more people visit your website, increasing traffic and revenue.
Final Thoughts
Using AI solutions in your content marketing can give you a competitive advantage that you may not be able to get from traditional marketing methods. You should now have a better understanding of the top AI technologies to support your content marketing efforts.
Similar Posts