Audience segmentation assists you to bring order to the disorganization of Modern consumerism. With a clear-cut understanding of your target audience, and knowing how they behave and spend their time, you can influence the way to obtain and locate the best team to target and give them the best customer experience.
Let's have a look at Audience Segmentation.
What Is Audience Segmentation?
Audience segmentation is a major activity in analyzing audiences. It is the procedure of splitting a larger group into smaller groups based on similar needs, characteristics, and values. These segments can be used to produce more targeted campaigns and custom-made messages that reverberate with your target audience. Segmentation makes firms 60% more likely to understand customers' challenges and concerns.
In general, Audience segmentation is the process of developing useful audience groupings using consumer data. Delivering marketing messages that are pertinent to the reader is the goal of audience segmentation.
Why Is Audience Segmentation Important?
Audience segmentation helps to take your Marketing strategy from standard to extraordinary. Let's see why audience segmentation is more important for marketing with its key benefits.
Boost Your Focus
Taking on one approach for every individual hardly ever hits the mark. To ensure that your marketing is effective, audience segmentation enables you to focus on your target audience, delve into their interests, and comprehend what they want from you.
Ensure the strategy is customer first
What is the best way to reverberate with your audience? Stop thinking that your thinking works with the customers and use audience segmentation data to guide the lead. Discover your audience's distinct characteristics and apply these insights to elevate your upcoming campaign.
It reveals fresh possibilities
Understanding the differences between audience segments and identifying unique idiosyncrasies might help you develop new content and partnership opportunities.
Assume you are a cloth brand company looking for fresh sponsorship opportunities after your previous effort was unsuccessful. You learn through audience segmentation that one of your target categories is unique in that they follow handball and are more likely than the average person to listen to podcasts. This helps you decide where to place your ads and creates a new network of partners with whom you can collaborate, giving you new and interesting ways to engage this audience.
Competitive advantage
Knowledge is power. The more you learn, the more you can execute it. Keeping labels on your customers and knowing what's going on in the world can aid you to identify trends and act fast, letting your contestants go after you.
Helps to attract and hold onto the correct audience
If you know what your audience likes and dislikes, and where they spend time online, you have the chance to create the content they love.
Types of Audience Segmentation
To get started, you have to choose what your audience analysis centers on. There are multiple ways to segment the audience. The most commonly used types of segmentation include:
i) Behavioral Segmentation
Behavioral segmentation talks about the actions people take hold of. This may be their shopping preferences online, usage of social media, games, or the preferred devices they use.
ii) Psychographic Segmentation
This segmentation deals with the clues of wider perceptions, interests, and mindsets of the audience. For example, why they dislike certain labels, the audience for certain genres of movies, or their lifestyle.
iii) Demographic Segmentation
Demographic segmentation works on describing outward-facing attributes of an individual, like age or marital status. It's great to work if you are seeking a high-level view. It's a wonderful approach if you want a top-level view, but you can get much more granular by combining this kind of segmentation with others.
iv) Geographic Segmentation
This clarifies the location of your target market. From continent to zip code, you can make this as broad or specific as you like.
Steps To Do Audience Segmentation:
Here are some steps to help you make the most of audience segmentation now that you've selected what you want to focus on.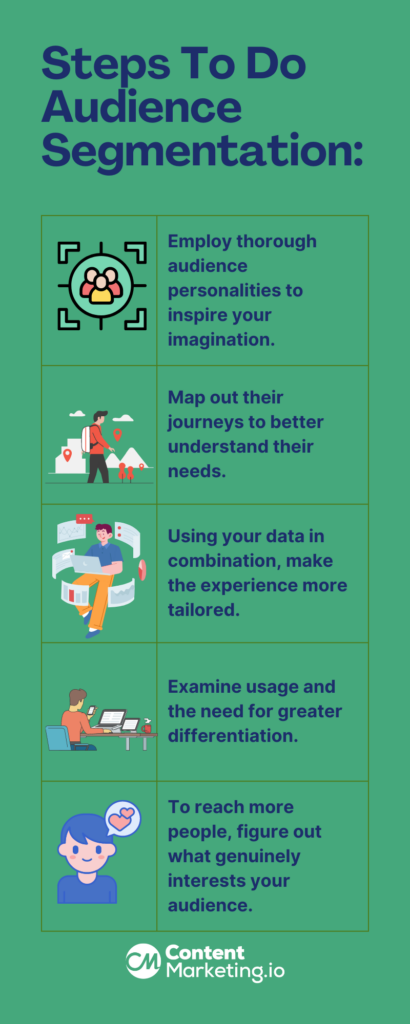 Step 1: Employ thorough audience personalities to inspire your imagination.
Start with the primary group of demographics that describe your audience, such as age, geography, race, or family size.
These indicators are a good foundation, but you need to build on this data with insight into behaviors, preferences, and affinities.
You can create more focused ads, and increase engagement by combining these target personas with knowledge of the platforms most effective for reaching a certain group.
Step 2: Map out their journeys to better understand their needs.
Consumers pick the goods and services that best suit their demands when deciding between many options. The majority of audience segmentation technologies concentrate on behavioral analytics. However, going beyond past data and extending lets you foresee what your audience might do next.
With this knowledge of what motivates people, you can use data and insights to build out specific customer journeys that inform you how and where to convey your message for maximum impact, including channels, social media platforms, and different formats.
Your chances of directing the buyer to the following stage will considerably rise if you create tailored content for each stage of the journey.
Step 3: Using your data in combination, make the experience more tailored.
Now that comprehensive data is available, audience segmentation can be improved to achieve far higher levels of personalization.
With qualitative personas and quantitative data to support them, you can develop marketing campaigns that you are confident will be successful with the intended audience.
Step 4: Examine usage and the need for greater differentiation.
You can better understand what your target audiences desire and how to stand out with your offer by segmenting your audience based on usage and demands.
If you offer a variety of goods or services, segmenting your audience based on the various ways they might utilize them can be very effective.
Assume that you are a car manufacturer with several different models available. When choosing which market to target for each model, you need to be aware of the various motivations consumers have for owning a car, how frequently they use it, and what matters to them most when purchasing a new vehicle.
You might have a group of Gen X professionals who mostly use their car for commuting and another group of millennial parents who need a larger, mid-range vehicle to transport their kids back and forth to school. This method also aids in locating new audiences with comparable demands, so that you can develop a message that will appeal to a broad range of customers.
Step 5: To reach more people, figure out what genuinely interests your audience.
You must understand what appeals to each of your audience segments, as well as how their habits vary across channels if you want to expand your reach.
Finding out what works for various audiences is essential when it comes to marketing. You can make sure you're targeting your customers in the proper places by using key data about media habits, such as the fact that Gen Z vacationers are 44% more likely than everyone else to say social media posts have an impact on them.
Additionally, tracking targeted content enables you to observe the timing and manner in which various audiences are engaged, providing you with information that can be used in future campaigns and segmentation.
Frequently Asked Questions:
Can audience segmentation enhance marketing?
Audience segmentation works on breaking big business target customers into small groups based on a specific basis. Segmenting target customers into subdivisions can aid businesses to convey extremely applicable and aimed messaging, and raise commitment and discussion.
What is the purpose of audience segmentation?
The main purpose of segmenting the audience is to split larger audience groups into smaller groups with similar interests, so the marketing campaign can reach and reproduce with target segmented audiences.
In a Nutshell
Companies can better pinpoint their target markets and tailor marketing strategies by using market segmentation. Because of this, maintaining competition requires market segmentation. It enables you to comprehend your customers, foresee their demands, and take advantage of expansion prospects. With the help of this effective strategy, you may enhance your ability to make decisions, your marketing initiatives, and the financial performance of your business.
You now have the opportunity to put audience segmentation into practice, since we have covered everything there is to know about it. However, bear in mind, it may take some time for segmentation to produce the desired results. As a result, you must exercise patience at all times.
Suggested Reads,
5 Social Media Challenges for Content Creators
Blockchain Content Marketing – Beginner's Guide