These Content Curation Tools will be your next best friend!
Curating an art gallery, or curating music for a soundtrack sounds super cool, doesn't it? But guess what's just as cool? Curating content! And no, I am not saying this because I am a content marketer myself (well, there is a slight bias but what I am saying is true nonetheless). These days, content curation has proved to be both cool and important. If you think the same and what to curate content yourself, then the Content Curation Tools that we will be listing in this article will definitely be of help to you.
But before going into the tools that will help you curate content, let's have a brief look at what content curation is, shall we?
What is Content Curation?
According to the Merriam-Webster dictionary, curation is the act or process of selecting and organizing (something, such as articles or images) for distribution or publication.
Similarly, content curation is the process of gathering information relevant to a particular content or area of interest. Usually, the content is curated with the intention of adding value. Content is curated by finding material relevant to your audience from a variety of sources and sharing it strategically through your communication channels. Once you select the content and curate it, you can publish the curated content through different channels. The curated content can be published via social media, newsletters, or even YouTube videos.
You can choose what it means to publish your curated content after you finalize the list of content that you believe your audience will find most valuable.
Now that you know what content curation is, let's take a brief look at why it is significant and the benefits of this approach.
The Significance of Content Curation
Adds Value: One of the biggest significance curating content holds is that it adds value to your audience. Even though the internet is filled with so much content, most consumers don't have the time (or the desire) to sift through them. That's where you come in. After you figure out what matters most to them, you can curate the content and present it to them in a perfect bow. Who wouldn't want that?
Builds Trust: When you curate content your audience sees that you understand them and know what they want. Thus, as you deliver great content, your audience starts to trust you and see you as a thought leader.
Saves Time: Creating original content can be time-consuming. While curating content though, you are sourcing content from others (while giving due credit, of course) all the while providing value. Thus, curating content is a lot less time-consuming.
Easier: As mentioned earlier, curating content doesn't take as much time as creating original content. And because you are sourcing other content, it is easier because you don't have to start from scratch.
What makes content curation a success?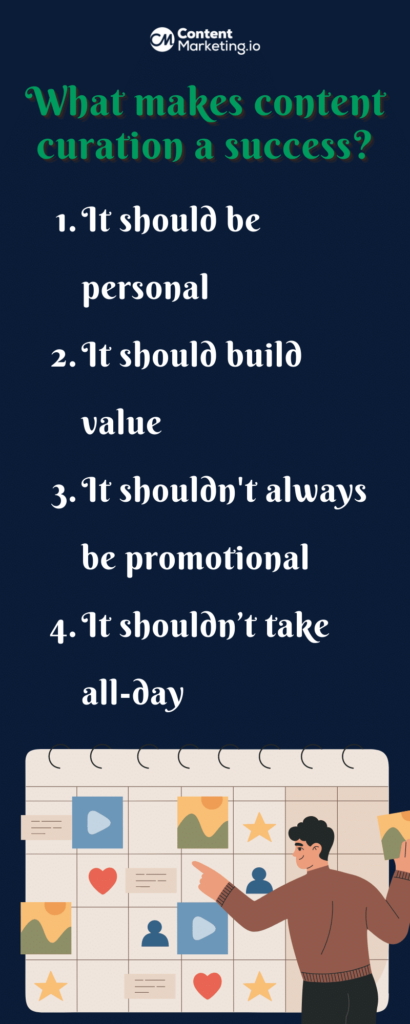 It should be personal: When your audience sees your curated post they don't want a bunch of browsable links, they want to know why they should read the stuff, and how it pertains to them. Once they see that the content you are curating is personalized, you develop a type of bond with the audience.
It should build value: The main reason you curate content is to add value to pre-existing content. No matter which industry you work in, your audience wants to stay informed all the while saving time. Thus, when you give them pockets of information that is relevant to your audience through your curated content, your audience trusts you. This way content curation provides you with a massive opportunity to build relationships with your audience.
It shouldn't always be promotional: Let me tell you one thing, customers don't like it when brands ceaselessly promote their own wares. Thus, brands must start thinking beyond their products. Today, the relationship customers have with brands has transcended the product itself. I mean, isn't that part of the foundation of inbound marketing? Thus, it is important to keep in mind, whenever you curate content, don't always think of promoting your brand. Rather, think of the value you can provide your customers.
It shouldn't take all day: Once you've decided to curate content, the hard part begins gathering content. Despite that, it shouldn't take you a whole day to curate content.
The Best Content Curation Tools
If your company occasionally shares relevant posts with your customers, you're already curating content. But if your business is trying content curation into a scalable strategy, listed below are content curation tools that will help you start getting in the habit of curating content. Now, let's dive right in and look at the best Content Curation Tools, shall we?
Flipboard
Flipboard is an application that can be used via mobile and desktop. The application allows you to create mini-magazines with links to your favorite articles, news, stories, blog posts, and websites. With a few clicks, you can curate a mini magazine and open them up to the public. This way, consumers can follow your content and other forms of social media.
You can include the original content that you have published (blog posts, social media posts, and other links) as well. This can prove to be very helpful for your business because your consumers get to learn more about your business.
Flipboard allows you to look through magazines created by others. You can use those magazines as inspiration and create your own. You can share their stories in your own curated publication with a quick tap. To start using Flipboard, all you need to do is install the app and create an account.
Curata
Curata is considered one of the best content curation tools because it recommends published content that is relevant to the content of your business and audience. This will not only help you discover relevant content but also save time because you get content without manual labor. Curata users can fine-tune, customize, and categorize the content they want to curate.
What's more, you can use Curata's publishing and promotion tools to publish your curated content across your website, social media accounts, newsletter, and automated marketing platforms.
Elink.io
When you curate content from various websites and share them, it is key that the content you have curated is presented to your audience in a neat and well organized. But doing this can sometimes be a pain and time-consuming, and the whole point of content curation is to make it easier. That's where elink.io comes in.
Elink.io is considered one of the best content curation tools because it allows you to save links on the go and turn these saved links into presentable, shareable, and beautiful curated content. What elink.io does is convert the links you have saved and embed them on a website or send them as a newsletter. What's more, elink.io has thirty-plus responsive templates that you can customize to your heart's content. A tool that makes everything easier, elink.io is a tool that you would definitely want to use.
Twitter Lists
Okay, as fun as Twitter is, once you leave the app without saving, liking, or retweeting the tweet, you are likely never to see that tweet again making Twitter an application that can be hard to keep up with. But what if you can organize the accounts you follow? That's where Twitter Lists come in. Twitter Lists helps you to curate Twitter users you follow into groups. What's more, you can categorize these groups and follow them separately from the rest of your feed.
How does this help in content curation, you ask? Let's say your business wants to curate marketing content, you could easily create a Twitter list for newsletters, another for email marketing, another for blogs, and so on. And because you have the option of showing your list to the public, your followers 9who are most likely to be your audience) and your target audience can see and access the curated lists you have created and what's in them. This makes Twitter list one of the best free content curation tools.
Newsletters
If your business shares content about a lot of things then newsletters are the best option. Anyone who has been on the internet long enough must have heard of BuzzFeed. While they are most famous for their quizzes and their content about all the trending buzz, they are also famous for their diverse Newsletters. BuzzFeed has curated Newsletters that are targeted to specific audiences. You can use them as inspiration to create your own newsletters that are filled with curated content that you believe your audience will like to see.
Be on the lookout for newsletters that are specific to your industry. If you don't see a good one, create a strategy that will make sure that your curated newsletter is better than the rest. Curated newsletters that add value to the consumers are often subscribed to and sought after, making them one of the best content curation tools.
Frequently Asked Questions
What are the 5 Cs of Content Curation?
The five Cs of content curation are as follows: collection, categorization, critiquing, conceptualization, and circulation. And with the content curation tools listed in the article, you will be able to create the best content.
What are the 3 R's of Content Curation?
The 3 R's of Content Curation are  Recent, Reliable, and Relevant. By using the right content curation tools, you can curate reliable and relevant content for your target audience.
What is digital curation?
Digital curation is the organization, management, and preservation of digital data over a long period of time.
Which Tool Do You Think Is Right For You?
Before you select the best content curation tools for your business, it is important to understand that great curators build trust with their audiences through the content that you have curated. Your curated content must become an indispensable resource to your audience. Here's hoping we helped you in understanding the importance of content curation and the content curation tools you can use to curate content. If you want to know more about content curation, check out our blog. If you are interested in our service, contact us!
Suggested Reads: