The dream of every entrepreneur is to have their brand more visible to their target audience. Many people produce good products and services but are not recognized for their efforts because of limited brand visibility.
In the olden days, there were no vast platforms to increase their brand visibility. They advertised in newspapers and fliers to make their brand visible to the target audience. Using this small platform, many companies achieved a vast target audience. Still, we have robust social media platforms to attract the target audience to the brand.
If you read a newspaper, so many product ads are visible, but the audience will remember certain ads in their minds because of their quality content. So, the keyword you need is a planning strategy and executing it to drive an audience. A simple strategy leads to significant achievement.
To make your brand more visible to the target audience, you can read this entire blog to get an overview of brand visibility and techniques.
Table of Content
Brand Visibility Definition
Brand visibility includes brand awareness. It demonstrates how your brand is well-known and connected to the target audience across various platforms, such as social media and the marketing industry.
Importance of Brand Visibility
If you want to start a new business, or are a startup in the marketing field. It is necessary to be aware of brand visibility. To get ahead in any business, You just need an audience to survive the business. So, your brand should be visible.
Now there are various platforms available. But, you have to keep specific points to remember:
Have a well-organized campaign.
Use various tools to enhance your brand visibility.
Select the best social media platform that attracts the audience you want..
Comparing Brand Visibility, Brand Awareness, and Brand Perception:
| | | |
| --- | --- | --- |
| Brand Visibility | Brand Awareness | Brand Perception |
| Defines how your brands are visible in various marketing channels. | People are aware of your particular product or services. | In brand perception, people connect emotionally with your product. |
| Using a catchy meta description and ranked blog within the content helps the audience see your brand. | Your blog posts should inform readers about your product and encourage them to continue to the consideration stage. | The tone you are using makes them emotionally connect with your products. |
| Some examples of brand visibility are Apple and Nike. | Examples of brand awareness are Spotify and Inspired by Island | Examples of brand perception are Zoom, Patagonia, etc., |
How to Increase Brand Visibility
1. Giving Guidelines About Your Brand
The brand guidelines help the target audience to learn more about your brand. There are a set of procedures to create guidelines that make the audience feel more engaged. There are different social media platforms available to share your guidelines.
Here is a set of criteria for the brand guidelines:
Your brand logo
Company mission
The motto of your brand
Images about your product and services
Social media marketing tools are available to make your brand stand out from the crowd. Some of the social media marketing tools are the following:
2. Advertising
It is not about the brand being visible to every audience, but it is necessary to be visible to the right audience. Through advertisement, you can increase your brand visibility. Adsense allows you to purchase advertising. Incorporating videos in social media encourages the audience to collect knowledge about your brand.
3. Social Listening
Using the social listening app, you can quickly analyze what people say about your brand on social media. To improve your brand, determine where you are lacking and where your brand currently stands.
4. Interaction 
If you post about your product or service on social media, don't think your work to increase your brand's visibility is done. If the audience has an interest in your product, they may want to interact with you to learn more about your product. Competitors may not post a price or key detail about their product because they want to engage with their target audience.
In this case, the audience was interested in the product, but did not see the price and now they want to communicate with you. Interactions like this increases your brand's visibility.
5. Use Influencer Marketing
Influencer marketing is one of the best marketing strategies for increasing your brand's visibility. People with good reputations among the audience may accept your brand when the influencer suggests it.
Related Reads
Strategies for Brand Visibility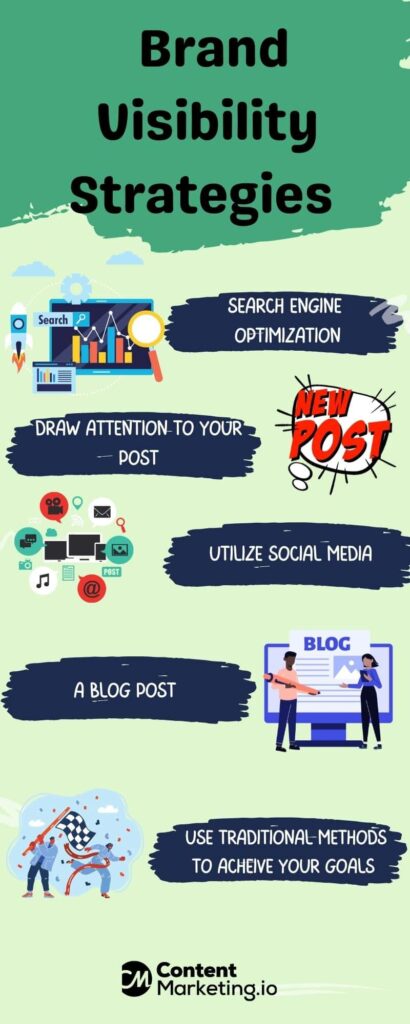 Here are some strategies to increase your brand visibility:
1. Search Engine Optimization
SEO is one of the primary strategies for increasing brand visibility among your target audience. How can you use SEO to make your brand visible? You can use the name of your brand as a keyword. It leads to a high chance of brand visibility.
Keep the focus keyword.
Use keywords around the content.
The content should be above 1000.
Use various social media to publish the content.
2. Draw Attention to Your Product
To set your product apart from the crowd. Highlight the special offers you have for your products and services.  While emphasizing your strengths and providing your audience with something they can easily relate to, they want their expectations met.
3. Utilize Social Media
Ensure you actively use the social media account, post interesting facts about your products, and keep your audience engaged. Your followers might forget about you and your product if you do not actively use social media.
4. A Blog Post
Instead of concentrating more on social media, you can try to write a blog post about your product. If you use our SEO tips, your blog will likely get higher traffic and a better ranking, making your brand more visible to the audience.
5. Use Traditional Methods to Achieve Your Goals
As mentioned in the introduction, handbills, and banners are traditional ways of increasing brand visibility. Besides social media platforms, you can try this traditional method to advertise your brand. As a result of this method, you can reach a more targeted audience.
Brand Visibility Mistakes
The eight brand visibility mistakes are:
1. The Absence of a Brand Strategy
The brand should convey information about you and your company. But not defining the brand strategy confuses the audience; when they visit your social media, they get to know what your product is and what you are trying to convey. These things impact your brand's visibility.
Think about your brand and your target audience. Based on that, you can organize your strategy. A good brand has an excellent strategy and good communication with the audience.
2. Failure to Investigate the Competition
We live in a competitive world when it comes to marketing. To survive, we must distinguish ourselves from others. Failure to conduct competitive research will make it challenging to provide unique content.
Researching the competition may help you to fill the gap in marketing and help you to follow the trend.
3. Failing to Recognize Your Audience
Failure to conduct market research is a branding mistake. You have to know whether the product is beneficial to the audience or not. You can survey the audience to know if they are interested in the product or have any drawbacks.
Do market research before starting your business and ensure your audience's interest.
4. Ignoring Customer Feedback
This involves two-way communication. Consider the customer's feedback and recommendations that you gathered, resolve their queries and address their issues.
Try to interact with the customers if they have opinions about the product or service, and try to solve the problem to make them feel comfortable. 
5. Lack of Brand Differentiation
Lack of brand differentiation results in lower product awareness. You can make your brand stand out by including different features that draw attention to your product. For example:
Create a logo
Tagline
Fonts and type design
innovative packaging
What comes to mind when you think about Coca-Cola and Nestle? The brand logo and the quality of the product. These things make their brand different from other brands.
6. Failure to Prepare for an Emergency
Errors commonly occur in all businesses, but you have a backup plan to overcome them. It might affect your business if it does not have a backup plan. The majority of the friction occurs in small businesses. Having an instant idea makes you successful in a crisis.
7. Variable Branding
A disorganized brand makes the audience lose interest in your product. So, your brand should be well organized. Here are some tips to make your brand more organized.
Create a brand identity.
Design brand guidelines.
Make a style guide.
Use social media as an effective platform.
8. You Forgot About Your Brand Destiny
People start their businesses with specific goals and their own quotes. In this marketing journey, they forget about their goal and mission at a certain point. Don't forget your destiny and your target audience. Make sure you are on the right track to reach your destiny.
Frequently Asked Questions
How to measure brand visibility?
– Surveys
– Social media followers
– Blog traffic
How can an e-book help build your brand and boost visibility?
Ebooks are less expensive when compared to other platforms. For people interested in reading and who might know more about your products, ebooks help them gain more knowledge and help your brand visibility.
How can a company improve its online visibility?
– Producing high-quality content
– Utilizing social media platforms
– Engaging influencers in a collaborative effort
– SEO strategy should be included
What are the tools used to measure brand visibility?
 Some of the brand visibility tools are:
– Survey Monkey
– Awario
– Brandwatch
Final Thoughts
Now that you've learned the basics about brand visibility, it's time to showcase your brand in the best way possible so that your target audience can see it. Share content with your target audience on the right social media platform. Remember that your audience is your primary focus when promoting your brand.
Similar Reads