Content analysis on social media is a research tool to determine the presence of certain words or phrases within a data set. In the past decade, content on social media has grown exponentially and is an optimal medium for effective content marketing research. The content on social media platforms is analyzed to understand consumer behavior, access unfiltered opinions of the consumers, and uncover patterns. Businesses understand the value of social media data to gain marketing insights, but how does it tap this source of information to gain marketing insights?
What Is Content Analysis?
Content analysis is the technique used to systematically and objectively make inferences and identify the special characteristics of messages. Content analysis on social media is a research methodology used to determine the text's words, concepts, and themes. Using content analysis, researchers can perform quantitative and qualitative data analyses of the presence of meanings and the relationships of certain words and phrases. The goal is to identify patterns in recorded communication in the form of textual, vocal, and visual files and collect data from them. On social media, the content is available in the form of:
Blogs, YouTube videos, podcasts.
Static and dynamic images.
Interviews, newsletters, and PDFs.
Graphs, statistics, and survey forms.
The qualitative data analysis of the social media content measures the interpretation and the meaning of the words in the consideration. In contrast, the quantitative data analysis measures the word count and the frequency of the word usage in the content.
What Are the Uses of Content Analysis on Social Media?
Content analysis on social media is used to find out the purpose, message, and effects of the social media content. It can be used to make inferences about the content providers and the users. It quantifies the occurrence of certain words, phrases, themes, or concepts in contemporary text. Content analysis research can be done in marketing, media, cognitive studies, psychology, and other social disciplines.
Identifies a keyword, other words related to the keyword, and phrases that appear next to it.
Analyzes the meanings and relationships to understand the target and intention better.
Finds correlations and patterns in how a marketing idea or strategy is communicated to the target audience.
Understands the intentions and goals of the business, marketer, or user.
Identifies the attitude, behavior, and psychological state of the user.
Analyzes the feedback from the user, such as their comments, likes, and shares.
Reveals patterns in communication content.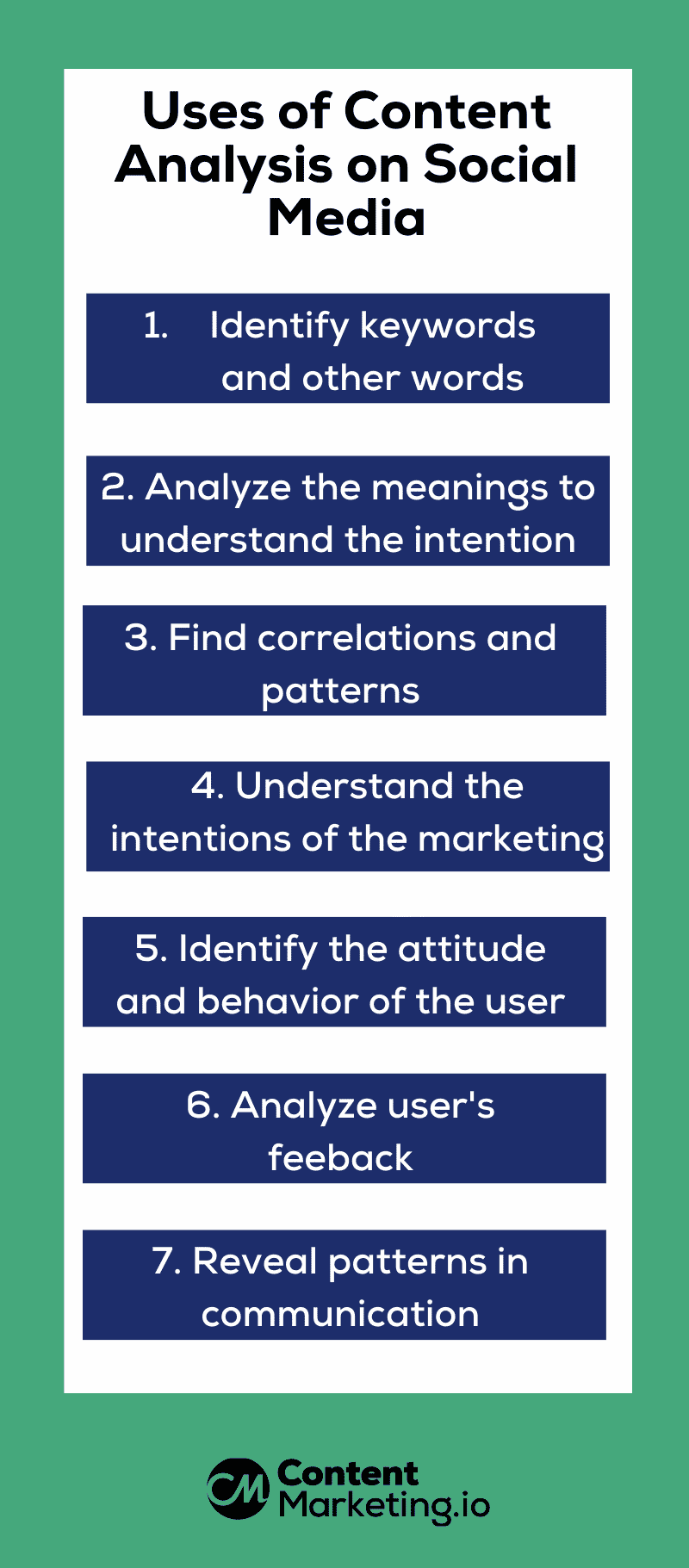 Types of Analysis of Social Media Content
Content analysis on social media can be broadly classified into conceptual and relational analysis. The conceptual analysis determines the existence and frequency of certain words or phrases in social media channels. The relational analysis extends the conceptual analysis by examining the relationship among these words in the channel. Each type of analysis may lead to different results, interpretations, and meanings.
On social media, you can perform the following analysis:
Audience analysis
Performance analysis
Competitor's analysis
Sentimental analysis
Audience Analysis
Knowing your target audience is crucial for your business to build an effective, audience-oriented marketing strategy. It helps you nurture your leads and move them deeper into the content marketing funnel. Only when you understand what your customer wants will you be able to develop a suitable content marketing strategy. Using certain analytical tools, you should find out what type of information they want, in what form, and how frequently they would like to have it.
Post your questions as surveys on different social media channels and prompt your target audience to answer these questions. Collect this information and see their personas, characteristics, interests, and behavior. You can leverage the insights to reach new business opportunities.
Performance Analysis
It is good to measure your own performance and understand your strategy. At the same time, eMarketer projects, like global digital ad spending, will reach $571 billion in 2022 and rise to $800 billion by 2025.
It's natural to expect a good ROI when you have invested a lot in social media content marketing. On a social media platform, the key metrics to track are:
Finding whether the content you are publishing is making an impact on your audience based on the interactions your audience is having.
Collect data on your cumulative audience and the interactions of every 1000 followers you have.
Measuring the number of click-throughs and checking how many new followers you get. If you are interested in getting new customers, you must get new followers.
Monitoring your new followers and measuring what ROI you get.
Competitor's Analysis
To measure your success, you must compare yourself with your competitor's metrics. Improve performance in two key areas, effective and efficient. Comparing your business's social media performance with your competitor is the best way to assess your strategy's effectiveness.
This will help you to learn about your performance improvement and the ROI. If you don't wish to compare your performance with others, you can compare your own previous results. Use benchmarking solutions to measure your performance. You can get their performance results based on a specific country, industry, and niche. Doing so lets you learn about their strategy and easily get ahead of them.
Sentiment Analysis
The posts, reviews, and feedback are vital on social media. Failing to take remedial action for negative comments might put your business at risk. Use tools to filter out satisfied, not satisfied comments and try to fix the negative sentiment right in the early stage itself.
5 Tips for Content Analysis on Social Media
Start with a Research Question
The first step is to start with a research strategy on what to analyze on social media. You need to set your objective on what decision you will make when you gather the required information. As you have a good deal of data on social media, you need to have a clear idea to limit your direction on a specific topic and objective that will make the analysis more manageable. Examples of a research objective can be analyzing your customers' feedback when you have launched a new product, providing extensions for an already launched product, or analyzing the success of your promotional campaign.
Gather, Organize, and Analyze Content on Social Media 
Based on your research objectives, social media platforms provide consumer-generated data. There are tools to measure performance on social media and content marketing channels.
Social media analytics tools help you track your social presence, such as Sprout Social, HubSpot, and BuzzSumo.
Video analytical tools that help to improve your video content strategy are Unbox Social, Channel Meter, and Qunitly.
LinkedIn analytics tools that can help you improve your page performance are Socialinsider, Buffer, and Hootsuite.
Instagram analytics tools that assist you in becoming a power user are Sprout Social, Tap Influencer, and Bitly.
Twitter analytics tools that can help you are Native Twitter Analytics, Socialbakers, and Hootsuite.
Data on social media need not necessarily be text; it can be audio, video, gifs, and various other diverse formats. There are free or commercial tools to organize such data systematically. When presented to the analyst, you must ensure that it is versatile and comprehensive. The output can either be made available online, or the results can be made available as numbers in graphs. Then, the data is analyzed for ideas, concepts, behaviors, and patterns.
Automate the Process
Content analysis on social media is exhaustive as it contains overwhelming data to analyze. Use AI-powered tools for content marketing automation. It automatically imports data from social media pages and monitors your query. Reactions to your posts, comments, and feedback are captured, and either measured or necessary action is initiated. Along with unstructured text, social media data comes with valuable metadata, such as the date of publication, follower count of your channel, upvotes, downvotes, and re-tweets.
Identify Clusters for Mining Patterns
All data have different insights. After you have collected and analyzed the data, divide it into different clusters. When you compartmentalize data, you see themes emerge from a large dataset. Monitoring these clusters can give insight into your products, industry, customers, and competitors. Analyzing data from a different perspective will help you to monitor your brand and also help you to check whether you are on the right track with your content marketing strategy.
Eliminate Noise
Content analysis on social media contains data that is irrelevant to the context. Such data don't provide any insight for the analysis. One way is to aggregate data from selected media platforms to filter out the relevant content or use a machine learning algorithm to remove the noise. This can require a statistician or data scientist to develop a customized model that you can apply to the aggregated data to clean it up. The ML algorithm must identify patterns in context and classify the content as noisy or clean data based on the model, not the keywords, URLs, or rules. It must automatically be trained to learn new patterns.
FAQs
1. What are the types of content analysis on social media?
Conceptual Analysis – establishing the existence and frequency of concepts represented by words or phrases in a text.
Relational Analysis – examines the relationships among concepts in the text.
2. Why is Content Analysis important?
Despite being time-consuming, content analysis is used by researchers to find out about the messages, purposes, and effects of communication content. Content analysis is done to determine the purpose of posting the content by the content owner and to find the behavior pattern of the audience preference.
It is used in various fields, from psychology to media analysis and political science. Content analysis indicates a close relationship with socio-psycholinguistics and can be used in developing NLP algorithms.
3. What are the key elements in content analysis on social media data?
Both verbal and non-verbal methods can be used to collect data from social media for analysis. Surveys, interviews, podcasts, and social media engagement include likes, shares, and comments. The major elements to be considered are words, paragraphs, concepts, and semantics. It is necessary to capture the relevant data for content analysis, so there is enough sample data to perform the analysis. The sample data is the content itself, and analysis is done over time to extract the sample.
Closing Thoughts
Several excellent programs and services—free and commercial—have been developed to analyze social media data. Yet, most of these tools focus on providing summary statistics of the data. Web analytics, such as word counts, reach, word clouds, volume, and sentiment analysis can provide valuable, up-to-the-minute snapshots of web content. Still, no algorithm is an adequate replacement for the in-depth analysis of consumer-generated feedback that can be conducted by a skilled analyst with a deep understanding of a brand. Check our blogs if you are keen on knowing about content marketing strategies, tips, and tools.
Similar Posts