Have you ever felt overwhelmed with managing your website's content? In today's digital age, businesses rely heavily on online platforms to connect with customers and promote their brands. Keeping everything organized and up to date can be a difficult process, especially if you're new to content management. But don't worry, I've got you covered! In this article, I'm going to share five critical content management ideas that can help you optimize your workflow and make your life a whole lot easier. From setting a content calendar to optimizing your material for SEO, these strategies have been tried and proven, and have helped me manage the content on my own website with ease. So, grab a cup of coffee, and let's get started!

You know that 38% of companies use only 1 CMS.
What Is Content Management?
The process of organizing, developing, publishing, and managing digital material, such as articles, photographs, videos, and any other type of content, is known as content management. It's similar to keeping track of everything on your computer, or phone but on a far wider scale.
Assume you have a website and need to add new articles or photographs to it once a week. To accomplish this, you would need a content management system (CMS). The CMS enables you to write, update, and publish material without having to deal with coding or other technical issues.
5 Essential Tips for Effective Content Management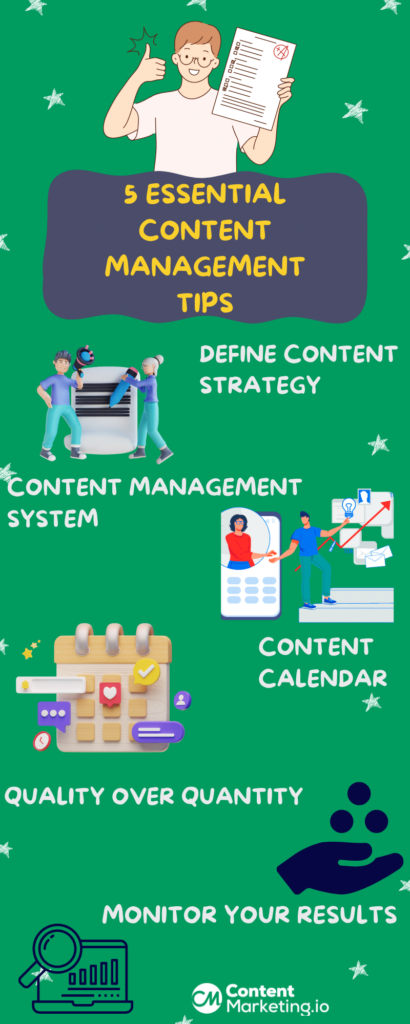 Define Your Content Strategy
The first and most crucial content management tip is to determine your content strategy. Start by determining the objective of your content, the target audience, and the type of material you want to create. This will assist you in developing a foundation for your content, making it easier to maintain.
A plan for developing, publishing, and promoting your content should be part of your content strategy. You should also identify objectives for your content, such as raising website traffic, generating leads, or improving social media participation.

Use a Content Management System
A content management system (CMS) is a piece of software that enables you to generate, update, and publish material on your website. It can help you organize your information, optimize your process, and boost team cooperation.

WordPress, Drupal, and Joomla are three major CMS platforms. Consider considerations, such as simplicity of use, customization choices, and security features when selecting a CMS.
1. Web Content Management System (WCM):
This type of CMS is specifically developed for managing website content. It gives users the ability to develop and publish web pages, blog posts, and other digital content. WCM systems frequently include capabilities, such as template management, content approval protocols, and analytics tools to assist firms in optimizing their online presence.
2. Digital Asset Management (DAM):
Digital asset management (DAM) systems are used to manage massive collections of digital assets, such as photos, videos, and audio recordings. They provide capabilities that enable an organization's digital assets to be organized, searched for and shared. DAM systems are especially beneficial for firms that must manage a significant amount of media files, such as advertising agencies, media companies, and e-commerce sites.

3. Document Management System: Organizes and tracks digital documents.
Digital documents, such as PDFs, Word documents, and spreadsheets are managed using document management systems (DMS). They offer version control, document collaboration, and document security capabilities. DMS systems are frequently employed in industries, such as healthcare, banking, and law, where huge volumes of sensitive documents must be managed.

4. Learning Content Management:
Digital learning content, such as e-learning courses, training materials, and instructional films, is managed using learning content management systems (LCMS). They offer software for developing, organizing, and delivering online learning content. In education, corporate training, and professional development, LCMS systems are extensively employed.
5. Enterprise Content Management System (ECM):
ECM systems are utilized throughout an organization to handle all forms of digital information, from online content and digital assets to documents and learning content. They provide a centralized platform for CM and frequently include features, like search capabilities, workflow automation, and compliance management tools.
Create a Content Calendar
A content calendar is a schedule that describes your content's subjects, forms, and release dates. It can help you keep organized, plan ahead, and continuously create content that is relevant to your goals.

Holidays, product launches, and industry events should all be on your content calendar. It should also cover content production, editing, and publishing deadlines.
Focus on Quality Over Quantity
When it comes to content management, it is critical to prioritize quality over quantity. While it may seem appealing to create a large number of materials in a short period of time, this could lead to exhaustion and lower-quality content.
Instead, concentrate on producing high-quality content that adds value to your audience. In-depth essays, how-to manuals, and case studies are examples of this. Make sure your content is well-researched, useful, and interesting.
Monitor Your Results
Finally, it is critical to track your content results to determine how well your material is performing. This might help you identify areas for improvement and adjust your content strategy as necessary.

Website traffic, social media interactions, and conversions are all important metrics to track. You can track the effectiveness of your content using technologies, such as Google Analytics, Hootsuite, and HubSpot.
Effective CM requires a well-defined content strategy, a content management system, a content calendar, a focus on quality over quantity, and a commitment to monitoring your results. By following these tips, you can create and manage high-quality content that drives results for your business.
Frequently Asked Questions:
What is a content management system (CMS)?
A content management system is a software application that enables users to create, manage, and publish digital content on a website or other online platform.
What are the benefits of content management?
Effective content management can lead to increased website traffic, better SEO, and improved engagement with customers. By creating high-quality content, businesses can establish themselves as thought leaders in their industry and increase their brand awareness.
How do I create a content management strategy?
To create a content management strategy, start by identifying your business goals and target audience. From there, create a content calendar, establish guidelines for creating and publishing content, and regularly analyze performance metrics to make the necessary adjustments.
Wrapping Up:
Content management is a crucial aspect of any successful online strategy. By creating and publishing high-quality content, businesses can establish themselves as thought leaders, increase brand awareness, and connect with customers. To make the most out of your CM strategy, it's important to follow best practices such as creating a content calendar, repurposing content, and analyzing performance metrics. With the right approach, effective CM can drive significant business growth and success.
For your reference, we've got an article that lists the best content management system platform for your business.
Similar Reads
If you found this article helpful then why not give our Content Marketing services a shot. We empower businesses that are on the lookout for impactful SEO results. Our team delivers high-quality SEO-conscious content that will help you rank consistently.