Content marketing books help you to keep yourself updated about the latest content marketing trends, tips, and tools. You might have read several topics and blogs on different marketing methods and strategies as content marketers. If you want deep insights and a diversified approach to content marketing, these books will be of great use. This article shares 10 of our favorite content marketing books with readers' insights and takeaways. Try to read them and take your time to grasp the various aspects involved in content marketing.
1. Everybody Writes: Your Go-To Guide to Creating Ridiculously Good Content
Everybody Writes by Ann Handley is a content marketing book about writing, marketing, content, and language usage. If you are in content marketing or content writing, this is the book you should not miss out on. There are numerous insights that you can incur from this book. Apart from that, technology introduces us to machine learning tools readily available to optimize the content. Handley uses language that is simple to read and understand.
Key Takeaways:
Know to write better to convey your message.
First drafts are the road to success.
Pay attention to your readers.
Writing for marketing.
Break some writing rules.
Content rules.
2. Content, Inc.: How Entrepreneurs Use Content to Build Massive Audiences and Create Radically Successful Businesses
Content, Inc. by Joe Pulizzi aims to provide the reader with useful tips on creating content that helps you convert your audience into leads and customers. The focal audience for this book is entrepreneurs and business professionals. It explains how content marketing is the way to generate users and buyers. Marketing expert Joe Pulizzi lists the best content marketing practices to achieve your goals and grow your business. As a startup business owner, invest time and add resource value to your business using content marketing.
Key Takeaways:
Content marketing is the key to driving an audience.
Know your sweet spot before you reach out to your target audience.
Keep creating unique content to position yourself in the market.
Choosing the right platform to post your content matters.
Content optimization is a must to grow and expand your visibility.
Invest in your content creation and make them a viable asset.
3. Influence: The Psychology of Persuasion
Influence by Dr. Robert Cialdini is a book series about influence in the workplace. This book discusses how to persuade people and the psychology behind "how" and "why" people say yes. The author specializes in behavioral studies backed by evidence-based research strategies, which has helped him discover six focal principles that influence people and how these principles add value to businesses. This book is relevant for content marketers because one of the marketing goals is to persuade the audience, and this book will provide you with the skills and knowledge to achieve that.
Key Takeaways:
The psychology behind human behavior.
People stick to commitments.
People get influenced by what others are doing.
Influenced people are easy to obey authority figures.
It is easy to get influenced by the person we like.
People tend to value things when they are limited.
4. Permission Marketing: Turning Strangers Into Friends And Friends Into Customers
Permission marketing by Seth Godin speaks about techniques marketers should start following by breaking the traditional advertising method. The author suggests that asking the "permission" of the audience before marketing will help you ignore the ones who are not showing interest. He insists that by respecting people's choices, we tend to give them an authenticity and gain their complete attention. They help us to visualize and make them to the potential customer through the sales funnel until they achieve their goals.
Key Takeaways:
Gain the consumer's attention before you force them with marketing information
Gives measurable marketing techniques and methods.
Advertisers and marketers get a fresh perspective on their digital marketing practices.
Helps organizations to build relationships with their audience by approaching them gradually and converting them into consumers.
Traditional marketing practices are not going to sustain in the long run.
Permission marketing is an exchange of promises between the consumer and the marketer.
5. They Ask You Answer: A Revolutionary Approach to Inbound Sales, Content Marketing, and Today's Digital Consumer
They Ask You Answer by Marcus Sheridan put across the message "Know what your customer thinks." In every marketing strategy, the main goal is to provide the end-user with what they want. Through this book, the author has set a standard to do digital marketing and how to succeed. He firmly believes that customers crave smart readers who keep seeking solutions to their problems. It is the responsibility of the marketers to provide them with the necessary solutions.
Key Takeaways:
It is for everybody who is in the marketing business.
An all-in-one guide for content marketers.
Content marketing is an integral part of inbound marketing.
As a marketer, you should always be ready with answers.
Make sure to create unbiased content.
Content marketing is the door to reaching your audience.
6. Building a StoryBrand: Clarify Your Message So Customers Will Listen
Building a StoryBrand by Donald Miller cuts straight to the message, "Marketing made easy." The author tells readers about the importance of storytelling in marketing practices. The book conveys a message that your target consumer in the marketing business is the main character in the story who comes with challenges and problems, and it is the marketer's responsibility to guide the consumers with proper action steps to solve their problems.
Key Takeaways:
Customers are the hero always.
Marketing is an exchange of problems and solutions between customer and seller.
Through storytelling, you are guiding the customer on what to do.
Having a clear marketing plan is important.
Remember to challenge your customers to take action.
You should tell the customers how your product or service can benefit them instead of just stuffing them with information about your brand.
7. Master Content Strategy: How to Maximize Your Reach and Boost Your Bottom Line Every Time You Hit Publish
Master Content Strategy by Pamela Wilson is the one-stop solution for Content Marketers. This book gives you everything you want if you are a content marketer who wants a strategized marketing plan. It includes a chapter for each stage of building content for a website. Wilson also includes simple and reliable content creation resources and useful checklists. Add some unique value and develop content from user's point to show off their marketing strategies next level.
Key Takeaways:
Content strategies to build a website at different stages.
Road map to schedule a content calendar.
Importance and ways to promote content.
Numerous ideas to build and create new and unique content.
Significance of updating and repurposing old content across different platforms.
Content strategy planner
8. Inbound Content: A Step-by-Step Guide To Doing Content Marketing the Inbound Way
Inbound Content by Justin Champion focuses on how to boost traffic to your website, blog, or content by using inbound marketing as your content strategy. The book includes a step-by-step guide on prominent marketing techniques and how to create long-term content to create and build your brand image. The book compares content marketing to an inbound marketing strategy focusing on reaching out to audiences via content for conversion.
Key Takeaways:
Creation of a framework for content.
The power of storytelling while creating content.
Content ideas generation.
Planning and scheduling of long-term content strategies.
Importance of content repurposing.
Content analytics.
9. Marketing: A Love Story: How to Matter to Your Customers
Marketing: A love story by Bernadette Jiwa is about what marketers love and the difference between what they do and what so many people think marketers do. It throws light on several aspects of marketing and thus leaves the readers with mixed information. The author tries to break the myth that "Marketing is advertising" and charters the book into three main categories, strategy, context, and story.
Key Takeaways:
Marketing involves human emotions, and often, the customer uses their heart and mind to make their purchase decisions.
Convincing people is not the right marketing approach.
Listening is as important as talking.
Enabling the customer by storytelling, one they love to hear.
Marketing becomes part of people's lives and stories.
Build customer trust by giving them a sense of belonging.
10. Top of Mind: Use Content to Unleash Your Influence and Engage Those Who Matter to You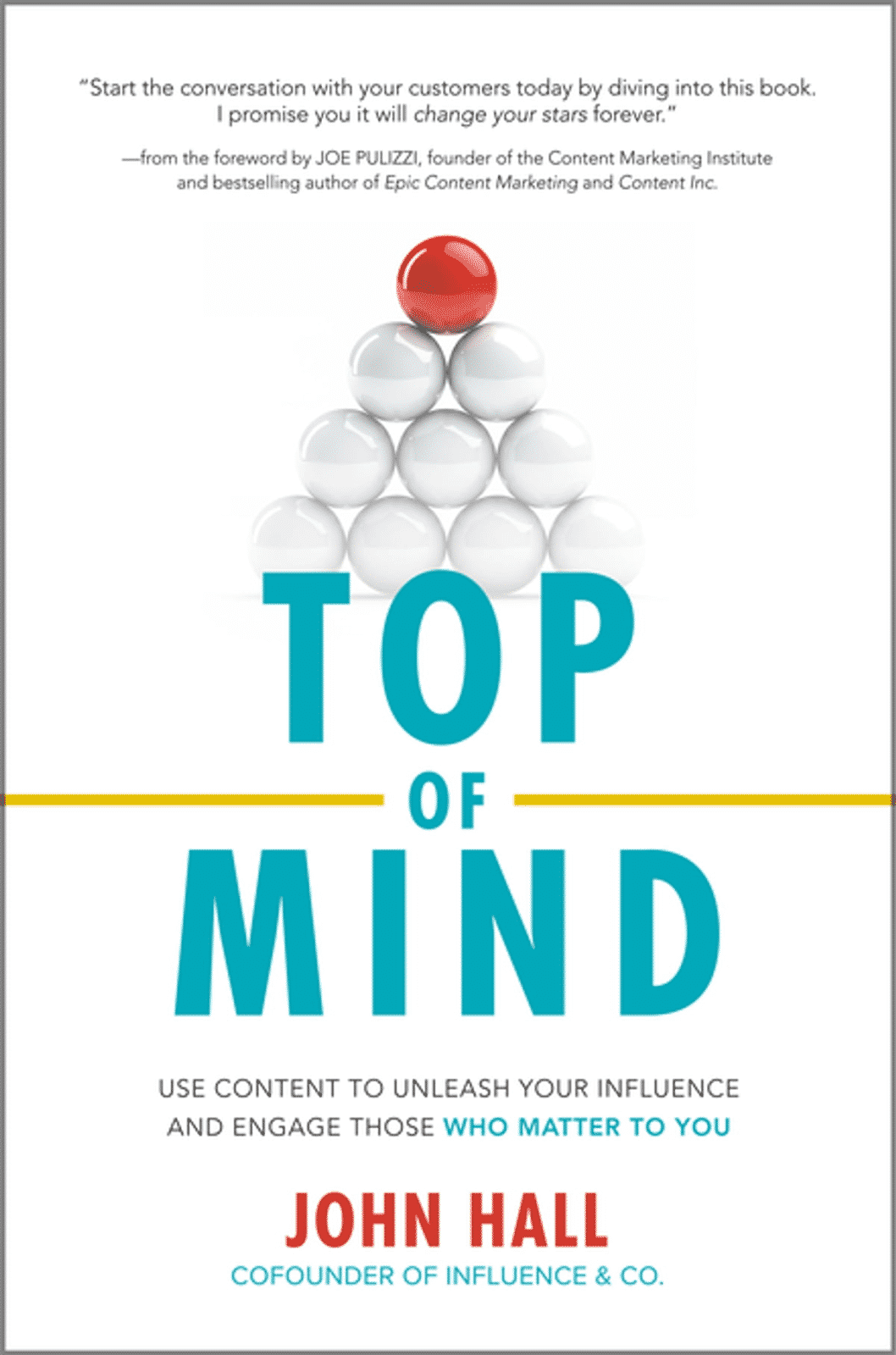 Top of Mind by John Hall is about using content to influence and engage people. The book conveys different ways to stay at the top of the mind of consumers and how the target audience cares more about their wants and needs and not the ideas marketers want to sell them. The author sheds light on inbound marketing, content strategy practices, and the Content marketing funnel.
Key Takeaways:
Consumers always look for opinions and information before they make their purchasing decisions.
To stay on top of the mind of your target audience, listen to their needs and try to provide them with what they want.
Don't hesitate to share your content with business acquaintances and network to solve their concerns.
The golden rule of communication.
Strategic distribution of content.
Content is beyond marketing.
FAQs
How does content marketing benefit your business?
Content marketing benefits your business by educating your audience about your products or services. Most importantly, it answers their questions. When the content is credible and relevant, it builds trust and fosters relationships. It can also convert a naive user into a customer.
What is persuasive content marketing?
Persuasive content marketing is taking content to the audience in a new form. It is a way of knowing what works with your audience and providing content in a way they prefer. The goal of this type of marketing is to convert them into customers.
What is influencer marketing?
When brands co-create content with influencers, it is called influencer marketing. It allows businesses to expand their reach on social media beyond their official page and ads. They rely on influencers' popularity and can easily get the target audience's attention.
What is the best source to learn about content marketing?
You can explore sources such as Semrush, Ahrefs, HubSpot, and LinkedIn to learn content marketing.
What does content marketing consist of?
Content marketing is developing and distributing relevant, useful content—blogs, newsletters, white papers, social media posts, emails, videos, and the like—to current and potential customers.
 
Closing Thoughts
As content marketers, the ultimate goal is to convert your target audience to potential customers and to achieve that, you must ensure that you use multiple techniques and marketing strategies.
The top 10 content marketing books listed in this article are by marketing experts who carry years of experience in this field and give insights into several branches of content creation and marketing. We aim to provide you with guidance on how to be successful as content markers and how you can grow your business.
Read our blogs for more ideas and information on content marketing.
Similar Posts