Have you ever come across any business that did not have brand goals? It is impossible to build a brand without a set of objectives because goals are the primary objective for keeping a business on track.
We live in a content-rich era, so your brand must reach target customers through content, regardless of whether you own a small business or run an organization. Content marketing helps your company reach its goals by increasing brand awareness, reaching your target audience, developing brand loyalty, and establishing company objectives.
Your content marketing objectives should be aligned with your business objectives. In this post, let us see how to define content marketing goals for your brand.
Suggested Reads
What is Content Marketing?
Content marketing is a marketing strategy that uses relevant, consistent, and engaging content for its target audience. Businesses incorporate this marketing strategy and other business goals to establish brand awareness among users and customers.
Content marketing does not stick to one methodology. It uses many different ways to gain an audience and bring traffic through its website. The most common forms of creating content for marketing purposes are blog posts, social media ads, videos, and podcasts. Content marketing ideas expand as technology develops and new ways of attracting customers emerge.
Why Content Marketing?
Content marketing might be a part of marketing, but these two take different approaches. Traditional marketing is about creating promotions that directly reach out to consumers, while content marketing on the other hand attracts them according to what they want. The ultimate motive behind content marketing is to convert the readers and audience into potential customers. Content marketing is the way through which you create brand awareness.
You can say that creating brand awareness is one of the main goals of content marketing. This is because one brings visibility to their brand through consistent content. Brand visibility paves the way for awareness which, in turn, can convert into brand loyalty.
Importance of Content Marketing
Can you think of a company that does not have an online presence? In today's world, companies ensure the link between content marketing and their business remains strong, so your brand must create effective content online to achieve your marketing objectives.
You must make your content marketing goals more specific and aligned with your business goals. Creating content for the sake of creating content will not bring in new customers; however, creating meaningful content converts your readers into customers.
If you are hoping to survive in the post-pandemic online world, you must establish your brand's digital presence by creating high-quality content.
Content Marketing Goals
Business differentiates their content marketing goals into two categories: Business to Business (B2B) and Business to Customer (B2C), and which one you use depends on your target audience. B2B and B2C use different marketing strategies and approaches to achieve their marketing objectives. However, there are mutually exclusive goals that benefit both.
You need to define your goals considering return on investment (ROI) and profitability for your brand. Content marketing goals for B2B include sales, engagement, brand awareness, lead generation, and upselling. In comparison, content marketing goals for B2C include content distribution, promotional strategies, social proof, and customer journey.
Some mutually exclusive goals are brand loyalty, increasing brand awareness, user engagement, and more.
In the next section, let us see how to define your content marketing goals based on the type of your business.
Related Reads
Content Strategy vs. Content Marketing – What Is the difference?
How Significant Is Content Marketing for Business?- 6 Reasons To Get Started
Defining the Content Marketing Goals
Defining the content marketing goals for your brand is a roadmap to achieving them. By constructively defining the goals, you in turn create a strategic plan. In other words, it all begins here.
There are numerous types of content marketing objectives, but they fall into two categories: tactical and strategic. Tactical goals are short-term, measurable outcomes that you want your audience to act on to increase traffic or sales. On the other hand, strategic goals require longer timelines and higher resources, but they build brand awareness and trust with your audience over time.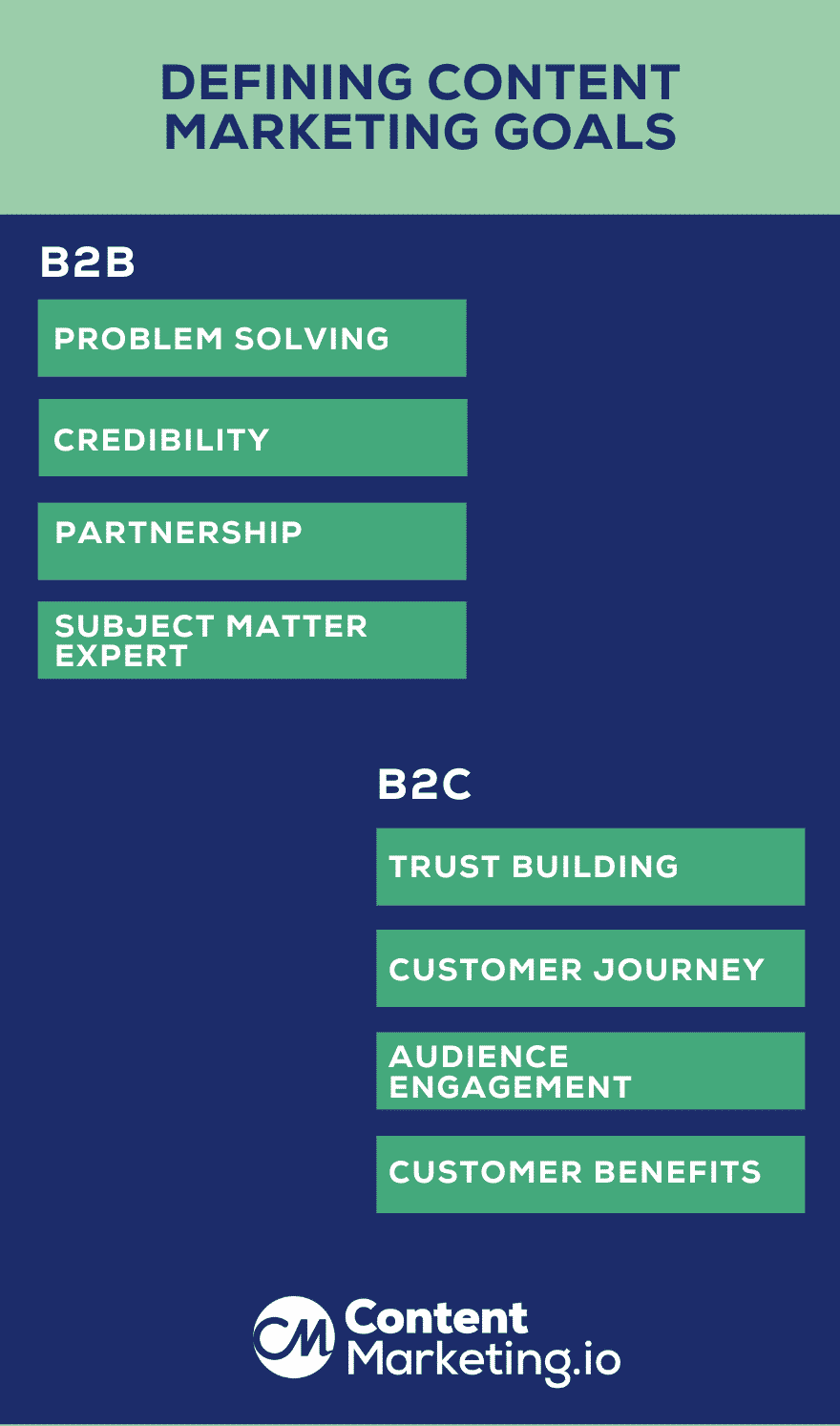 Content Marketing Goals for B2B

The content marketing goals for B2B are different from those of a B2C company because the main goal of a B2B brand is to educate and establish credibility with prospects.
Some of the important content marketing goals defined for B2B brands are as follows:

1. Problem Solving
The main objective of a B2B brand is to solve problems at scale for its customers. Hence, you have to demonstrate your expertise in this area with the quality of the content you produce. Now, this is where it ties into your overall content marketing strategy.
Your content or blogs should regularly talk about your customer's pain points and provide feasible solutions for them. The more consistently you do this, the higher will be your brand's reputation.
2. Credibility
If you want to achieve success in today's competitive global market, you have to create valuable content and place it on the web where your customers have access to it.
Credibility is crucial in the information marketing world today because it asserts that you are appealing to your audience and that you are a resource they want to trust. The more authentic and reliable your content is the more credibility your work shows.
Nothing you say about yourself is as trustworthy as what someone else says about you, which is why people trust third-party validation because they have a relationship with the subscribed audience.
When done according to research-based quality standards, content marketing strikes up a conversation with the audience. When your company's content meets the expectations of your readers, then you build trust and credibility with them.
3. Partnership
Partnership with potential clients is crucial. Partners might bring value to your brand, but only if you give them a reason to trust you. This often includes linking to your brand according to their website and social media pages, listing in the description of their website, and listing in their branded online store.
When your audience sees the connections you make with your competitors, it builds confidence and helps you both build your brand and sales process together.
4. Subject-Matter Expert
You must present yourself as an expert in your content for your potential clients. You are not dealing with an individual customer but a group of decision-makers driven toward a common interest. Allocating a piece of content to each particular reader is of great benefit. So how does this help you to get your business ready for the right type of client?
To present yourself as an expert in your subject matter, you must research what you see on other websites, discuss whether or not you agree, and learn how other businesses deal with any number of issues you are likely to face with your client. These goals are not standard for all types of businesses because your targeted audience modifies the goals, so creating a marketing channel with strategic planning will help you achieve your goals.
Content Marketing Goals for B2C
Content marketing goals for B2C are to establish a relationship with the customer and increase the conversion rate.
This section focuses on the most common content marketing goals for B2C brands.
1. Trust Building
Content marketers' primary goal is to build trust with their target audience. Remember that the audience may be sceptical, and sometimes the path to gaining trust is trial and error, but the trust is worth the work. To accomplish these goals, content marketers can align their content marketing with the key attributes of their business.
2. Customer Journey
Customer journey is an important goal for content markers because creating a truly effective content marketing strategy means it's vital to plot out how a customer's journey occurs. This includes defining where the customer enters the market, what content they seek, and what tasks they complete with your brand. Once the customer completes all these tasks, they are ready to leave the market and review your services.
3. Audience Engagement
Audience engagement is how many people engage with your content. You may accomplish engagement in different manners, whether sharing, liking, or commenting on your content.
All of these activities increase audience views and engagement and help you see how many users are emailing you to discuss an issue or to report a problem. Social media plays a significant role in audience engagement and makes it easier to keep track of your audience at every stage of engagement with inbuilt analytics tools and statistical data.
4. Customer Benefits
Benefits for the B2C industry include increased brand engagement, higher customer loyalty, and improved market share. It also provides your company with a sense of community, heightened brand awareness, and increases its reputation.
You may engage with your audience by offering a new service or product that might drive them back to your site again. Marketing these benefits to your customers can take several forms, including social media, blog posts, and newsletters.
FAQs
1. What are content marketing goals?

Content marketing goals, in general, must be to deliver blogs in line with the searcher's intent, have consistent content, and write content that fosters sales.
2. What must be the content marketing goals for a startup?

Content marketing goals for a startup must be to offer content that is useful and valuable, rank on SERP, earn links, and drive social engagement.
3. What content marketing goal should your business target?

The content marketing goal for your business must be to generate more qualified leads. There's no point in having a lot of blogs that don't help you to attract customers.
Closing Thoughts
Defining goals will assist you in achieving your content marketing objectives. Your goals should be consistent with your company's mission statement because it can help demonstrate how your company remains relevant to its values and goals while adding value to its audience. Creating content to achieve these objectives will aid in driving engagement and building trust.
Can you travel on a journey without knowing the destination? No, right? You need to have strategic content marketing goals which you will work to achieve them. Defining goals will be the first step in understanding what we are marching for, so make sure you take the time to set up your goals before starting your content marketing journey! For more content marketing tips, check out our recent blogs.
Also Read