There are many options for a content creator to market their product, such as social media, SEO, or content marketing. But what about visual marketing? You may not know every possibility content marketing has to offer, but it is important to understand the benefits of content marketing. With infographics, it is easy to make a product stand out and keep customers interested in your brand. This infographic offers insight into how content marketing should be used effectively.
Infographics are a great example of what and how content marketing can do for readers, and how it evolves in the content marketing realm. The creators of content marketing infographics show a great depth of knowledge and creativity in the traditional content marketing realm, by way of visual marketing.
How and When Infographics Emerged?
Infographics began in the marketing industry rather than journalism and continue to evolve in style, popularity, and content over the years, including what represents an infographic. With competition from other forms of media content, infographics address the audience's need for tangible information. Content marketing infographics are a reliable and profitable medium for businesses and organizations to communicate information.
Infographics made its debut in 2008 and continue to grow in popularity to the point of overwhelming. Infographics derive their value from the compelling way they simplify complex data and details for greater clarity.
According to studies, people are 80 percent more likely to read content with color images and view infographics 30 times more likely than text. Marketers and brands understand the power of infographics for content marketing, which is why they're so popular.
How Infographics Make Your Content Marketing More Effective?
Infographics continue to make an impact on content marketing because they take key information and present it in a visually accessible format with appealing graphics, making them an impressive way to present the stories behind the data. Infographics also help you make your content marketing more content-driven, as they permit you to discuss the statistics and stories behind the data.
Content Marketing Infographics Types
Infographics are informative and engaging, but you must design them based on your content needs, so you must choose the right infographic. This article provides you with a list of content marketing infographics types and how you may implement these in your content based on your content strategy.
1. Statistical Infographics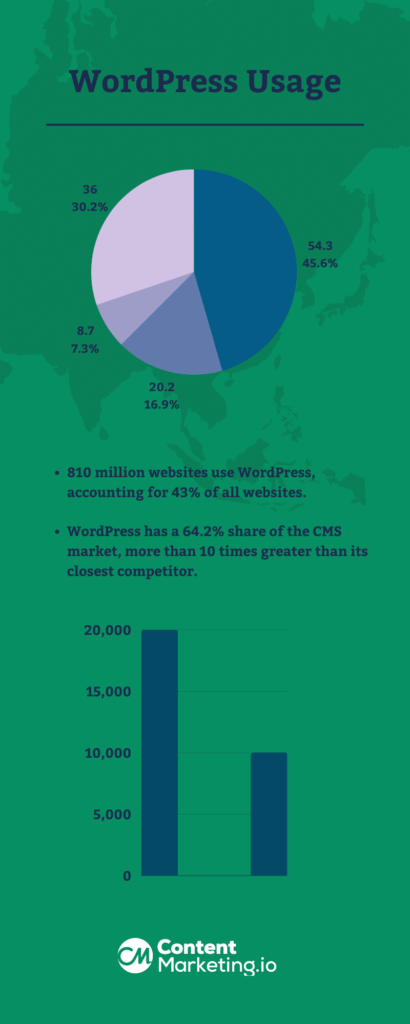 Statistical infographics are tools for data visualization because they provide a concise data picture, show how different sets of data are related to each other, and how different items compare to one another in magnitude. Infographics are suitable for evaluating the effectiveness of a budgeted project and understanding the value of a new advertising campaign.
2. Informational Infographics
Informational infographics are perfect for providing information about your brand, company, or you as professional. They are perfect for informing and educating about unique products and services for sale, new trends, and technical aspects. You may give your audience an in-depth and comprehensive answer to their questions and make your content marketing efforts more effective with infographics.
3. Timeline Infographics
Timeline infographics are best for telling a story. They allow you to select the year, place, and other elements to give context to your content. It also is an excellent tool to visualize trends and compare and contrast information at the same time.
4. Process Infographics
Process infographics are useful for explaining processes, ideas, and procedures from idea to implementation and execution. As the centerpiece of an infographic, it's best to use a graphic with a design similar to a flowchart.
5. Geographic Infographics
Geographic infographics are creative ones that talk about the location where your business collects information. They often include number-crunching, fun colors, and data graphs and are good for showing readers how your audience is expanding.
6. Comparison Infographics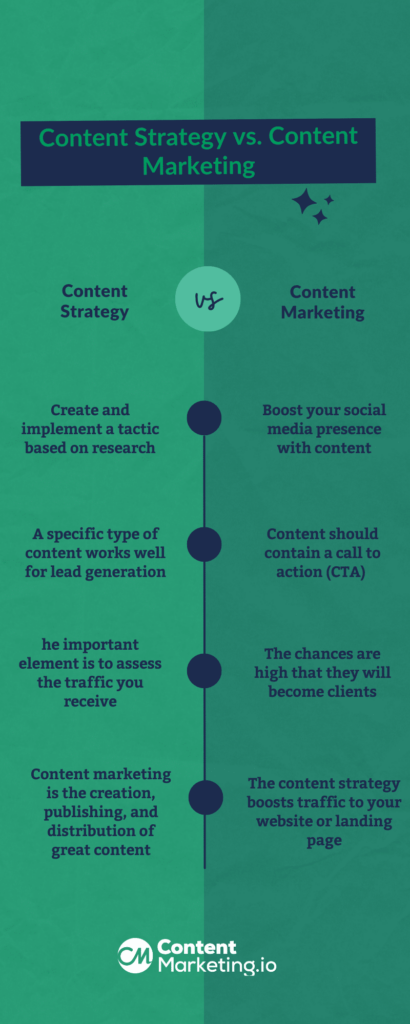 Comparison infographics are valuable because they allow different audiences to compare products and make a decision, making them necessary when marketing different products and negotiating with competitors. These are especially powerful when comparing the price of products or distinguishing which company offers the best deal.
7. Hierarchical Infographics
Hierarchical infographics are one of the most useful for marketing. In this infographic, you divide the information into different pyramid levels, with supporting text and information for each level. You may use this type of infographic for different marketing purposes and to reach a wider audience.
8. Resume Infographics
Resume infographics are infographics for modern resume marketing. Your resume should look like an infographic and it might focus on your education, work experience, achievements, and skills. It should speak to what makes you the best fit for a position.
9. List Infographics
List infographics are among the most popular types of infographics in content marketing because they provide a list of information to sort. This provides a simple format of the data provided, which is beneficial for reading and understanding. Other instances where list infographics play a vital role include corporate blogs, digital sales pages, websites, advertisements, and newspapers and magazines.
10. Anatomical Infographics
Anatomical infographics are a recent development that allows users to explore the human body from multiple angles. These infographics are interactive and help students learn about the human body with more effective and simple material. This infographic provides you with an animated 3D model of a human body, which allows you to explore it in a detailed and textured manner.
11. Visual Article Infographics
Visual article infographics are types of infographics that utilize design and images to help illustrate points so your audience may follow the conversation. This also helps you engage with your audience and give visual ideas to your article. You may illustrate visual infographics in resources like Visual.ly which help when creating visual content.
12. Interactive Infographics
Interactive infographics are interactive images and include text, images, or video, and may come with a quiz, quiz questions, or both. Interactivity plays a crucial role for many, but interactive infographics are not the only or most effective option. The key is to select what type of infographic you should create depending on the goal of your content marketing campaign.
6 Key Elements In Infographics
1. Message and Story
Whenever you create content, you must remember the message you want to convey to your readers and the storytelling that goes into it. Messages and stories in infographics help gain the attention of your audience, and marketers continue to use them. You must focus on images, graphics, designs, usage of words, format, and design of your infographic template while creating a story or message through infographics.
2. Themes and Colors
Themes and colors in infographics are key to creating a cohesive and impactful message. Even with a well-planned message, you may engage the audience by using the same colors and themes throughout your infographic.
3. Graphics and Designs
Graphics and designs in infographics illustrate and make data comprehensive. It is best to detail it and include explanations for confusing facts. You should also try to incorporate this aspect into your story in your infographic to make it successful.
4. Data and Numbers
Data and numbers in infographics are essential, but you may find it tricky to arrange the best infographic for your content. Data shows the history of an event and requires in-depth knowledge to determine which data is relevant to the end goal of the content.
5. Copy and Content
Copy and content in infographics are key to the success of your infographic. It helps the audience understand the points you want to express. Infographics are best when they are easy to read and have as few words as possible to provide information quickly. Adding a call to action at the bottom of the infographic, such as "read more" is beneficial as it allows your audience to research your business themselves.
6. Fonts and Icons
Fonts and icons in infographics are best for labeling certain areas, highlighting certain points, and linking to additional details of information aside from what you present. This is not only beneficial to the reader but also helps the design of the infographic to make it aesthetically pleasing. Fonts and icons also provide context for the information and make it more understandable for people to learn about a topic.
Top 5 Infographic Tools
1. Canva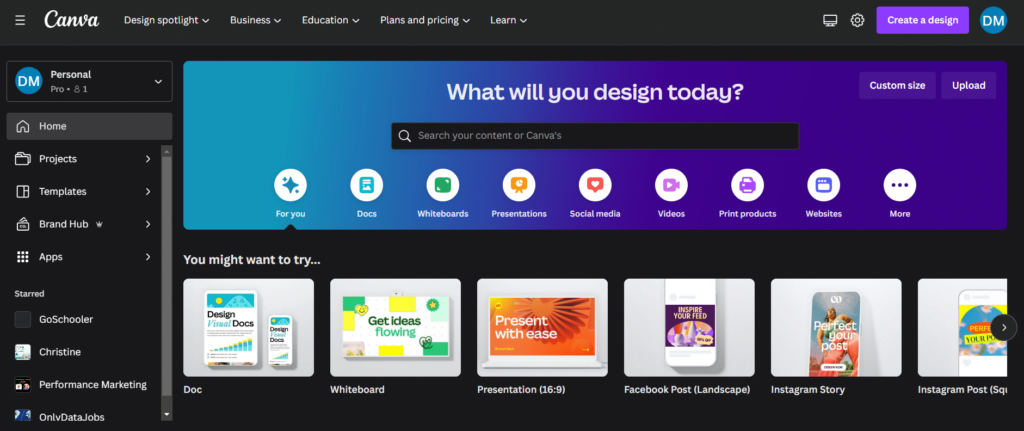 Canva is a fully flourished designing tool that helps users make a wide range of designs, has numerous features for designing infographics, and has free and paid versions. The free version comes with multiple preloaded templates, which you can modify based on your choice of theme and color. You can also add or remove icons, vectors, texts, and images and format the designs to your specifications. 
2. Venngage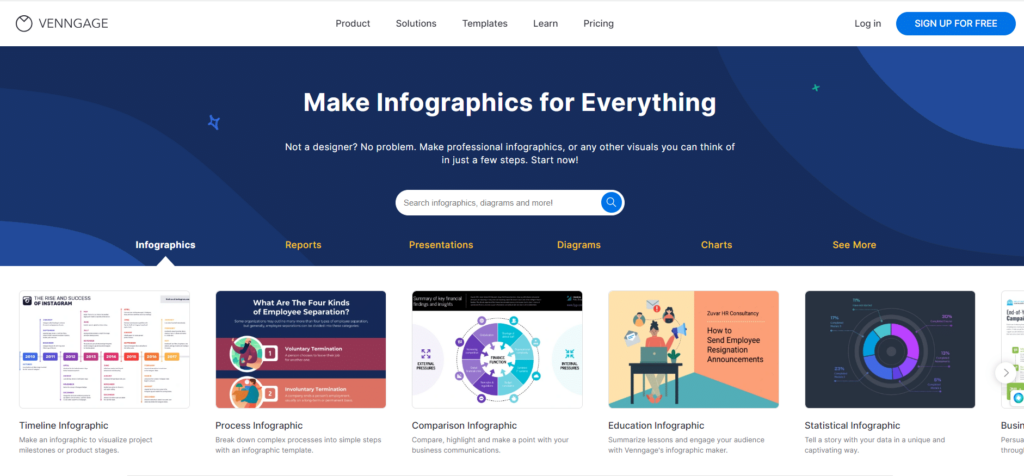 Venngage is one tool that came into the market for infographics and is now one of the most popular designing tools. Professionals and students prefer Venngage to create marketing content and blogs. It comes with a customizable illustration option, brand kit feature, and thousands of infographic templates that fit the needs of any user while frequently updating their design gallery to suit growing requirements.
3. Easel.ly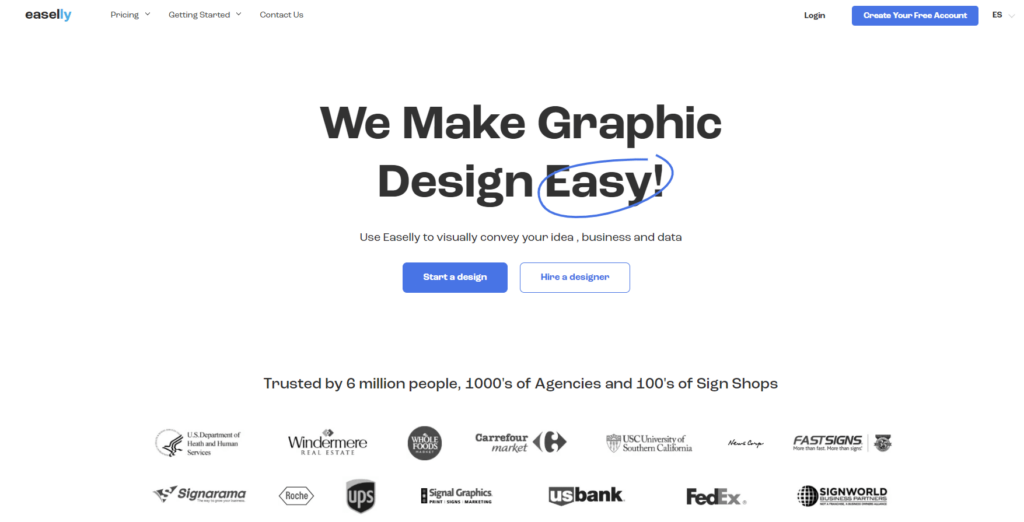 Easel.ly  is one tool that provides exclusive templates for infographics, but they give users limited access to its template gallery. If you get their premium version, you can use every available template, include your images, and modify shapes, icons, elements, and colors. They also offer a student version and a business version. The students' version has access to limited infographics, whereas the business version gets full access to the finished designs. 
4. Infogram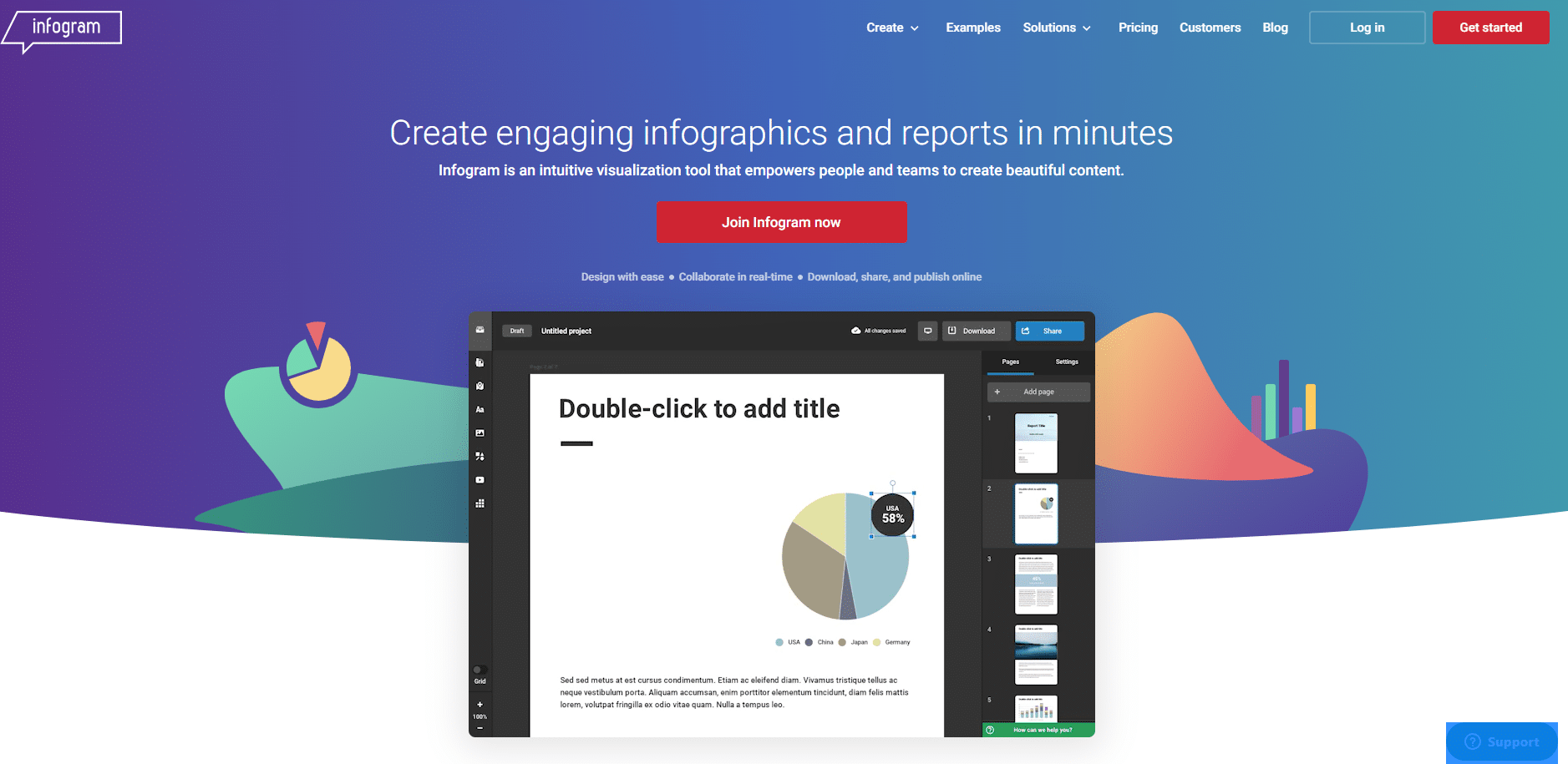 Infogram is a data-focused infographic tool that helps you create data visualization infographics. You can manually upload data or can upload data through SQL or CSV files. Infogram also provides infographic slides and videos, and you can use linking features and generate visual data reports through their pre-loaded templates. 
5. Piktochart
Piktochart's user base increased with the inclusion of new features such as reports, banners, and presentations. They focus on staying current with current trends, consistently update their template gallery, and provide advanced features and usage for professionals to create effective infographics, including presentations and videos. 
Closing Thoughts
If you are looking to boost your content marketing strategy, then infographics are the tool to use. Infographics are graphical insights essential to successful content marketing strategies. The simple format of infographics makes them accessible to a wide range of people regardless of their educational or marketing backgrounds.
The visual component attracts attention instantly, so it's important to analyze your audience and know what their interests are to customize your content accordingly. Once you have an idea, you can present it to a more personalized target audience and make it effective by inserting a visual component.
Anyone may view and understand infographics, and they are everywhere on the internet, such as on news sites, blogs, and social media. We aimed to provide you with extensive knowledge of content marketing infographics through this article. Check out our blog for more information about content marketing.
Frequently Asked Questions
What makes a good content marketing infographic?
A successful content marketing infographic has a number of essential characteristics that make it powerful and interesting. Here are a few factors that go into creating a quality infographic:
– Clear and focused message
– Visual storytelling
– Mobile-friendly design
– Compelling design
– Simplicity and clarity
What are the key elements to include in a content marketing infographic?
Here are some essential elements:
– Begin your infographic with a catchy and descriptive title
– Divide your infographic into sections
– Use icons, illustrations, charts, graphs, diagrams, and other visual elements to represent data
– While infographics are primarily visual, they still require text to provide context
– Include your branding elements
– Include a call to action (CTA) at the end of your infographic
– Make it easy for viewers by including social sharing buttons
How can I optimize my content marketing infographics for search engines?
Here are some tips to optimize your infographics for SEO:
– Identify relevant keywords related to the topic of your infographic
– Give your infographic image file a descriptive and keyword-rich name. This helps search engines understand the content of the image
– Add alt text to your infographic images
Similar Blogs: