Content marketing plan makes your marketing efforts more logical. It lets you track your performance, success, and even failures. Without a documented content marketing strategy, your efforts are primarily based on luck, and things will probably go south.
As surprising as it may sound,
More than 20% of B2B content marketers do not have their own content marketing strategy (Survey by Content Marketing Institute).
Of all the respondents, 36% said they have a content marketing plan in place but don't have it documented.
Yet, it's also hard for them to analyze their performance, creating an even bigger problem when things don't go as expected.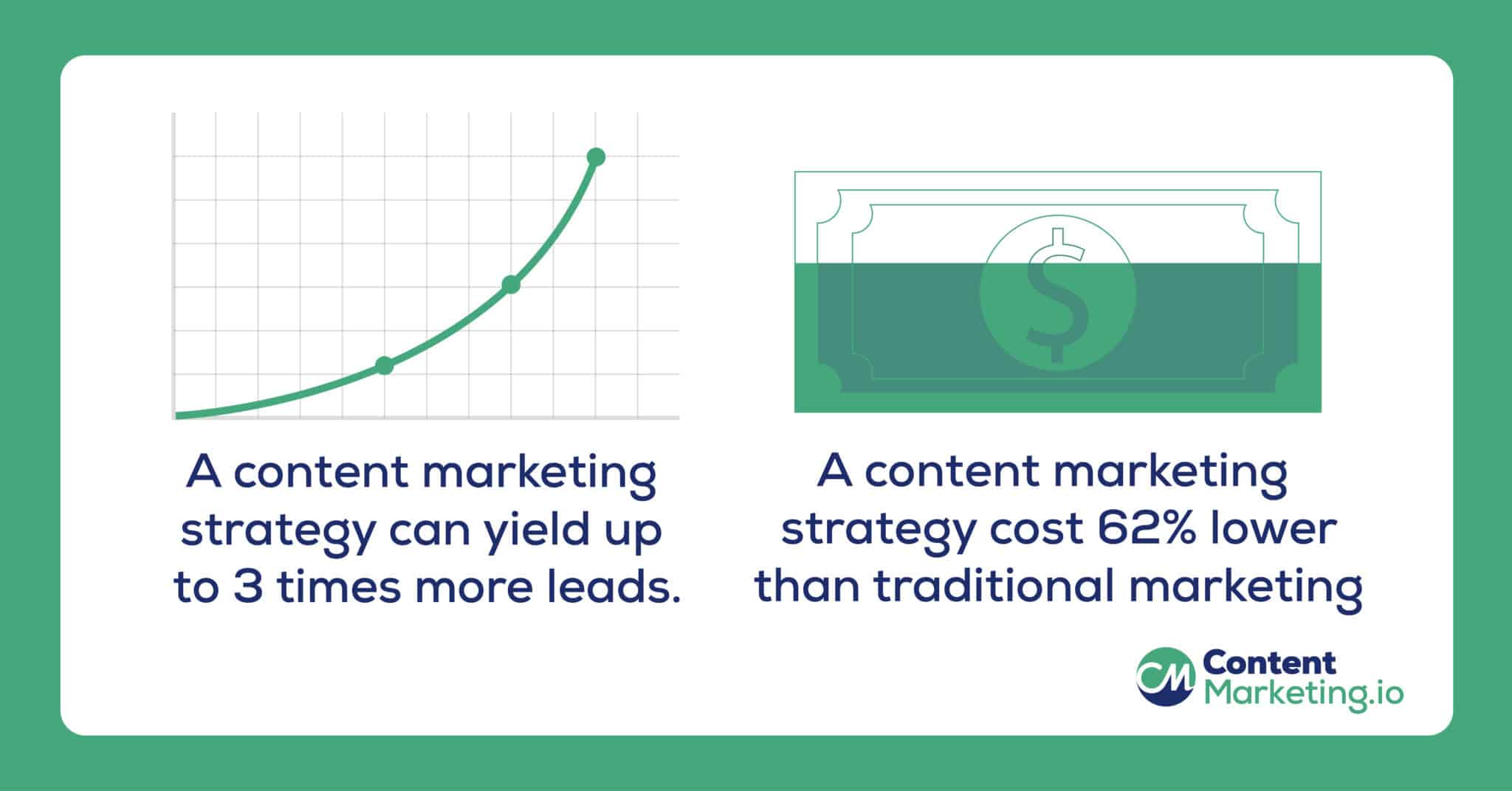 On the other hand, of the B2C marketers surveyed by Content Marketing Institute in 2020:
71% believed their company requires a content marketing strategy;
33% have it documented; and
20% were still planning to put in place a documented content strategy.
These stats show the inclination towards an effective digital content strategy. Although the progress is slow, the numbers are increasing.
So, are you eager to learn how to plan a content marketing strategy? If so, here is a guide to help you devise an effective plan for your next marketing campaign.
What Is Content Marketing?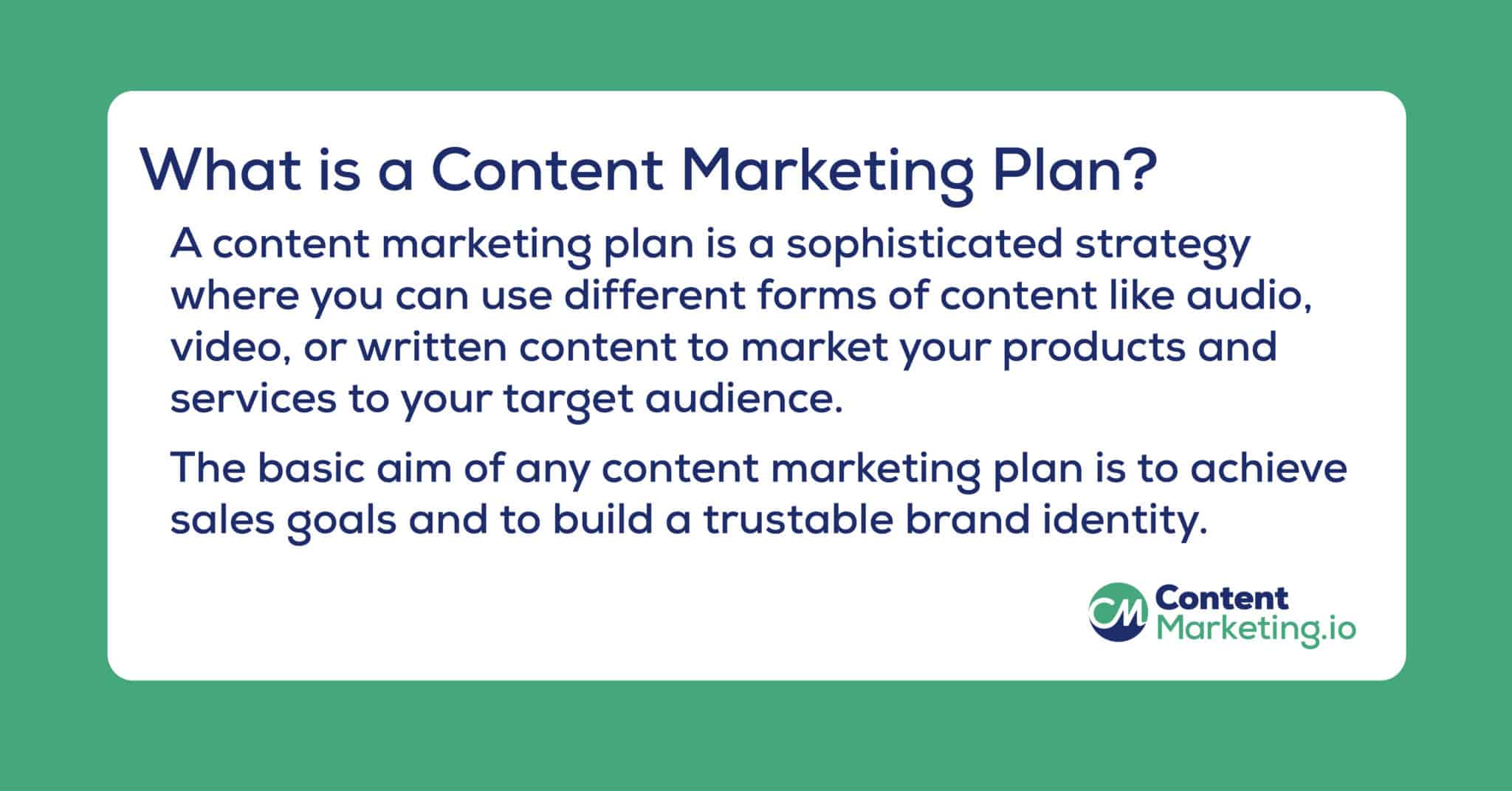 Content marketing is marketing your business, products, or services through content. Simple, isn't it? Content marketing may sound like a new concept, but marketers have incorporated it one way or another.
Earlier, businesses used to communicate their messages through word of mouth. Later, they found new ways, such as print media and audio.
But in the digital space, content marketing has a whole new meaning. Today, written, audio or video content can be produced. This social media platform helps you to expertise, promote brand awareness and build your business to grow into the next phase.
These forms can be produced in different types depending on their purpose and target audience. Below are some of the examples of the content that we consume today: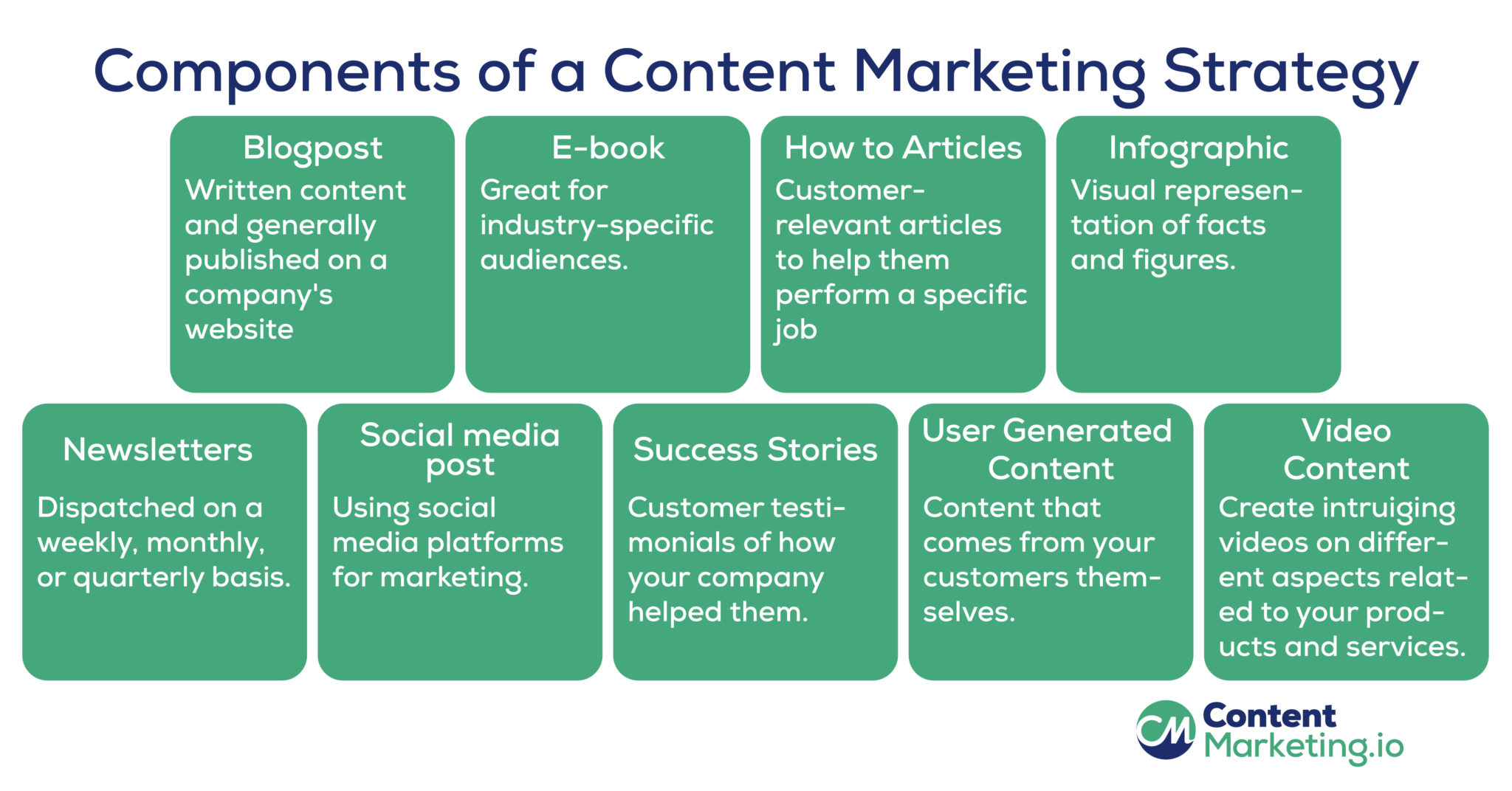 1. Blog Posts
Blog posts are written content generally published on a company's website. A blog post that follows SEO best practices can rank higher on different search engines. The higher you rank, the more your reach – an ideal way to expand your customer base.
2. E-Book
E-books are great for industry-specific audiences. Generally, companies publish e-books to flaunt their expertise in a specific niche. This type is most in-demand as we move to a more digital society.
3. How-To Articles
How-to guides are another way of proving your credibility in your niche. These articles focus on customers' pain points and help them how to solve a specific problem. These articles help develop trust between you and your customers.
4. Infographics
When you want to emphasize facts and figures, infographics help you establish your point more effectively. Some audiences are more comfortable with visual content than reading long posts. Thus, infographics help convey valuable information to the public. You can also use infographics in e-books, videos, blog posts, etc.
5. Newsletters
You can send newsletters and promotions to your website subscribers. Generally, newsletters are dispatched weekly, monthly, or quarterly.
6. Social Media Posts
Every company uses a social media platform for marketing. Whether a YouTube channel, Twitter, Facebook, or Instagram page, a social media post lets you reach an audience from every niche. As a result, you can quickly market short content through videos or written posts. But more importantly, you can link your audience to your official web pages through these posts.
7. Success Stories
Success stories are customers' great experiences with your product or service. And you'll want to share it with others, won't you? Hence, every content strategy plan must include success stories. It helps build your credibility and trust as a product or service provider.
8. User-Generated Content
Such content lets your customers take centre stage. They will do all the marketing for your business. Here are some examples:
Customer testimonials and feedback
Short videos showing they're enjoying your product or service
Guest posts on other sites
Buyers' journeys
9. Video Content
Spreading awareness through video content marketing is now common for most companies. That is why most brands have a YouTube channel and other social channels. What may be hard to convey through written content may be easier to market through videos. Through creative and engaging video content, you can reach more leads.
Having seen the different forms of content leads us to the critical player in the game – a content marketing plan.
Simply put, a content marketing plan is a sophisticated strategy where you can use the types of content mentioned above to good effect. The idea is strategically market your products and services to your target audience.
The basic aim of such a strategy is to achieve sales goals and build a trustable brand identity. Generally, the best content marketing campaigns target the audience at every sales cycle stage. The goal is to:
Enhance customer experience
Expand customer base
Generate more sales
So your content marketing program needs to be comprehensive at every phase. From research to the final audit of the strategy, it should provide every detail.
The more details you can add to the plan, the more robust it will become. As a result, you can expect higher chances of success out of your content marketing efforts.
Creating a Successful Content Marketing Strategy: 11 Steps to Follow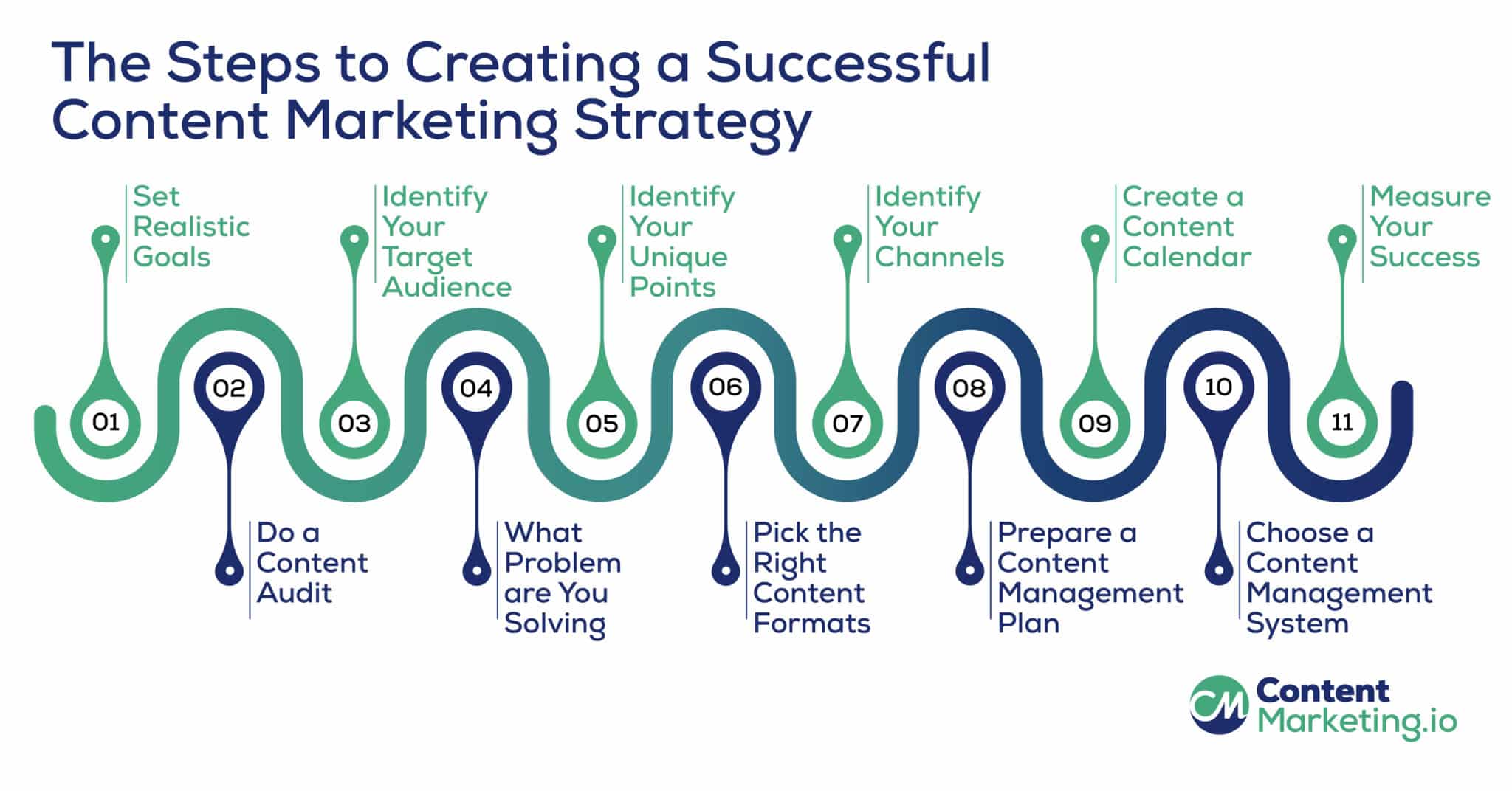 Now that we know that a plan is vital for content marketing success, let's find out the steps for producing content for your target customers. Here is what you need to do:
#1 – Set Realistic Goals
A content marketing plan without a purpose won't be effective. The main reason for setting goals is to identify what you want to achieve from the plan.
How much can you expand?
How many people can you engage?
What are your expectations concerning sales?
Ultimately, it will give you a better idea of the type of content you want to create.
Goal setting is always the first step and a vital part of any content strategy. This is where you get all the great ideas and experiment with new formats to keep that edge over your competitors.
Wondering how to set a goal for a successful content strategy? Start with a mission statement.
Your mission statement should highlight the following:
What's your target audience?
What's the right content for them?
How does it help them?
When you set a goal, it will influence every decision that you take after that.
Now, it's easy to get carried away and become too ambitious while setting goals. But remember, goal setting aims to ensure realistic objectives.
All you want is a faster ROI that is measurable, which comes when you understand the ground realities of your target market.
So, what could be your possible content marketing goals? You may want to design a strategy for:
Creating more brand awareness about your company
Generate more leads for your business
Acquiring more customers
Generating more sales
Getting more traffic for your website
Your organization's goals must be measurable and specific. This way, you can measure your performance and growth at any point.
#2 – Set Your Content KPIs
Setting the key performance indicators (KPIs) makes it easier to achieve your goals. Therefore, a content marketing strategy must have realistic KPIs to ensure better results.
You can set KPIs for the following content marketing aspects:
SEO
Web traffic
Sales
Revenue created
You can measure your performance and tick off the achieved targets as you set different KPIs. Note that KPIs should be specific so they can be measured and audited. The following are examples of good KPIs:
Achieving a 30% increase in revenue within the next 12 months
Increase the number of email subscribers by 40%
Improve the number of conversions by 40%
Rank on the first page of different search engines for specific keywords
While setting SMART KPIs for your content marketing strategy, it's also important to consider finances.
Suppose you are tracking your marketing campaign expenditure, cost of acquiring leads, etc. Make sure every KPI generates a better ROI for your company.
#3 – Identify Your Target Audience
The target audience is one of the key determiners of your content marketing plan. A defined audience will help you decide on which type of content is appropriate and which channels you can utilize.
Say you have a target age range; this group is mostly seen on Instagram. It only makes sense to invest more in this channel rather than Twitter. Without a defined audience, you will blindly invest in campaigns set to fail.
This is why it is important to analyze your customer bank. It lets you design personalized content that maps with the buyer's personas. This, in turn, will improve your chances of:
Meeting your sales target
Generating more leads
So what's the best way to discover your target audience? Here are a few ways to find out:
Demographic Data
Collect relevant data such as:
This helps you understand the preferences of your email, video, and newsletter subscribers.
It's pretty simple to get these insights through Google Analytics. Similarly, Facebook and Twitter analytics offer your social media audience insights.
Acquire Customer Feedback
Do you know what your customers are expecting from your product or service? You must always collect user feedback to understand:
What are the customers looking for?
How do they feel about your content?
What can you do to address customers' problems?
This helps you understand customer priorities and choose the right platform to target them.
#4 – Audit Content to Analyze Your Current Position
A content audit is a critical part of a strategy. It helps content teams to understand the efficacy of your current marketing tactics.
Let's say you're creating a content strategy plan for 2022. What should be your first step? It has to be about reviewing the previous year's plan.
What goals did you set?
How much have you achieved out of it?
Where did you go wrong?
What needs to be improved?
So, what should you focus on while making an audit? Look for:
Low-performing content
Best-performing content
How frequently do you publish content
What are the ranking keywords?
But what if you are creating a content marketing plan for the first time? It is best to curate and document your content marketing plan to audit later in such a case.
Auditing your content gives you more realistic insights. So, it automatically dictates the key performance indicators (KPIs) for your next campaign.
So, how do you analyze your content? Well, you can start with content analytics that helps in:
Logging content by listing URLs, finding duplicate pages, and analyzing page titles and headings
Assessing content sharing and usefulness for the users
Identifying gaps in the content in keyword relevance, well-ranked but improvable content, and content relevance with the target audience.
#5 – Identify Your Channels
Your content marketing channels will indicate two things:
Subscriber density
Audience density
You'll learn about these when you produce content and get customer feedback.
Therefore, picking the right channel is key to your content marketing strategy's success. In some cases, selecting a channel is one of the first things to do. That's because it directly affects your content type and budgeting.
For instance, you may fall short of manpower if you're a startup. Content marketing agencies such as ContentMarketing.Io can help you get started.
Likewise, if video channels like YouTube are your priority, you will need the essential tools to deliver high-quality videos.
Once again, you can use Google Analytics to understand the performance of different channels. These channels help you understand key parameters like:
Content shares by length
Share by content type
Shares by network
Moreover, the buyer's journey is another element that influences your channel selection. How buyers receive your company products and services and how customers learn about your products is an important analytic and a key performance indicator for channel selection.
For example, a buyer experience will tell you whether the customer learned about your services from email marketing, social media posts, YouTube videos, or blog posts.
#6 – Pick the Right Content Formats
It is important to figure out where you can meet your prospective audience more than following the trends. For example, launching a podcast is easy because it's trending. But is it the right channel for you?
If you create content that doesn't reach the target audience, your content strategy has a definite flaw.
Quality content creation is about hitting the audience's pain points; you can only do that when you can access them.
Generally, blog posts are the essential type of content that features most content marketing plans. They yield more productive results because they are actionable, shareable, and add more value to your content.
#7 – Resource Allocation
Once you know the type and content channels, it's time to start allocating roles to your team. Here, you will first need to ensure that you have all the resources to implement the strategy. So, focus on the following attributes:
Content Supervision – Identify the people who will overlook content creation and publication. Whether it's in-house blogging or creating videos outdoors, the content supervisor will ensure the production and publication of content according to the content schedule. Generally, the number of supervisors can vary according to the company size.
Identify Resources – The person in charge of content creation will determine the required resources, i.e., human or digital, to create content effectively. It also depends on your team size and content deadlines. So, it's common for companies to use:
In-house content creators
Freelance workers
Graphic designers, video makers, etc.
Content Design Flow – After sorting out the required resources, prepare a design flow for your content. A typical workflow for any type of content goes out like this:
Create a content outline
Get it approved
Design supporting graphics and images
Editing phase
Accommodate changes
Upload and Publish your Content
Your content design flow works well if supported by a content calendar. Also, it helps the content managers to stick to a framework to achieve the set KPIs.
#8 – Create a Content Marketing Calendar
One of the biggest mistakes in a content marketing strategy is leaving out a content calendar. You will know exactly when and what to publish when you have a content schedule.
Generally, marketing schedules feature editorial calendars, making it incredibly smooth to streamline your marketing activities. This is especially critical for large enterprises.
To make an effective content editorial calendar, including the following details in it:
Team members of your content program
The relevant sales funnel stage
Content formats
Content draft due dates
Publishing date
Promotion channels
The best part is that creating a content calendar isn't too complicated, at least when you don't have too much content to publish. You can do it on Google Calendar by setting due dates and reminders.
However, you may need a content management plan if you have a larger content team with substantial content that goes out regularly. These plans ensure that your activities don't go out of sync. If that happens, you might deliver different content on your channels, which is nothing short of a marketing disaster.
Therefore, having a proper management plan with well-defined content formats prevents cluttering and makes it easier to make decisions.
#9 – Content Creation
Once you've put everything in place, it's time to start creating the content. Content creation always starts with research, regardless of what type of content you create. For instance, it is easier to pick a topic and its theme after understanding the target audience and other demographics.
For example, your audience may need a 'how-to' article. So, when you've finally picked a topic, it's time to start researching.
Researching the Right Way – Comprehensive research is the backbone of authentic and well-versed content. Also, research helps you determine the type of content already published in your desired niche and will help you deliver more value to the audience. So, an easy way for content research is to use Google and check out the top blog posts and articles for your title. Once you've done that, figure out:
The gaps in the published content
How to improve existing content
The unique aspects of your content
Content research also focuses on keyword research for better SEO and rankings. But, at the same time, it's good to add organic research gathered through your audience feedback and forms.
Creating the Content – Content creation is about giving it your flavour. So, think about how you can market your brand and relate it to your post. Consider the following while creating content:
Each idea you present in your content must reflect your brand's persona.
Consider your tone. You can either appear too professional or too casual.
Create a balance while boosting your expertise on the subject.
While ensuring these aspects, remember that your content must appear on SERPs, so you can never leave out content optimization.
#10 – Content Marketing and Distribution
Your content is now ready to be published. But it's important to handle the distribution and marketing of your content wisely. Otherwise, all your efforts up to this point may go in vain.
Therefore, to effectively market and distribute your content, follow these guidelines:
Set your content sharing schedule for each of your marketing channels.
Distribute your content through email marketing
Take help from influencers and top brands mentioned in your content to widen your content.
If the content distribution doesn't come easy, it's best to use professional content marketing services to reap the best results out of your efforts.
#11 – Measure Your Success
Tracking campaign results is one of the essential elements of an effective campaign. It's pretty much like a content audit, but it may be slightly different and less rigorous.
Generally, digital marketing success relies on different tools like Google analytics.
You will understand how well you have achieved your business goals and what must be done to improve your ROI for the next content marketing cycle.
While analyzing the performance, you must consider any changes in your goals. Because when your company goals change, it also impacts your performance metrics.
For instance, if your initial goal was to attract new visitors to your landing page, the metrics will track how the traffic has performed during a specific period. But if your goals change, the previous metrics don't stand the same value.
If you are not using content management tools, using Google Analytics is the best way to measure content failure and success.
Benefits of Content Marketing
Since your content is backed by comprehensive research, analytics, and data-driven content, there are obvious advantages of content marketing for your brand. Here are some of the major benefits to look out for:
1. Boost Traffic On Google
Google is the most widely used search engine. It sends ten times more traffic to your website than any other search engine and social media platform. Therefore, optimising your content will increase the chances of getting customers, gaining more website traffic, generating revenue, and whatnot.
2. Drive More Sales
Most customers don't buy from your own site on the first try. Generally, they would want to understand the products better before they purchase them. So, if your website produces 'How to' articles, it brings your customers one step closer to buying from your website. Moreover, it builds more trust between the customer and your brand.
3. Enhance Brand Awareness
When you write informational content with proper keyword research, it will rank higher on Google search pages. Considering that everyone uses Google search, you can reach an unimaginable number of potential customers through a simple piece of content. As a result, more people learn about your brand, so you can expect more sales and web traffic.
4. Enhance Social Media Following
When your target audience finds your content helpful, they are almost certain to follow you on different platforms. Moreover, they may become your brand advocates, referring your products to their friends and family. As a result, your social media audience will likely grow, which means more potential customers and better revenue.
5. Drive More Users to Product Pages
Links serve an important purpose in lead generation. When you add links to your product pages, effective content will lead more customers to your product pages. So, while you're getting more web traffic, you are also improving your chances of making more sales.
FAQs
Why do you need a content marketing plan?
A content marketing plan is required to give a detailed picture of who will write the content when the content will be published, how the content will be published and shared, and the purpose of developing the content.
How do you create a content marketing plan for your business?
When you plan content for your business, you should first set the KPIs to have a strategy for how to market it. You should know your target audience and then decide on the type of content they require.
How do you create a content marketing plan for social media?
A content marketing plan for social media must include:
– The social media platforms on which you have decided to publish.
– The content for each platform.
– Content calendar for a publishing schedule.
– The metrics to measure your content's performance.
How to develop a B2B content marketing plan?
Your B2B content marketing plan must have well-defined objectives for your long-term goals. The marketing plan should include how to pitch to your clients, impress them with your content, and convert them to leads.
How do you create an editorial calendar for a content marketing plan?
A content calendar, also known as an editorial calendar, is a written schedule of when and where you plan to publish your content. They include the status of the articles, promotional activity, and the time to do updates.
Conclusion
A content marketing plan is a great tool for developing a robust marketing strategy to achieve your business goals. It's a vital part of your annual plans and must be integrated into your company's vision and mission.
Having a decent plan improves your chances of success as a content marketing team.
In a nutshell, a quality content marketing strategy is about self-analysis, identifying the audience, promoting content through different channels, picking the right publishing dates, and analyzing your campaign's success.
Similar Posts