Creating content takes a lot of effort. But what is the point of creating the content if it doesn't achieve its purpose? How do you know your content is good and your marketing strategies are adequate? And what is the purpose of your investment if it doesn't bring any returns?
With the rapid expansion of the internet, the content produced over the past couple of years is enormous by all means. Hence, even keeping track of your content's performance has become a daunting task. Many small business owners have little to no idea of where to start.
That's why we have decided to help you and made this detailed guide on how to measure content marketing. Read till the end to know what ROI is, why to measure ROI and how to measure it like a pro. As a bonus, also learn how to boost your content marketing ROI.
What is Content Marketing ROI?
ROI (Return on Investment) is the percentage of returns gained with reference to the incurred expenditure. It is always expressed in percentages.
Content Marketing ROI is also similar to ROI, with a small twist. In Content Marketing, we specifically focus on the returns and expenditures caused by our content marketing efforts.
Its definition and contents may differ from one business to another. This may be due to the difference in the type of content, differences in the marketing channels, etc.
You can make the following observations from content marketing ROI
A positive ROI is an indicator of successful content marketing.
A steadily growing ROI is also an indicator of your content marketing success.
If you spend less and earn more on your, your ROI will be high.

In short, ROI is one of the important indicators for revealing the success of marketing activities.
Why Calculate ROI?
Some people may hesitate to calculate ROI thinking it's too confusing and time-consuming. On the contrary, calculating and measuring the ROI is the key step toward the success of content marketing efforts.
Content Marketing ROI indicates how the content is performing and how it's affecting your business.

This helps you understand which streams are performing well and which streams are lagging. Say, for example, you run a blog and also a video marketing campaign. The former has an ROI of 30%, and the latter has an ROI of 70%. This will give us insights into our focus area and help us tweak our strategy accordingly.

Helps small and midsize businesses sort out their budget and reduce the time taken to break even.

Offers a clear picture of the competitive edge we have over other players and other streams of marketing.
Content marketing does have an impact on revenue, but it's not always a straight line. It usually takes months to see a change or reflection in your ROI. But, if it doesn't increase in the long run, it surely is deemed as a waste of investment. Therefore, content marketers need to get perceptive about measuring the ROI of their efforts.

Having a fool-proof method to measure your content's ROI helps you set clear goals, strategize better and achieve your objectives faster.
How to Measure Content Marketing ROI?
A simple content marketing ROI is nothing but the expression of gains made as a percentage of expenses incurred.
ROI( as %) = (Return – investment) / Investment X 100
Please note that the term "investment" refers to the total investment, including the cost to produce, distribute and market the content. Also, only the organic growth or returns is taken into consideration to get a true picture of content marketing efforts.
Although this gives a bird's eye view of the content marketing performance, it is always good to drill down and look into the finer aspects of content marketing. The devil truly lies in the details, and that's why need to track certain KPIs and metrics to get the bigger picture.
Track Content-Specific KPIs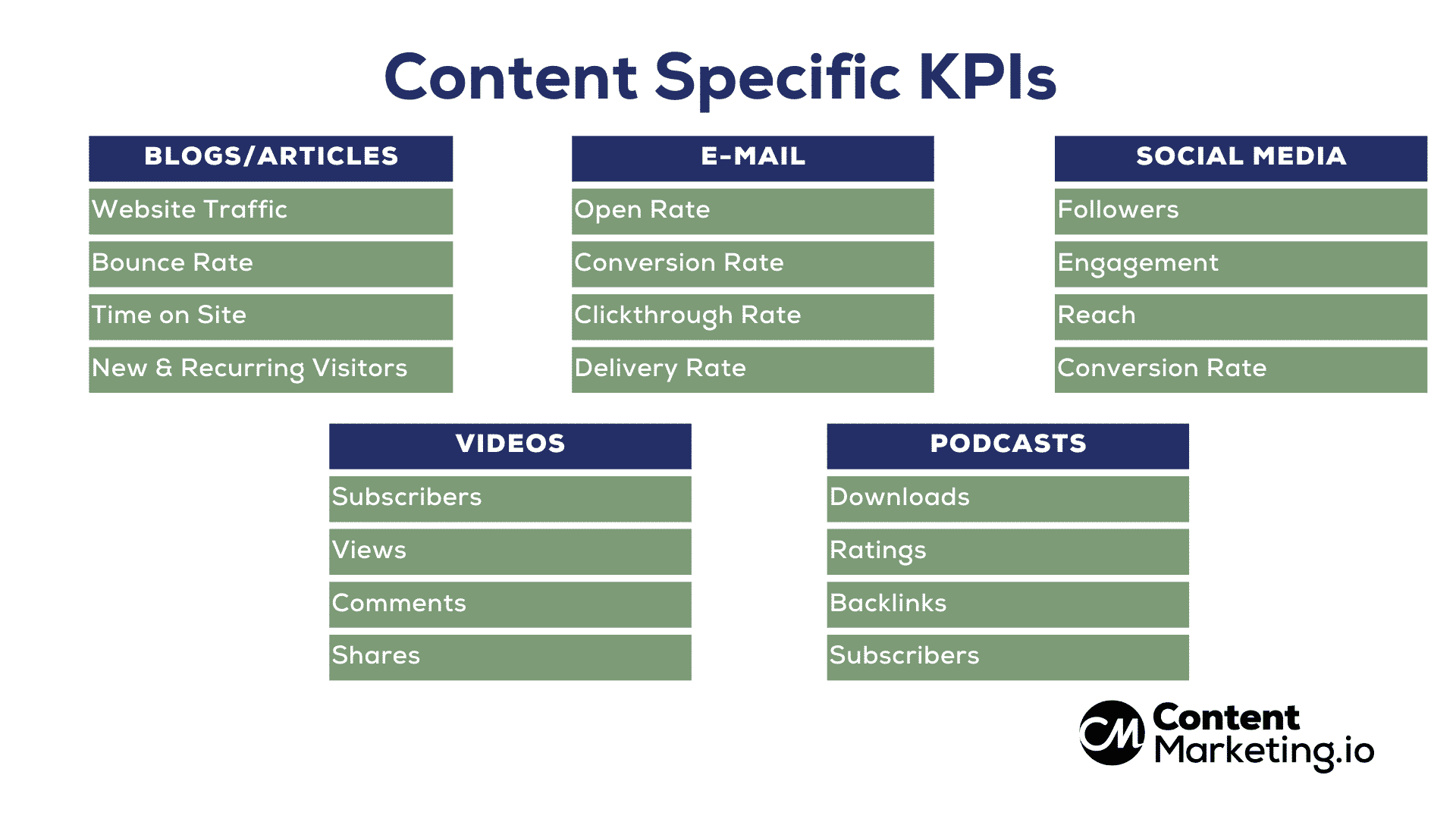 Based on the content marketing type, certain associated KPIs (Key Performance Indicators) need to be tracked.
For example, while calculating KPI for Blogs, the website traffic and bounce rate are important. On the other hand, video content can be evaluated using the number of views garnered, and comments received.
It is advisable to keep track of them regularly using automated dashboards and monitor any major dips or trends in their figures. This will give us important insights into the content's performance both at the larger and granular levels. You can make use of Google Analytics to better track your business growth.
KPIs and ROI go hand in hand. Generally speaking, there is a strong correlation between them. That is why good KPI level performance generally indicates good content marketing ROI.
Measure General Content Marketing Metrics
When it comes to determining your content's ROI, there are other general metrics to look out for, irrespective of the content type. These will help you understand how all your content types are performing and test whether they are yielding results or not.
Some of these metrics are simple to measure and straightforward, while others might be intricate. So, evaluate your unique needs and goals before choosing the appropriate metrics to track your ROI. Now, let us look at some of the most commonly used metrics in tracking content marketing performance.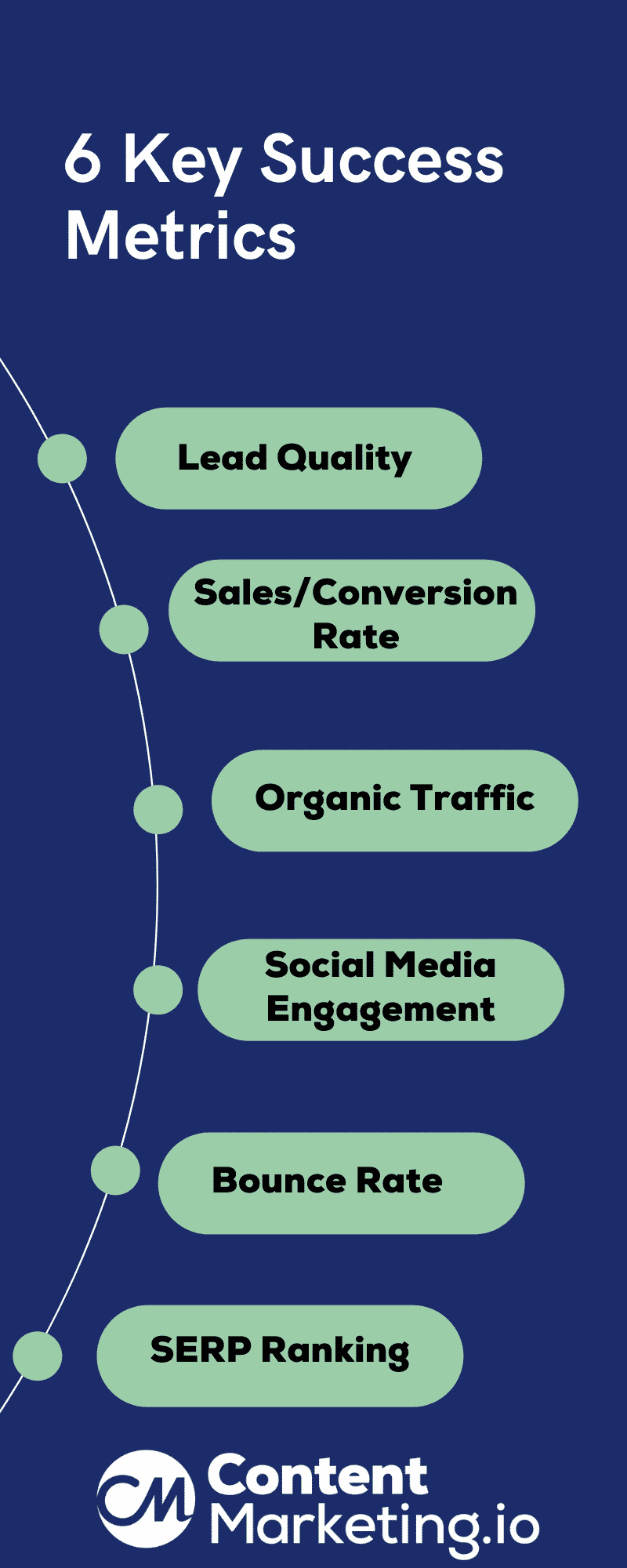 Lead Quality
If your high-quality content is performing well in the market, it will attract high-quality viewers. The possibility of your audience converting to potential customers is called a lead. Lead quality is one of the important factors to track the success of any content, be it a video or an article. Higher quality leads lead to better conversion rates.
Sales and Conversion Rate
When the term ROI is involved or calculated, it is usually associated with the sales rate.
Knowing the sales or conversion rate will be a key factor while tracking ROI. Say, for example, out of 100 leads, 20 people buy your product. Then your customer rate would be 20%. Having quality leads and providing the right content at the right time will effectively help improve your ROI.
The two metrics above help in the literal arrival of Content Marketing ROI.
There are also certain metrics that do not necessarily convert to revenue. They are important to track your overall content marketing performance.
Organic Traffic
Organic traffic is nothing but the traffic your website attracts naturally without running any ads or marketing methods. Simply put, it is the number of organic visitors to your website. Almost every website or service aims at improving its organic traffic rate by using search engine optimization and providing high-quality content.
In research conducted by Semrush, around 76% of content marketers use organic traffic as a means to track their content's performance. Thereby making it one of the most important key metrics to measure content marketing success.
When you know the source of traffic, it is easy to pivot your content marketing plan accordingly and in turn, get more leads.
Social Media Engagement / Shares
The success of social media content is measured in terms of shares, reach, and engagement of the viewers on various social media platforms. According to this research at a leading university from Sweden, most small and middle-sized companies find their potential customers on social media.
Bounce Rate / Engagement
Bounce rate is the percentage of people leaving your page without any actual engagement or views. A low bounce rate means your content is working well and visitors are finding it useful.
Knowing people stay on your page for a longer time, and knowing people visit your page again is a sure indicator that your content is successful.
According to Semrush, 31% of content marketers consider bounce rate to be an important metric to measure content success.
SERP Rank
SEO is the process of optimizing your content to make it rank at the top of the search engine results page (SERP). This has the highest potential to increase web traffic, generate leads and make conversions. Hence, it is regarded as one of the most effective ways to promote/market your service. Research conducted by Brian Dean states that there is a significant drop in click-through rate on the second page.
So, it is essential that your page ranks on top of SERP. Working on target keywords and generating more inbound links helps put your page on top of SERP. That's why it is important to keep track of your content's search engine rank.
These are a few important metrics to keep in mind while measuring ROI. There are a variety of ways to arrive at ROI, depending on the nature of marketing.
Every stream of marketing will have different ROI metrics to term their success. You can track either of the metrics separately, or even combine 2 or 3 metrics to track performance based on your needs. Most businesses struggle to identify the correct metrics and end up measuring the wrong metrics,
In a nutshell, setting specific goals, identifying costs, and choosing proper metrics will help keep track of meaningful ROI.
Tips to Boost Content Marketing ROI
Keep track of your SEO performance. Optimize your blog to see if it ranks up in the Google SERP. If it does, you have a better chance of traffic and conversion rates. In turn, more ROI.

Keep an eye on content-specific KPIs and choose metrics that make more sense. As metrics keep changing over time, keep reassuring what metrics your track.

Set appropriate goals, identify the target audience and the timeframe you plan on achieving the goal.

If ROI is a major factor in your content marketing strategy, focus more on revenue and sales.
Frequently Asked Questions
What is an appropriate ROI proportion for marketing?
Different ROI percentages apply depending on the industry. Therefore, 500% is the best overall record for marketing ROI. The 2:1 ratio, however, could be more profitable.
What factors contribute to declining ROI?
The following are the variables that impact ROI:
– Financial aspects
– Costs of investment
– Investor conduct
How can you improve your ROI?
You can raise your ROI in four different ways:
– Boost your income.
– Utilize data as a lens.
– Purchase analysis equipment.
– Lower overhead expenses.
Why is it important to measure ROI?
It is an analytics tool that helps you structure your future marketing strategies based on the data you collect.
When does content marketing start to show a return on investment?
Your ROI can vary depending on your content marketing strategy, production, and promotion. The time it will take to see significant results is probably between four and five months.
What types of content can be used to improve ROI?
– Updated material
– Adaptation of your content
– Ongoing promotion of content
– Analyzation and enhancement
Let's Wrap Up
The concept of content marketing ROI is very important to evaluate whether your efforts are taking you in the right direction. ROI, content-specific KPIs, and general metrics are closely related to each other.
Although measuring content marketing performance is not an easy task, it is achievable with the right strategy and tactics. Once you start tracking your ROI wisely, you will start reaping its results in a short time.
Please keep this in mind while measuring your content's ROI and see it drive your content marketing strategy to success. Keep visiting our blogs for expert guidance about content marketing.
Similar Posts