Content marketers compete everyday with a million others who are trying to market similar ideas. It's a war of words out there, and charging in head-first without a strategy may only result in a losing battle. If you want to be among the last men standing, zeal and valor alone can't get you through. It is important to map out a content marketing strategy template to ensure long-term success. 
Why Do You Need a Content Marketing Strategy Template
Having a content marketing strategy template can really help organize your ideas and coordinate your work to accomplish the dream. Your work must be delightful enough to attract, credible enough to hook, and consistent enough to maintain your content consumers.
The first part in your journey as a content marketer is bringing your ideas to life, and the second part is keeping it alive. Many fail on the second part because they lack a consistent plan for the long run. Without a plan they tend to fall as fast as they rise.
Go through our pointers for developing a content marketing strategy template of your own, so that you can rest assured of a long and successful journey in this field.
How To Build a Content Marketing Strategy Template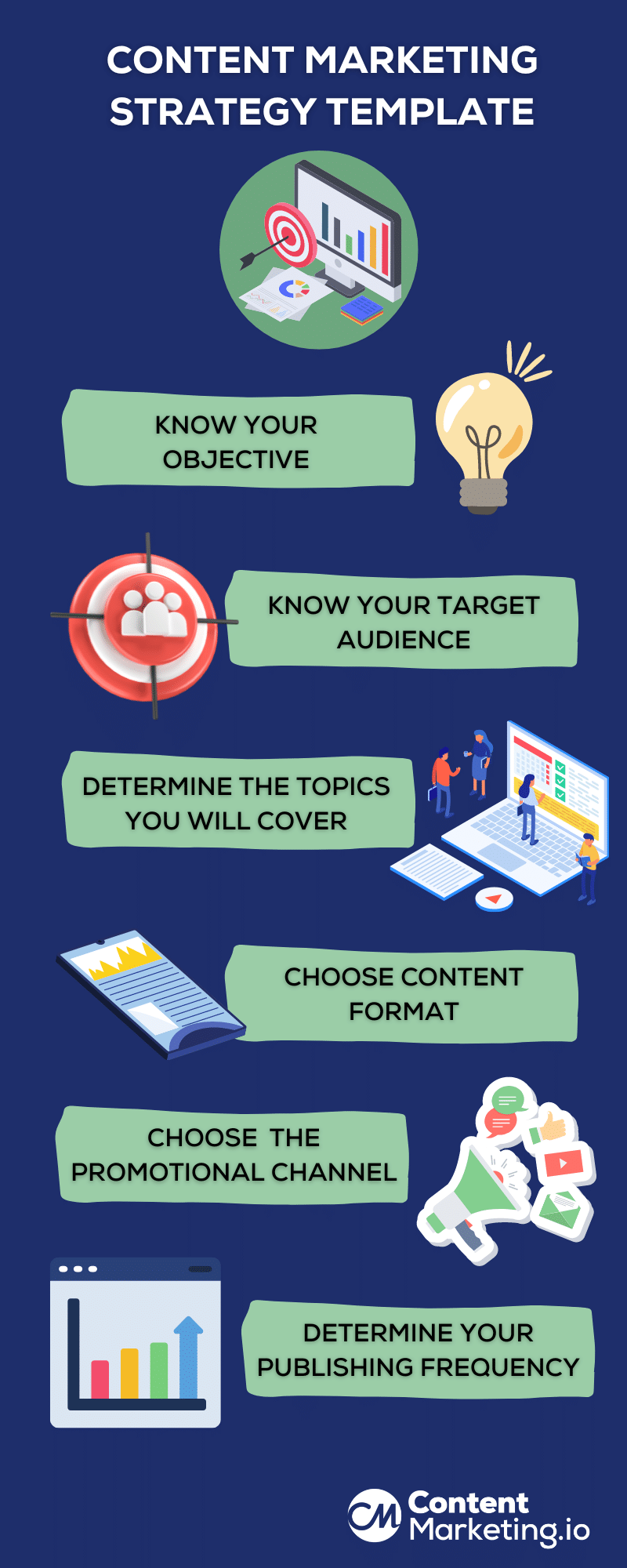 Don't know where to start? Let's take baby steps shall we? Simply answer the questions in the template below, and you will naturally arrive at a strategy for your business in no time.
What Is Your Objective?
The first step is to ask the primary question of what your goal is. Beginning with a goal in mind will help you take steady and sure steps to accomplish it. A project without a mission is like an eye without vision. It lacks purpose, so your business naturally stumbles upon every pebble in the road.
It is important to have an expected outcome in mind before you begin. You can set business goals and content goals. Every decision you make in the business must have these goal in mind.
Who Are Your Target Audience?
Now that you've fixed your goal, it is important to keep sight of who your target audience is. This can help you observe and detect their pain points more easily and provide solutions that are more curated to their needs. 
Once you have an audience in mind, find pain points that you can provide solutions to. Research how best you can attract them by using material that they might find most relatable. You can change your brand persona to suit the type of audience you wish to attract.
Find the best way to help your audience. Ask yourself what problem you are solving, and how you plan to solve it. Discover how you are unique. Among all the noise on the internet, why are you worth listening to? Your uniqueness must make you stand out among your competitors.
What Topics Will You Cover?
Prepare a list of all the topics you will be covering, so that your content can be more focused and specialized in a particular field. Your audience will know just what you offer best. This will prevent you from wandering between random topics, and will also save you a lot of time.
Plan well ahead so you can avoid confusion, and focus more on meeting targets and optimizing your content to rank higher.
What Content Format Should You Choose?
How do you plan to format your content. Will it be in the form of a blog, an article, a podcast, or maybe a Youtube video would work much better. Your content must resonate with your audience. You can also choose to reuse your articles for different mediums. This will ensure that your content is squeezed for all its potential value.
What Promotional Channel Do You Prefer?
Choose a channel on which you can promote your content. When choosing the channel, keep in mind the audience and their preference. This is a critical decision to make. It can determine the boom or poof of your content!
So, take the time to study your audience and discover the platforms they use most and feel comfortable with, as well as the platform they trust.
If you have an audience who prefer quick and clear material that doesn't consume too much of their time, you might want to consider platforms, like Instagram, TikTok or even Twitter, which does not allow you to exceed the audience prefer visual content in video format, you can publish your content as a Youtube video. Facebook is the giant of social media with almost three billion monthly active users.
Determine Your Publishing Frequency
Determine fixed periods of intervals during which you can systematically publish your content. These fixed intervals can raise audience anticipation and interest. It can also help you plan your article ahead of time to avoid last minute hassles.
Tips To Optimize Your Content
Content optimization is getting the maximum effect from your article by using SEO tricks to help your page rank higher on the Google's SERP. It is crucial to optimize it for your audience and the internet. To achieve this, focus on the following pointers that can help your content grow and rank in the digital world.
Select and focus on topics that are hot and fresh. Choose topics that are more suitable to your time and to your audience.
Use keywords through out your articles so Google can find and rank your article as relevant. You can find hot and most searched topics with the help of tools like Google Trends, Ahrefs, Ubersuggest etc.
It's often not enough to pass through Google's scrutiny, your content must also satisfy your audience. And, for that your content must avoid generic information and delve into details. Your research must be thorough to gain the trust of your audience.
Make sure to add attractive and appealing visuals to support your content, so your audience is not overwhelmed by an excess of worded information.
Constantly update your material with current information to avoid being lost in Google's black hole. Updated material can increase your credibility and encourage your audience to visit more often.
Focus on what you know well. Never try to fluff your content, your audience will eventually, figure it out! Make sure your content is original and raw.
Schedule your content in advance so you don't have to rush your material in the eleventh hour. With your topic decided in advance you can spend more of your time editing and optimizing it.
You can always repurpose your articles. You can tweek the same material to create Youtube videos or podcasts, so you can make the most of it.
Content with Your Content?
Now you know how to optimize your content and create material that both you and your audience are content with. Strategy is key! Plan, organize, and map out your content, so you can better navigate your way. Use our template to guide you through this intense and highly competitive world of content marketing. You will find a good foothold in no time!
How is content marketing different from content writing?
While content writing is only concerned with producing the written material, content marketing includes the whole package of material creation, along with its promotion and distribution. It involves other processes, like keyword research, content research, content writing, graphic design, the publication and promotion of articles, videos, podcasts, and other forms of media.
What are the main pillars of content marketing?
The first step is to know your audience and their pain points. Select topics that most matches the needs of your audience. Create content that is both entertaining and informative. Find creative ways to promote your content. Constantly review and update your content to the latest trends.
Is SEO a part of content marketing?
SEO, or Search Engine Optimization, is the technical process of formulating content that creates traffic on your page, and places your blog among Google's top ranking pages. Applying SEO techniques can help optimize your material and increase the number of visitors on your content page. 
Suggested Reads