The world around you has already adapted to the digital revolution. It's only a matter of time before traditional marketing strategies will cease to exist, and digital marketing will grow in value.
Whatever your niche is, without apt content marketing strategies, your brand risks failing. To secure your place ahead of your competitors and in your industry in general, a good content marketing plan is necessary.
With a good marketing plan comes the use of reliable content marketing tools. In this post, we will be tackling what content marketing is, reliable tools, and the strategies you can incorporate. 
What Is Content Marketing?
Content marketing is a digital marketing technique that drives you to create, distribute, and promote valuable, interesting, and relevant content. Valuable is the key here.
As your audience doesn't know your brand, they aren't going to look for you in search engines. As they do for Amazon and Tesla.
They are looking forward to solving their problems with your product, and your content marketing strategy needs to provide that. Half-hearted content is more like spam than a promotional medium.
Most of the time, you don't write content as a promotional piece but write content to educate your customers.
Which content needs to end up in your digital marketing campaign through content marketing tools is decided upon by the engagement and appreciation of your audience.
Content marketing tools, discussed in detail later in the article, help you design your content marketing strategies, research for keywords, and write better.
As the secret to content marketing is to provide value, the effort is futile if you aren't doing that.
The return on investment (ROI) from content marketing can be extraordinary. You cannot even spend a dime on promoting your content and have exceptional engagement and sales.
The sales funnel that you can create with content marketing is phenomenal. With high-quality content marketing tools and engaging content, you can increase your website traffic manifolds.
Pros of Content Marketing
We can't stress enough the benefits of content marketing. As content marketers, it's even surprising to see how the industry has developed to match the audience's psychology and needs.
Let's look at the benefits of content marketing below.
1. Enriched Website
Content is what your audience sees when they visit your website. And putting up valuable and informative content is a way to enrich your website and make your customers stay.
When your content is engaging, leads tend to be interested and ultimately be converted into a customer.
2. Ranking Higher in Search Engines
Google crawls your website every time you make any changes to it.
Adding more content allows it to index more pages of your website on its database, which doesn't necessarily contribute to a positive ranking if your content is weak.
But if your content is valuable, it'll have a better probability of ranking higher.
Whenever a user spends more time on your website without leaving, the more authentic your content gets in the eyes of search engines. And the better you rank on the SERPs.
3. Inbound Links and Authority
More relevant content means more authority. When you keep posting informative content regularly, more websites will use your content as their source. A win-win situation.
You become a credible source in your niche and you gain authority in the eyes of search engines. Whenever someone cites a website, Google gives it more authority as users see its content as relevant and credible.
Ultimately, inbound links lead to higher domain authority resulting in higher ranking and higher organic traffic.
4. Easier to Measure Than Traditional Marketing
With the help of content marketing tools like Google Analytics, it's quite easy to measure your content marketing strategy.
Not only the total engagement but Google Analytics also lets you know about the bounce rate, average time spent, which contents are most productive, and many more.
Cons of Content Marketing
Although the benefits outgrow the disadvantages of content marketing by a very high margin, it's only unjust to not mention them.
1. Time-Taking Solution
Content marketing, with or without content marketing tools, can take a long time to prove its worth. If done right, you can see a steady stream of traffic with content marketing.
But, as it depends on the content and the products, you'd need to grind for weeks before seeing any progress.
But as mentioned, it's only a matter of time and quality before you see constant traffic and revenue generation through content marketing.
2. Content Marketing Can Be Expensive
It can be very costly if you decide to build your in-house content marketing team or hire a content marketing agency for your campaign.
However, content marketing generates the most return on investment (ROI). Also, the investment is practical since there will be a time when everyone consumes digital content.
3. Needs Constant Monitoring and Experience
You'd need to keep your motivation up without any sort of ROI for several months. Regular content upload, SEO knowledge, and content relevance are critical for your marketing strategy to succeed.
Without consistency and SEO knowledge, you won't be able to do it yourself. The best bet for you is to hire a firm that specializes in content marketing and SEO strategies.
4. Content Ideas Are Hard to Find
Even if you have experience in your field. Finding content ideas that attract your customers and make them buy your product is quite hard.
But we've taken that into account and discussed content marketing tools to help you tackle the problem and find relevant content ideas.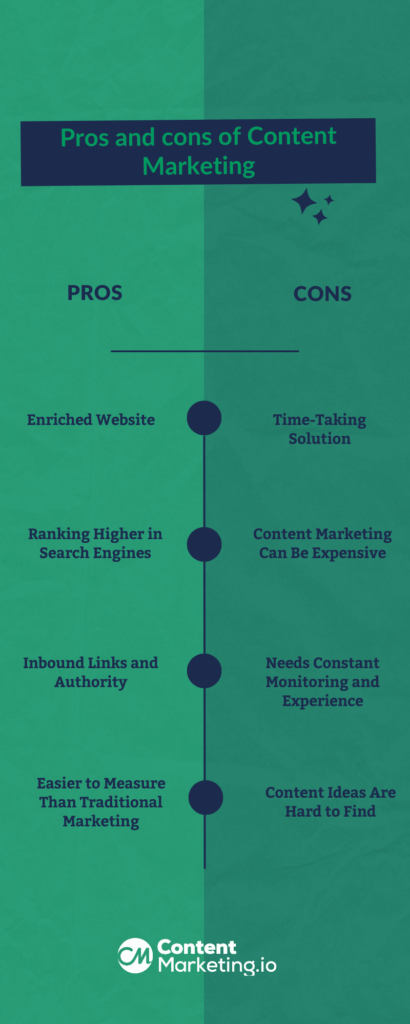 Content Marketing Tools
There are numerous content marketing tools available that can help streamline and enhance your content creation, distribution, and analysis processes. Here are some popular content marketing tools across different categories:
1. Buzzsumo
Are you the one who struggles to find trending topics to generate content on? Are you the one who doesn't know what's going on with your industry tonight?
Buzzsumo is one of the content marketing tools that help you solve problems by finding engaging posts related to your keyword.
Not only the search engines, Buzzsumo also skims through social media posts to find anything remotely related to your keyword that has had a high engagement.
As we are typically inclined to learn more about the concepts that are trending, social media posts are great tools to write content on.
Content marketers strive to get ahead of their competitors. Buzzsumo ensures that you stay updated on your industry news and don't miss any chance to create your content.
You can also customize your alerts to notify you once a specific keyword or brand name is mentioned on a trending post.
After researching through Buzzsumo, it's now time to get into the next tool to generate a sales funnel.
2. Hubspot
Got enough engagements but don't know how to convert them into leads?
Don't have ample data on your content performance?
Having trouble sending follow-up emails? 
Hubspot has content marketing tools ranging from simple forms that build your email list to content automation. With them, your inbound marketing campaign is as complete as possible.
But what exactly does c do?
Hubspot is a customer relationship and project management tool that automates your marketing operations to minimize human interaction. The only thing that you'd need to concentrate on is the content itself. The rest – from building websites to sending emails – will be handled by Hubspot.
As content marketers, you must know the pain of a dropped customer from the funnel. Which is often a result of misplaced priorities and misaddressed departments. Hubspot ensures that it doesn't happen often.
Now that we've set up our website and researched the keywords, it's time to create the content itself.
3. Google Analytics
Google Analytics is a content marketing tool that shows data on web analytics. It's the most popular web analytics tool available on the internet.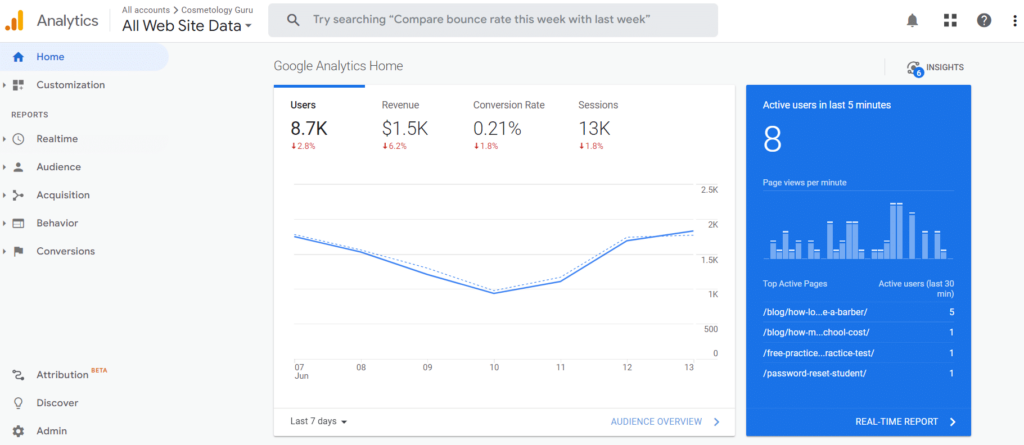 The best thing about Google Analytics is that some of its features are free and can be incorporated into your blog as a WordPress plugin. You don't need to pay a dime to use any of those.
From checking your site's pages to bounce rate, from Google ads incorporation to lead generation, it does help you do it all.
What makes it different from all the tools is its ease of usage and range of functionality.
4. Google Docs
Everyone writes their first draft in Google Docs.
For a writer, there's nothing more intuitive than having a content marketing tool that helps you create your content in an online medium without forcing too many of its features on you.
If you still are using an offline medium to write content, it might get lost if not saved. But it's not the case with Google Docs.
The plethora of features that the online platform offers can even compete with some very popular offline solutions. These features make Google Docs a must-have tool for content creators.
5. Simplenote
As the name suggests, Simplenote does make note-taking simple. Being a content marketer, your goal should be to produce the best possible article there is.
To do that, you'd need to do a lot of research on the topic. 
Simplenote is among the best content writing tools that let you note all of it down without unnecessarily complexifying things.
With markdown support, you can also format your notes with the use of notations like "*" and "-".
As tags are most important when working with a lot of content. The free, open-source software lets you do that too.
Need your team to collaborate on different aspects of the same project?
Just log in with the same credentials on each and every device. The notes will get updated on every device automatically.
6. Ahrefs
Your site isn't completely optimized. I can sense it from here without even visiting it once.
If you haven't been using Ahrefs, you won't ever know what your site is lacking. And why it never ranks even after having the best content. 
Search engine optimization (SEO) is a concept that doesn't have a set of rules but has an outline that needs to be followed when creating content for your website to rank better on search engines.
Your marketing strategy should revolve around ranking your website on the first page of Google.
For starters, Ahrefs content marketing tools audit your site to provide you with the best course of action to optimize your website to minimize the bounce rate.
Bounce Rate is a metric that search engines use to determine the quality of the content or website.
If your site doesn't load fast enough, your audience can revert therefore increasing the bounce rate.
As Buzzsumo lets you know about the trending articles, Ahrefs lets you know about the trending searches. Without knowing what your audience is looking for, you won't be able to provide them with answers.
What would you even answer without knowing the question?
New content is generated every day in the same niche as you. Keeping track of your ranking is another critical element. Ahrefs does that for you.
Not only lets you know about the issue, but it also provides you with countermeasures to solve that.
7. Hemingway Editor
Content marketers have a love-hate relationship with content optimization tools. You can neither completely embrace Hemingway nor can discard it from your arsenal.
Ernest Hemingway was a journalist whose writing style is considered the gold standard of readable writing, which most of us can't completely follow.
The editor is programmed to detect your writing tone and compare it to Hemingway's standards.
The web app checks for adverbs, complex sentences, and passive voice to encourage you to write a more readable article.
Our attention span has decreased significantly. Thanks to the accessibility and a busy lifestyle. You have only 30 seconds to hook your audience up to your content. Your audience doesn't read your article anymore; they skim through it.
To market your content, you need to make them stay. This can be done by practicing the model set up by Hemingway Editor.
If you can't achieve grade 6. At least try to reach grade 9 or lower.
8. Canva
After you've completed writing your article and are done with editing, you need to add graphics. Canva is a graphic design tool that takes the complexity out of image generation.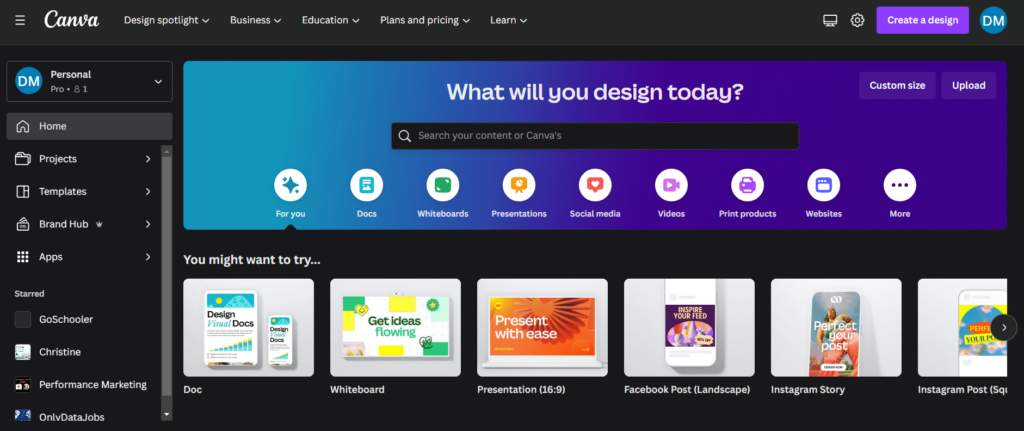 Search engines of today are quite rich in functionality. With the addition of image searches, your content has a higher chance of ranking better with multiple images than without any.
With Canva, you can customize your stock photos with stylist texts and elements, which can also be used to promote your content on Instagram and Pinterest – the two most popular content-sharing sites of today.
As your content marketing campaign is incomplete without social media ads, the generated graphics through Canva are considered a necessity.
Content Marketing Strategies
Before content marketers can set up a content marketing campaign, they need to determine a strategy. Although it varies from brand to brand, there are simple fundamentals that help you set up the kernel.
Despite having dedicated content marketing tools, you should also consider these strategies as powerful tools for your next project.
Guest Posting and Higher Referral Traffic
Guest posting is contributing to external sites with relevant content with your link address in the content to help generate referral traffic.
If you guest post on more authentic websites with high traffic, a single post can fetch you thousands of visitors.
Brand Value and Guidelines
Being a content marketer is a dynamic job. As the brand is quite important for your clients, you need to customize your strategies depending on the customer and brand you are working with.
Optimize the content with SEO strategies for it to rank on top so that it receives visibility. But most companies don't even know what value their brand holds. You, as a content marketer, need to resonate with their product.
Start by researching their previous ads and content. And go deeper by asking them questions about what they want.
Objectives
You need to understand what you expect from your content marketing campaign. It may seem obvious, but most of the clients you'd encounter will generally be clueless about their objectives.
First, you need to ask questions. Does their brand need awareness, do they want to start selling their products today, or do they only want engagement with their audience for now?
It's all the critical deductions that go into content marketing. Without a clear objective, it'll be tough for you to set up your strategy.
Define Your Audience
No, you can't just target everyone with a single campaign. No, you can. No, you can't. It's a dilemma. However, it's completely possible to target all of them from ages 6 to 60. Do you need to?
If your target is to sell, a startup CEO has a better probability of buying your VPN services than a parent who is looking for baby clothes. If you create content to engage groups other than your target audience, it'd be futile and it will not be fruitful.
Decide who your target audience is before jumping into deciding the strategy. The best way to determine it is by using Google Analytics on your already present website and seeing which group is more interested in your content.
Market Research
Before you even launch your campaign, significant research is required to know how the target demographic reacts to your intended strategy of content marketing.
The best sources of research can be historical data of such marketing campaigns by your competitors. Website traffic, customer feedback, and surveys can be effective metrics that can be measured using a free tool.
The Sales Funnel
Your ultimate goal is to sell your product. For that, you need to create a sales funnel. This can start from other websites, where you've guest posted, and end on the sales page of your website, where you push your product and services.
It should be designed in such a way that when your leads get in the funnel, they are disinclined to fall out of it. They should deliberately choose to stay.
The second part is designing your content structure. Implement well-thought-out inbound links to direct prospects to other articles and videos that they might also like.
Educate them more into thinking that the product you are offering is the best. Don't hold back on visual content. Don't hold back on video content. Don't hold back on social media.
The last stage is the landing page. Do whatever you can, offer discounts, push repeated notifications, and make them stay.
Update Your Content
As important as it's to create content, it's not all. If your content is out of date, even by a year, the bounce rate can increase rapidly. A piece of outdated information and simple misinformation can break your campaign's back.
If possible, write everything from scratch after a year. If I were a customer, I'd not like to see information about keyword cramming in this article. As it's outdated information.
Maintain a Schedule
The content calendar is the name. It does exactly the same.
As said before, persuasion is the key to marketing campaigns, and keeping a content calendar with a content marketing tool like Excel can be very effective.
When you publish content regularly, search engines see this as proof of authenticity. As if you are not getting tired of helping others.
Creating the Content
Content creation is important as content distribution, content research, and keyword research. Without effective content creation, the whole strategy holds no value.
To create effective content, you need to follow some simple rules.
Use Simple Words
Even if you are writing for physics majors, don't try to be overly technical about it. Break down the technical jargon as fundamentally as possible.
If you are creating content about, say, cigarettes, don't go around describing the technicalities of the tobacco and manufacturing process. You can mention it briefly to show that you are authentic, but that's it.
Write in the First Person
No one likes to be addressed as if you aren't even talking to them. Think of your audience as a person and talk to them like you do to your friend. Make them understand the concept, how the article is here to help them, and all things personal.
You can even curse their problems, but don't ignore the problems in your content. Try to address all related issues that they might stumble upon in the future.
Be a Storyteller
Examples hook us up. Keep some personal stories handy.
Go to social media such as Reddit and have interesting personal stories that you can use as examples. Build your story around that and present that to your audience. Tell them the story as you've seen it happen.
Headings- Headings- and More Headings
Include as many headings as you can. And include them logically.
Let's say that you are writing an article about "Content Marketing Tools" (I know! and I'm sorry), would you incorporate headings that focus on the features or the benefits? I've chosen the latter. Even if you decide to not read the article whole, you'd get the idea from the headings.
Cite Sources
Never let any statistic or fact go unattended. Always link the source in your content. If you're the source and sharing some personal stories, mention it.
Improve Your Writing
No, I'm not talking about being creative. Creative writing isn't the way to go when writing engaging content. Your audience isn't here to read a novel; they want information.
Get rid of all the grammar issues, punctuation mistakes, passive voices, adverbs, and spelling mistakes. If you can't proofread your content, hire someone to do that for you.
Nothing is more repelling than reading a crooked sentence or word.
Keyword Research
A keyword is such word or phrase that we use in the search engine to look for the content. We ask questions with the keyword that your content needs to answer. As the right keywords can improve your domain traffic, using the wrong keywords can leave you dry with the wrong audience.
To choose effective keywords, you first need to learn about the three types of keywords.
Short Tail Keywords
A collection of one or two words that your audience uses to get general information about the topic. The search volume is high but conversion is low. Very good to make an impression and attract more traffic.
Middle Tail Keywords
It consists of three or four words. Not as unresponsive as short-tail keywords, but the conversion rate is modest at best. As the reach is still not very specific.
Long-Tail Keywords
Five or longer collections of words. As this is the phrase that your audience uses to search your content, it has the lowest competition but the highest conversion rate. For newer websites, targeting long-tail keywords is the most prudent move.
Long-tails are such keywords that let you mimic the exact search phrases that your audience uses to generate your content surrounding it.
"How to make a pizza without meat" is such an example.
After you've chosen the best option for your business, it's time for you to research the keywords.
As short-tail keywords are very volatile in nature and are quite tough to rank higher with, you need to start with long-tail keywords.
To choose a keyword for your content, take the help of content marketing tools like Ahrefs and Hubspot are mentioned below. Google Trends is also an effective alternative to look into.
When you start searching with short-tail keywords, the long-tail ones will also start coming up within the results. Refine your search by researching more on the keywords.
Check if the competition is low and how much traffic you can get by targeting that.
The Bottom Line
Now that you know about all the important content marketing strategies and tools, you can put more of your time into creating content without stressing over marketing elements.
With tools like Hubspot and Buzzsumo, you'll be able to generate topics and headlines that are useful to your audience. SEO tools like Ahrefs, your probability of toppling off your competitors in the rank race increases significantly.
And with the help of content marketing professionals, you can take your content marketing plans to the next level. We offer clear and detailed answers to all your queries, so the next time you need a question answered make sure to stop by our website!
FAQs
What are content marketing tools?
Content marketing tools are all the tools a content marketer requires to create content and publish and measure results. Tools such as WordPress, Loom, and Canva are used to create content like blogs, infographics, and videos.
 
Why are content marketing tools important?
Content marketing tools are important because they give more writing ideas and topics, create better SEO content to increase website traffic, and analyze the revenue that content can bring to your business.
 
How do I choose content marketing tools?
Choose content marketing tools based on the content, platform, and target audience. Use tools to measure the web page's performance, bring leads and prospects, and foster sales.
What are some content marketing tools for research?
Content marketing tools for research are Ahrefs, Google Trends, Google Analytics, and Statista.
What are the social media marketing tools?
Social media marketing tools are the following: 
– Content Planner
– Content Calendar
– Mention Follower
– Analytics
– Social Media Advertising
Similar Posts