Content pillars for real estate aim to bring more people to your website resulting in traffic. The challenges realtors face are many. To start with, keep the visitors updated with the latest postings, connect with local businesses, and generate leads for your business.
Do you think it's hard to develop content pillars for real estate? Think of your expertise, list it, and note your audience's needs. You get places where your knowledge and audience needs overlap; that becomes your content pillar. Once you have the content pillars, you can start creating content around it that your audience finds valuable.
Content creation starts when you start your content marketing plans for your website design. The content pillar gives your website the structure that integrates all your posts to add value to your clients. The content pillar is a foundation for your entire content strategy and ensures that your posts have a purpose.
Examples of Pillar Content for Real Estate
New listings.
Local businesses.
Restaurants.
Community.
Attractions.
Market reports.
Real estate infographics.
Business statistics.
Client testimonials.
Expertise.
Branding.
Offers and escrows.
How to Create Content Pillars for Real Estate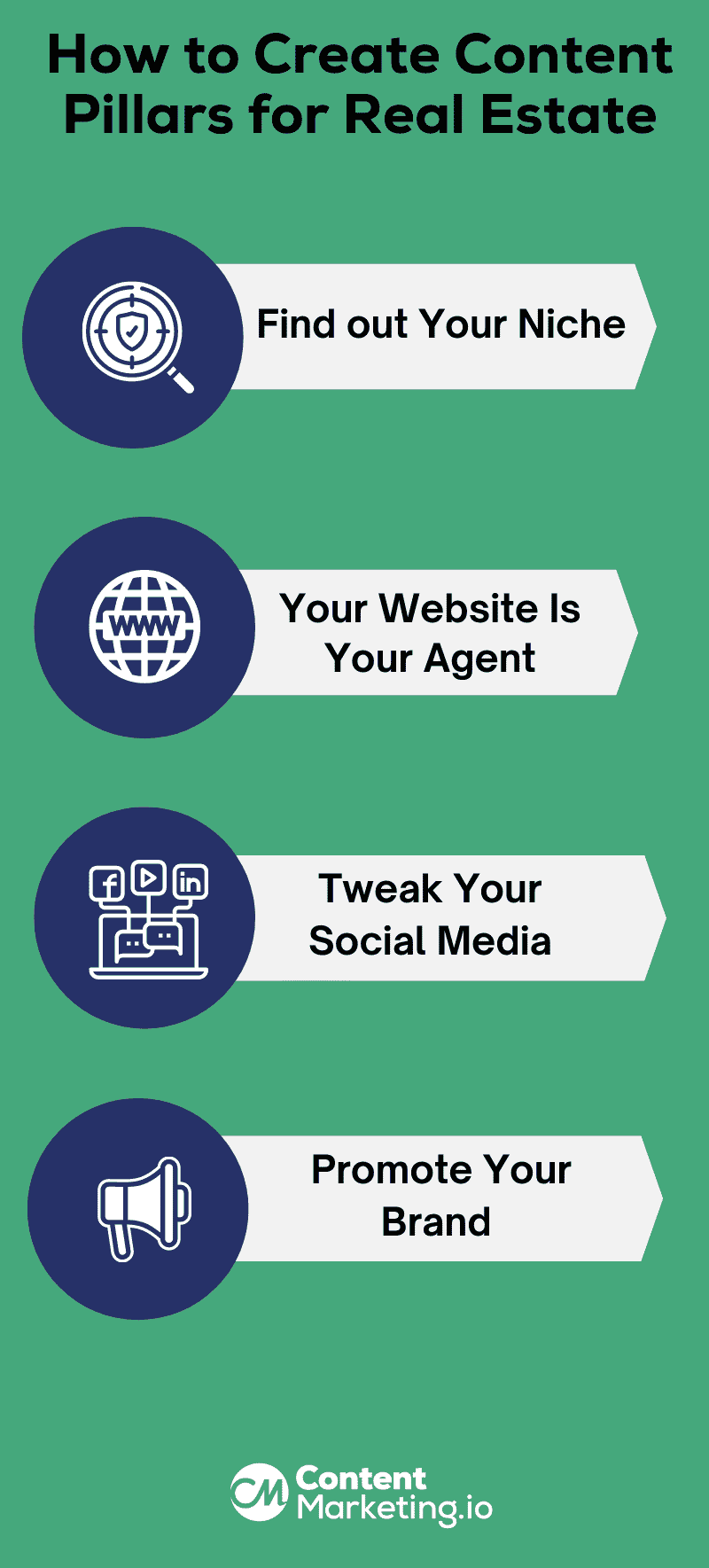 Find out Your Niche
Find out who you are explicitly pitching for as a real estate marketer. Do you want to help buyers connect with sellers for residential houses or commercial properties? Discover what type of neighborhood you want to focus on and offer guidelines based on your niche. Then, come up with a strategy for real estate content marketing.
Your Website Is Your Agent
Create an exciting website with lots of videos. Your clients love to get visuals of prospective properties. Design your website with SEO content optimization strategies, such as choosing ranking keywords that would bring traffic to your website. Don't forget to have a mobile-friendly website, as more than 80% of potential buyers look at your website through their mobile devices.
Tweak Your Social Media
Keep posting videos of the latest properties on the market. Your clients consider you a trusted source when you give consistent quality content. Not just one, but explore all the content marketing channels from Facebook, Instagram, and Pinterest, to Twitter. Go to paid targeted ads to make sure that you are visible everywhere. Encourage your clients to direct message you when they have questions or need a walk-through.
Promote Your Brand
Post videos about your neighborhood and interview people and your clients. You get a lot of questions from the interviews. Try to answer them and make a video of it, which can provide answers to a lot of people. People get to notice your personality as you explain the highlights of the locale in your video. You create a picture for yourself and exhibit brand authority when you give them all the answers before they can ask.
Types of Content Pillars for Real Estate Websites
Content pillars for real estate content marketing are essential as they support its marketing strategies, advertisement, and branding. There are many aspects to branding, but when you have a plethora of content covering every part of your business, it also makes you a trusted source.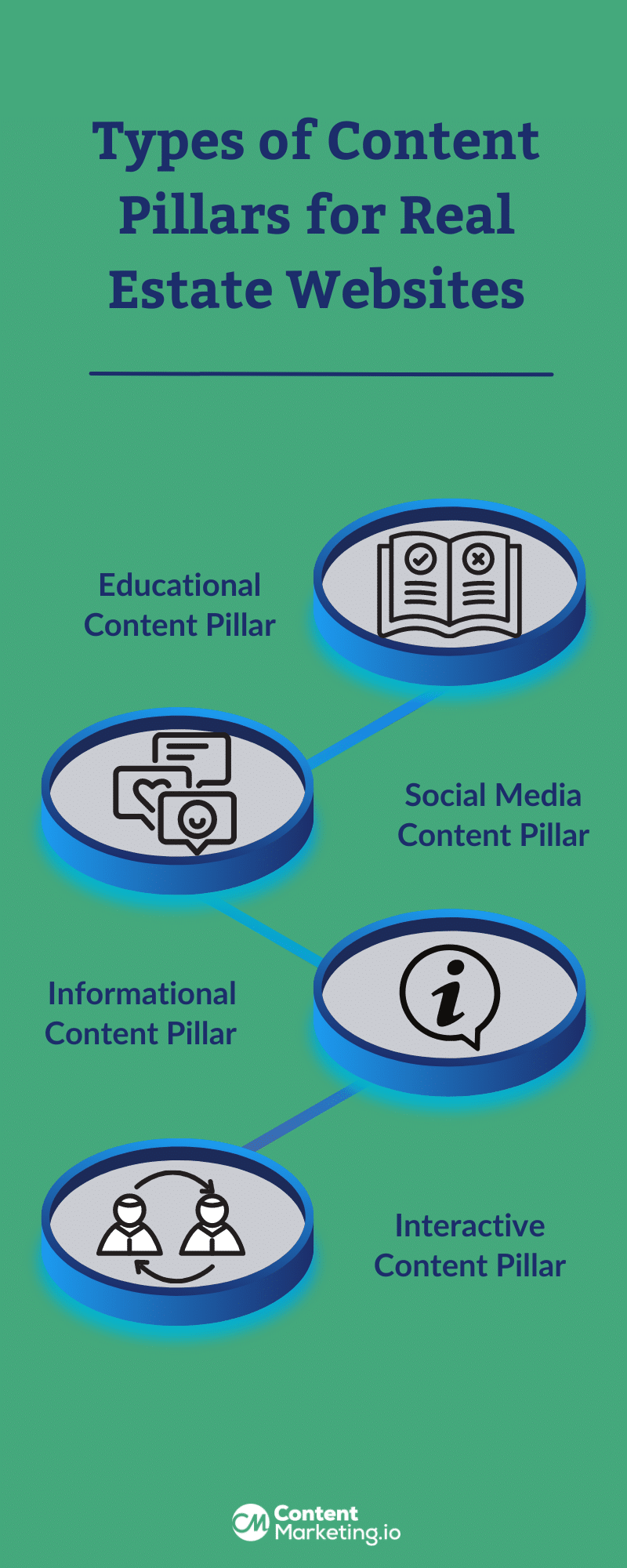 Educational Content Pillar
Clients who come to your website are looking for houses in a locality. The real estate website hosts the latest details of homes for sale. You have both buyers and sellers on your website that you need to accommodate. Think of what would interest them the most. Guides, of course!
Have educational guides, blogs, and how-to guides that revolve around buying, selling, renting, and mortgaging. Give the buyers tips on what to look for when buying a house. It may be a new house or an old one. When you give them genuine content, people look to you as a real estate marketer and a blogger who gives them the proper guidance.
Social Media Content Pillar
Facebook is an excellent platform for realtors as you can post Facebook Ads for local listings. Don't underestimate the power of images, videos, or even live videos that lead your clients to make the next decision. You can talk with your clients over the Facebook messenger app as they move further down the sales funnel.
Realtors can create business accounts on Instagram and include CTA buttons that take the targeted audience to your website or send you an email to enquire about a property whose image you have included on Instagram.
It's essential to produce high-quality videos for your audience. Social media content marketing allows connecting with the audience; your Instagram and TikTok platforms can be used to post previews that redirect viewers to your YouTube channel. 
Informational Content Pillar
Keeping your blogs focused on housing and real estate trends is good. Your website can offer additional information highlighting local events in your area in your blogs. Not just buyers or sellers, your content about the neighborhood attracts investors who utilize the blog information to decide on their next venture.
Blogs, FAQs, and Newsletters
A real estate website has blogs and FAQ sections on local places, like schools, restaurants, or transportation. Feedback from your existing clients is more valuable. Design a form and ask your audience to fill it up. Ask them what they want in their locality, collect such data, and build content pillars for real estate.
A client will be interested to know the locality before choosing a house there. Design newsletters that contain information about local events in the area; they might be interested. And who knows, some of your clients may be that entertainment freak looking for a close-knit community.
Guest Blogging
Invite guest bloggers to write a blog describing local events in your area. Or get links to your content from other websites that detail local events. To remain updated on the happenings, subscribe to the local newspaper, or collect information from websites. You can post about the free medical campaign, book exhibition, or mass vaccine drive on your social media platform.
Video Content and Reviews
Create exciting videos on the events you attended previously and the regular local community events. Write reviews about the restaurants in your locality and if they have a website, make sure to link it to your website and also let them know about your website. You get backlinks when someone clicks on the restaurant website and gets to know your URL.
Podcasts
Have all types of content in your content marketing strategy. Create podcasts about how the real estate industry is performing, find out whether any celebrity has purchased in that locality, and provide factual details. This is a trusted source of information and will influence the buyers.
Other Content Pillars
Do not be afraid to write about luxury properties and put together a list of some of the most expensive properties currently for sale in your market. Also, write about the cheapest properties in the location. Focus your blog on other amenities, such as schools, hospitals, parks, supermarkets, and other public places.
Write about the commercial complexes and the local businesses over there. This can give your clients a positive feeling about the locality. Take about the job opportunities there and also the commutation to the workplace. When you write about the travel time, you give your client a preview of the distance they need to travel and also help them make decisions based on commute time.
Value Add-Ons Content Pillar
Don't just stop with the newest listings on your website; think of what else might interest your prospective clients. Talk about it on your website. Have how-to blogs on calculating the interest for the housing loan, mortgage amount, and other money matters. Design an infographic on how to save money and tips to be debt-free. All these provide value to the clients, who see you not just as a core marketer but as a source of information.
On your website, embed calculator applications, include house renovation ideas, and have PDFs of how to secure your house using CCTV devices. Have backlinks to your locality's plumber, electrician, and emergency contact numbers. Blog about maintaining a lawn, rearing a pet, learning a hobby, and providing freebies.
Interactive Content Pillar
Buyers want to glance at the listings you have posted on your website. Visual content gives the buyer and the renters a glimpse of the outer appearance and overall layout for accessibility. When buyers find the videos appealing, they are likelier to check them out in person.
Walkthrough videos highlight the properties' unique features and give buyers the inside scoop on the listings. For example, a video gives better insight into the lavish and decorative landscape and the multiple floors and rooms that are better on video than on a slideshow. A real estate walkthrough video enriches your media presence and holds the buyer's attention.
Frequently Asked Questions
What are examples of a content pillar?
A content pillar is the foundation theme on which three to five topics can be created for your overall content strategy. They are also buckets and represent relevant topics for the target audience. Each content pillar comprises different types of content, such as blogs about the locality and the happenings. A social media post about residences for rent and sales, pictures and walk-through videos of residences, advertisements, and tweets are also content pillars.
How do you create content for a real estate website?
Content for a real estate website is:
– A functional website with a good user experience.
– Property listings.
– Social media posts and tweets.
– Forums and groups.
– The market report on sales and resale value.
– Client testimonials and fact sheets.
– Newsletter and FAQs.
– Blogs on cluster content such as gardening and bank loans.
– Maps, videos, and infographics.
What is a content marketing calendar?
A content marketing calendar realizes your marketing plan into practical implementation, guiding who does what, the content to create, how to measure the results, and fixing deadlines. It is also known as the editorial calendar, which contains the written schedule of when and where you plan to publish your content. It also includes the schedule of updates, promotional activities, and repurposing.
What is a pillar content strategy?
A pillar page is a detailed description of a topic on one page that would otherwise be on multiple white papers or ebooks. Generally, the pillar page would focus on a particular topic you are trying to rank for in the SERP. When you have all the information in one place, the audience is less likely to visit further websites for answers. The pillar content page has answers to all the customer's questions.
Why are content pillars important for social media?
– It helps bring structure to your brand's social media content.
– Since content pillars are already available, scheduling the content marketing calendar for
social media becomes simpler.
– They also help speed up the content ideation since your ideas focus on a central theme.
– It helps your brand to achieve a consistent tone on social media and all platforms.
– It enables you to gain visibility on social media through content.
– Content pillars make structured and serialized content that enables your followers to expect
what follows.
Closing Thoughts
A realtor has the huge challenge of getting ideas for content creation. As a realtor, you must ensure that your content reaches the audience. When you create a content pillar, it is easy to weave cluster content around it. Content pillars for real estate allow you to accomplish your content marketing strategy on your real estate website.
Content marketing and social media come hand in hand. You can record, edit, and post videos on your social media platforms. It is where your clients are and reaches out to them whenever there are new listings on your websites through notifications.
Do you want ideas for content pillars for your real estate website? Read our blogs to know the tips, tricks, and the latest strategies to create a content pillar and have great content that brings you leads.
Similar Posts