Content pillars for social media act as a hub to keep your content strategy streamlined for your audience. Content pillars represent subjects relevant to your target audiences. Each of your pillars might contain various content types, such as blogs, pictures, infographics, or videos.
To elaborate on this approach, this blog will discuss the content pillars for social media and things to consider in developing a content pillar strategy. Let's get started.
What Are Social Media Content Pillars?
Content pillars for social media involve a set of themes or topics, also called buckets, under which you can branch out to several topics and create posts. Using content pillars, you can structure your social media posts by categorizing them into specific pillars.
The pillars align with the brand's values, purpose, positioning, tone of voice, and general aesthetic look to attract prospects and relevant audiences on social media.
The social media content pillars will help you get better clarity on your niche. Being authoritative and an expert in specific areas allows you to grow your audience and followers faster. Let's look at why these are important and the benefits of strategizing this.
Why Are Content Pillars Essential for Social Media?
Creating consistent posts is a primary goal of a social media strategy. But when you make hundreds of posts every day without knowing what and where they are aligned, it becomes a tough job for you to keep track of what content is published and what isn't. This is where content pillars will help you align your social media strategy while creating meaningful content.
Having specific themes that each post or piece of content will fall into makes your work easier and keeps your social profiles neat and clean.
Benefits of Content Pillars for Social Media
Content pillars help you organize your brand's social media content plan.
Content pillars enable you to help to speed up the content ideation process.
Having specific themes for social media allows you to create meaningful content instead of purposeless posting.
Promotes consistency in your social media channels, thereby improving brand image and creating an online community.
It makes it easy for the audience to find out what they're looking for and stay consistent with your brand message.
Creating Social Media Content Pillar Strategy
Analyze Personas
Understanding your audience is vital for creating a successful social media marketing campaign. When you have an established persona, generating content becomes easy.
You can analyze your customer or users persona by analyzing questions, such as:
Who is your target audience?
What is their targeted demographic such as age, location, and income?
Which platforms are your target audience using?
What topics might they be interested in?
Will this content solve my target audience's pain points?
Answering these questions will give you a broader view of your audience and what kind of content you need to create for them. The rest of the content creation process is easy if you successfully analyse this.
Perform Keyword Research
Make sure you do keyword research before creating content. Make sure you involve keywords that consumers or users are searching for often. Utilizing these keywords will also serve value to your customers and improve your probability of rankings in the SERPs. Make sure you use keywords that are often searched as core content pillars.
Develop Content Buckets
After analyzing your customers and performing keyword research, you can start by creating your content pillars. Create your core content. Begin by creating a master spreadsheet of all keyword phrases or topics you want to cover. Then, cluster content based on related subjects. For instance, topics related to ranking or search engine traffic could be clustered under SEO's umbrella. Create three to five content pillars, but do not exceed more than ten; otherwise, you'll stretch your content too thin.
User-Generated Content
Utilizing user-generated content is highly significant for any brand and one of the most effective forms of marketing, too. Analyzing what your audience posts about your brand will inform you about how they use it, what they love about it, and probably what they don't like so much, too. Use your content pillars to solve, entertain, and inform them based on these facts. You can also create posts and stories from the feedback, testimonials, videos, and comments they make about your products/services.
Create a Social Media Content Calendar
63% of businesses don't have a documented content strategy. Without one, social media content creation won't be effective. That's why creating a social media content calendar will simplify your job when you already have a set of specific content themes and topics to share. Make sure to follow a consistent posting routine and mark all the important holidays plus dates relevant to your brand/industry for publishing special posts.
Promote Your Content
Promote your content on various social media platforms. Make sure to optimize the content according to each social media platform. For example, on Instagram, you can promote your content as reels. Since Twitter has a word count limit, you can create images, infographics, or videos and utilize hashtags specific to your niche to maximize visibility. You can also create social media ads to boost engagement.
Content Repurposing
Content repurposing is highly beneficial and saves a lot of time. Repurposing your old content into a new format, such as turning a specific portion of a blog post into an infographic or video, can help you get a new view of your content. You can transcript your best-performing videos and create a new blog post. Good content can come in various shapes and sizes as long as each one fits neatly beneath one of your content pillars.
4 Types of Content Pillars for Social Media
Promotional Content
Promotional content will remind your followers to choose your product or services. You must stay interested and innovative in showcasing what you offer. One such example is listed below:
Creating tips and tricks blogs or videos acts as valuable content since it will educate your potential audience who might become a customer, thereby maximizing conversions. Because these tips and tricks are something your audience might be interested to learn about and will portray you as a subject matter expert in your niche. You can also utilize this platform to showcase your offers and how you differ from the rest of your competitors.
Entertainment Content
You can create posts on what inspired you to create your product or service. You can share your brand stories, such as a throwback picture. This will help you connect to the audience.
People love to hear stories. With apps like Instagram, people tend to watch entertaining or informative stories. You can create stories and content pieces, such as behind-the-scenes of your product or service.
Educational Content
If you are a B2B or B2C product-based company, driving sales to new customers and maintaining the existing ones will be your goal. To elaborate on these themes, you can create How-To product blogs, carousel posts, videos about the products, and content on key features. This content could be blogs, stills, case studies, or videos. You can also answer FAQs and comments that are asked by your audience on different platforms.
Conversational Content
Each content pillar will focus on a specific objective or KPIs they need to achieve. For doing so, analyzing the buyers' journey is essential. With solid content pillars, you can make your social media content connect with consumers at each stage of the buying cycle. Creating content for each portion of the buyers' journey will thereby increase your chances of purchases or conversions.
Talking about specific challenges and how you faced them might add more credibility to your brand. You can also address a current issue or trend or an update in your industry to gain attention.
Content Pillars for Social Media – Instagram
Instagram is a powerful marketing tool for business. You can create a business account on Instagram and then use photos, live videos, and hashtags for marketing your business. You can post ads of your business through Instagram ads and use the platform's sales functions to sell your products.
For small businesses, Instagram is a platform for audience connection, engagement, and sales. It's not just a photo-based social media platform but a platform to establish your brand as an authority in your niche.
Why Market on Instagram?
Instagram has 1.3 million active users and is the best platform for marketers to reach their target audience. Although Facebook tops the list with a much bigger audience, marketing on Instagram is effective as it is more engaged, making it easy for businesses to be heard and seen.
Interestingly, 65% of the top-performing Instagram posts feature products. It indicates the audience's response to sponsored posts. The audience resonates with posts where influencers are promoting products. Fashion niches find the largest business account on Instagram and favor brand interactions.
It is found in studies that influencers utilize this channel for promotion. When it comes to influencer marketing, 68% of them prefer Instagram rather to Facebook or YouTube.
What Is Influencer Marketing?
Brands use influencer marketing to take their products to the audience through online influencers. It is harnessing the influence of an influencer to market its product. Brands collaborate with influencers to improve their brand recognition as they are genuinely influential.
Influencers are celebrities who already have a fan base. Influencer marketing involves bringing those followers to your brand. There's a lot of possibility for creating a content pillar on social media channels such as Instagram. From a business perspective on Instagram, consider the following criteria for creating content pillars for social media.
Set KPIs for Influencer Marketing On Instagram
Instagram is great for working with influencers to run your marketing campaigns. Influencer posts are a kind of content pillar on social media. Before you begin your campaign, you must have a clear idea of your goals and your KPIs. Make a note of the outcome of your campaign. Do you want to build brand awareness of your new product? Do you want to boost more traffic, or do you want to increase the sales of your product?
Your target audience might be on any level in the sales funnel. Some might not even be aware of your business and what you sell. These are at the top of the funnel. A portion of your target audience might be looking for similar products that you sell. They are in the middle of the funnel journey and know your product, but they need a nudge to make a purchase.
Your influencer marketing campaign can boost your sales, making your target audience and those who have already made their decision to purchase your product. Based on the goal, you can set your KPIs.
Use metrics such as impressions, engagement, and dwell time to raise brand awareness. Set SMART KPIs help you to set and measure meaningful and measurable goals.
Influencer Marketing Strategy
After you set the KPIs for the influencer marketing campaign, which is a part of your strategy, proceed to understand your target audience. This can help you decide what type of content to create and how to find the right influencer for your brand.
Your next step is to identify influencers who create content related to your brand and influence your audience. If your influencer is able to engage with your audience, that's good news for you. But be prepared to pay, as influencers with more followers can engage your audience more actively.
Identifying Ideal Influencers
Your influencer must be able to achieve your influencer marketing campaign goals that increase your sales. Consider influencers from your niche who are experts in that area. You should maintain the authenticity of your business and should not deviate from your niche.
Consider the reach of your influencer, keeping in mind the stage at which your audience is in their funnel journey. Based on the level at which they are, your goals and KPIs change. Rope in as a top-tier influencer if your goal is to raise brand awareness. If you wish to drive engagement and initiate conversations, look for micro-influencers.
Define the tone of your influencer, whether they should have a friendly, professional, instructional, or humorous voice. Consider these factors when you collaborate with an influencer.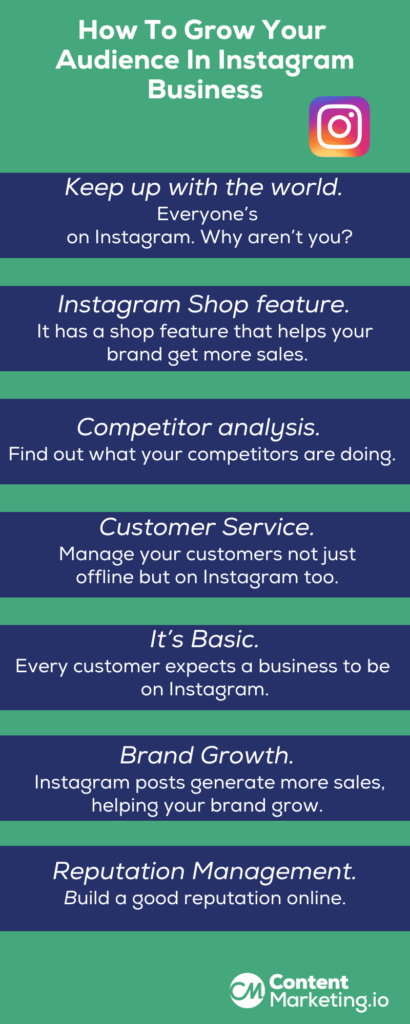 Content Pillars for Social Media – Instagram
Inspiring Reels, photos, and carousels can bring your brand to life and help grow your community. Creating engaging content in every post is an opportunity to connect with your community, whether in a Reel, photo, or carousel.
Reels
Create engaging content, whether a photo, reel, or carousel. Use reels to get discovered with entertaining and original videos. Engage the viewers with audio, transitions, and effects. Then, write a compelling caption that captures what your post is all about.
Before you share your Instagram post with your audience, add tags to help customers discover and learn about your business. Make use of hashtags that make your posts discoverable. Add location and product tags to make it easier for your audience to locate you.
Feed
An Instagram feed is a mobile-first destination for sharing photos and videos. It gives your business the flexibility to connect with your community and explore their needs. On an Instagram feed, you can tell your brand story with visuals and showcase products to inspire people to connect and invest in what your business offers.
Stories
Instagram Stories are where your business can share short images and videos that disappear after 24 hours of uploading. They are designed to be fast, memorable, and fun. With Instagram Story Ads, you can build brand authority for your brand, drive traffic to your website, or even tag products.
Content Pillars for Social Media – Tik Tok
TikTok is a Gen Z marketing tool that offers businesses new ways to reach target customers. It has 1 billion active users, and videos go viral within seconds of creation. TikTok is looking to expand by adding business advertising opportunities.
TikTok for business allows marketers to create content to reach and engage the audience. TikTok's algorithm is designed to get millions of views on a new video even if the account has zero followers. Engagement is assured if the video content appeals to your audience.
TikTok has proved to have higher engagement rates than other social media platforms. Marketers leverage this feature with tailored content and specific marketing strategies. Content pillars on social media, like TikTok, aid marketers in creating useful and appealing content.
Create a page for your brand and start experimenting with the content types. Content creation requires no explicit budget, and videos can be shot in any location and uploaded. It is important to follow trending hashtags, learn what others are doing and apply them to your brand.
Create Content That Engages Your Audience
Create a page for your brand and start experimenting with the content types. Content creation requires no explicit budget, and videos can be shot in any location and uploaded. It is important to follow trending hashtags, learn what others are doing and apply them to your brand.
TikTok has built-in filters, effects, soundbites, and editing tools to create and share authentic content. The organic reach on TikTok is huge, but only the content that resonates with your brand and appeals to your audience will find engaging.
Effect of Influencers
You can collaborate with influencers to create high-quality content. There are influencers who know how to use its tools, features, and trends to their advantage. Brands can approach and collaborate on campaigns using influencer skills and knowledge. TikTok has a Creator Marketplace to link brands and creators.
Hashtag Challenge
Start a hashtag campaign to initiate a conversation with your audience. Top-performing challenges attract millions of users to create a video for the campaign. A common marketing tactic is to start a hashtag challenge asking your followers to post pictures of them using your product. This kind of challenge goes well with health and beauty products.
Advertising
You can advertise your business on TikTok through different types of ads available on the platform. Use in-feed ads for the users to see while scrolling through their feeds. In-feed ads are short and link to your website or app store.
Brand takeover ads appear when a user opens the TikTok app. They include photos or videos that last for three seconds. TopView ads are full-screen videos that appear first in the user's feed that last up to 60 seconds.
FAQs
1. What is a content pillar?
A content pillar is a specific topic or theme upon which similar content pieces are built.
2. What are the types of content pillars for social media?
Content pillars for social media are mainly categorized into four types: Promotional, Entertainment, Educational, and Conversational content.
3. How are content pillars for social media useful?
Each content pillar helps you achieve a specific business goal. For example, promotional content improves your sales, conversation content brings in quality leads, educational content improves your brand awareness, and entertainment content helps you connect to the audience.
4. What are the advantages of social media content pillars?
Having content pillars for social media helps create streamlined content and promotes consistency with your brand message in your social media channels.
Wrapping Up
Developing content pillars for social media will help your followers understand your content journey. You must continue fitting the pieces together and creating a brand story just for them. Adding content pillars for social media will improve your brand image and consistency.
Keep auditing your brand's social media channels and customize your content accordingly. For more updates on content marketing, check out our recent blogs.
Also Read