Conversational marketing involves one-on-one communication between a business person and their target audience. Building a strong relationship with your customers and engaging them is one of the best marketing strategies.
Conversation marketing with your customers helps them build trust in your products. When was conversation marketing first introduced? Joseph Jaffe introduced the first conversational marketing in 2007. His intention in introducing conversational marketing is to teach business people to interact with their target audience by using various social media platforms.
This conversational marketing involves three cycles: they are engaged, understand, and recommend. In the engaged stage, instead of giving a form to fill out to make a conversation, you can try to chat directly with them. The next one is understanding. Most people accept instant replies from the brand, so try to give the reply instantly rather than taking days. The final one recommends instant conversation about the brand to guide them to buy the product.
What Is Conversational Marketing?
It is an interaction between you and your customers to get more understanding and acknowledge the customer's needs throughout the journey.
It can be either initiated by the customers or by the business people. Providing knowledge about the sale funnels, creating awareness, considering your product, and converting them from leads to your target customers.
The Difference Between Conversational Marketing vs. Traditional Marketing
| | |
| --- | --- |
| Conversational Marketing | Traditional Marketing |
| It is focused on customer satisfaction and knowing more about them. | Traditional marketing is all about selling the product at any time. |
| It uses live chats and AL-based chatbots to connect with customers. | It uses television ads and fliers to connect with customers. |
| Customers get replies instantly on a 24/7 basis. | Customers must fill out the form and wait for a reply from the business people. |
| Examples of conversational marketing are Chatbots and SMS. | Examples of traditional marketing are billboards and brochures. |
Difference Between Conversational Marketing and Traditional Marketing
Types of Conversational Marketing
Here are some conversational marketing types to expand your brand:
1. Chatbot
The chatbot uses the AL software to interact with the customers using their brand website, SMS, and other social media platforms.
In the past few days, answering questions with a chatbot was abnormal. People didn't understand and got confused about what it was saying, and their questions remained unanswered. But, now that technology has developed, and chatbots can reply to the questions with valuable answers, making the audience feel that their problem is solved.
The main advantage of the chatbot is that it is available 24/7. The disadvantage of chatbots is that they are set automatically, so they answer only specific questions.
2. Live Chat
It is one of the most commonly used customer support methods today. They interact with the audience to clarify doubts and support. They use various platforms like Facebook, Twitter, and Instagram to interact with customers.
3. Voice Assistant
You can also converse with customers using a voice assistant like google assistant or Alexa. Using voice technology, they get more interest in your product. This is one kind of product marketing. Sometimes texting does not reach the audience because you may not be able to convey the information that you wanted to. Having a voice-assisted software or app might solve this problem.
4. Email
When thinking about conversational marketing, we won't recognize mail that much. Because this one is not fully conversational, it is a professional way of marketing. But, it also helps to build a relationship with your target audience.
5. Social Networking
There are vast social media platforms to converse with your customers. It is a human conversation. Most customers enjoy human conversation more than the chatbot. It builds your brand.
From the above, you can see the various types of conversational platforms. It differs among the brand and the product choice vise to make a better conversation with your customers.
Examples of Conversational Marketing
Here are some conversational marketing examples:
1. HealthTap 
Healthtap is a virtual platform that provides healthcare tips to people worldwide. This chatbot, or Facebook messenger is used for conversing with people. As usual, it starts with first aid.
You can convey the problem with the chatbot, and it gives the solution if you want to know further about the issues. It will suggest you converse virtually with the health specialist.
2. 1-800 – Flowers
It is one of the most popular flower retailers located in New York City. They use chatbots and Facebook messengers that interact with customers, confirm their preferences and direct them to the payment page. According to a survey, almost 70% of customers' orders are received from the chatbot and Facebook messengers.
3. Domino's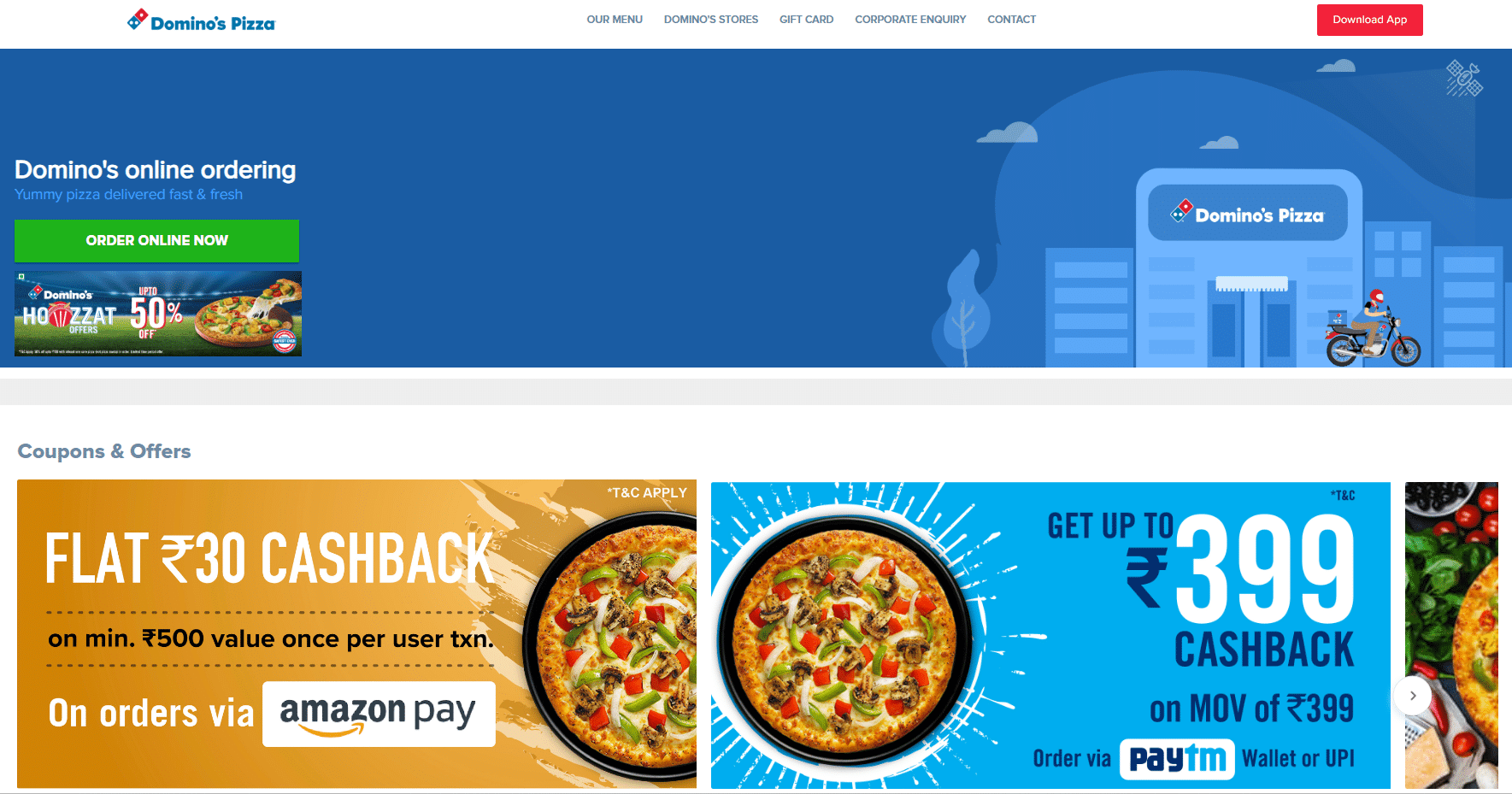 Most of us are familiar with Domino and enjoy having pizza at least once a week. What makes Domino's different from the other pizza brands? Their fast home delivery may be one reason, and another feature is that you send the Pizza emoji, and the pizza will deliver to your place. In this, the conversational tool are Slack, Facebook Messenger, and Twitter.
4. Lyft
Lyft company hires vehicles regularly. If you start a conversation with the chatbot, it sends information about your ride, rider name, and exact location. The conversational tools are Facebook Messenger, Slack, and Amazon.
Tools for Conversational Marketing
The best conversational marketing tools are mentioned below:
1. Facebook Messengers
Facebook Messenger chatbot is one of the most used customer services. You can find the best shopping facilities and customer services using this Facebook messenger. It has allowed you to place a buy button in Messenger so customers can quickly purchase your product instead of visiting your brand website. 
2. Instagram Messengers
Using AI software Facebook updates Instagram Messenger to use the chatbot option. In the past, people with 10K followers could create a chatbot. But now, this option is accessible to all.
3. Mobile Monkey
Mobile Monkey is most useful for people who have B2C companies to converse with customers with different chatbot options using SMS, Facebook messengers, and Instagram. Using this platform, you can sell or use it as a customer service to connect with your more engaged customers.
4. Intercom
Intercom is one conversational marketing software that helps turn your visitors into your paid customers. You can easily connect with the intercom using marketing sites like Salesforce, Marketo, and others. This specific software is most commonly used for B2B companies.
5. Birdeye
Birdeye is a review collecting and customer servicing tool. You can connect with the audience by collecting reviews and conducting surveys. Birdeye directs the leads if they are not on your website by sending messages and giving awareness about your product and website.
Conversational Marketing Strategies
Here are the steps to boost your conversational marketing.
1. Choose the Best Platform
Analyze and decide which platform easily connects with the audience. If you choose the chatbot, think about the question and answers they need about your product to try to fix it.
2. Conduct a Test
After fixing the chatbot, conduct a test to determine whether it supports all features and answers that are relevant to your audience.
3. Collect Feedback
Once all is set, collect feedback from your customers. So, they suggest in what area they were facing the struggle. Based on the feedback, collect the report, then try to solve and clear all the blocks.
Benefits of Conversational Marketing
1. Improve Customer Satisfaction
These conversational marketing techniques help you learn more about your customers, whether they are interested in your product or want to change, and at what stage they stand in the buyer's journey.
2. Increase Lead Generation
Using tools for conversation helps the customers learn more about your product, and converts them into customers. Start conversations by highlighting your brand's strengths and generating more leads to customers.
3. Lead Them to the Market Funnel
As mentioned above, giving awareness about your brand and product allows buyers to consider your product, and in the final stages, they become your regular customers.
Frequently Asked Questions
1. Why would a company use conversational marketing?
Conversational marketing offers companies an opportunity to build stronger customer relationships, improve customer service, drive conversions, and gather valuable insights for business growth.
2. What are the three phases of conversational marketing?
The three phases of conversational marketing are:
– Engage
– Understand
– Recommend
3. What are the best chatbot platforms?
The best chatbot platforms are:
– Proprofs Chat
– Chatfuel
– Mobile Monkey
– Aivo
– ItsAlive
Closing Thoughts
Looking back at the olden days, there were no proper communication platforms to engage customers. However, now we have the precious gift of social media to build a good relationship with your customers. Utilize this opportunity to improve your conversational marketing. Check out our blogs for the most up-to-date information on content marketing trends.
Similar Reads