What Is Copywriting?
Copywriting is the process of writing sales ads, advertisements, and web copy for a target audience. It's any business communication that's for marketing anything from products, companies, services, or concepts. It can include marketing, advertising, blogging, social media content, and email templates. All forms of writing that help people understand a product or service should be copywriting.
Types of Copywriting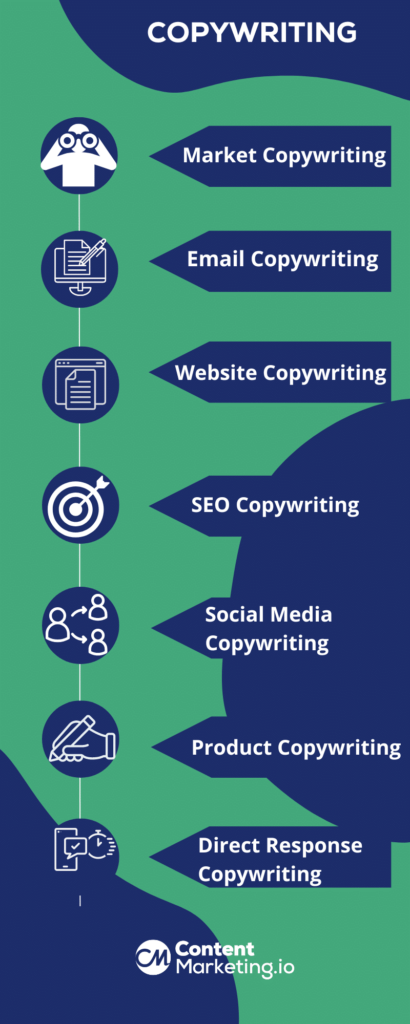 1. Market Copywriting
Market copywriting is in a market environment, and content creators often self-promote. If you want recognition for your business then you must make your websites and blogs more visible. Market copywriting is a form of copywriting that uses a marketer's skillset to communicate their content effectively.
2. Email Copywriting
Email copywriting is one of the most common and effective types of copywriting. Email copywriting is a type of writing that helps businesses share their message to their customers to increase brand awareness and create brand loyalty by providing them with the right promotional content. MailChimp is a marketer's best friend because it shares all the information about email copywriting, including how effective it is for brand loyalty.
3. Website Copywriting
Businesses consider website copywriting as the most difficult and least understood of copywriting, but it's also the most profitable. It's important to remember that the most important part of any copy is the final sentence of each paragraph because, in the digital world, this sentence is all site visitors see. The final sentence provides crucial information that will make the reader want to continue what they're doing or move on without reading the rest of your copy.
4. SEO Copywriting
Search engine optimization (SEO) copywriting is a duplicate content marketing strategy used to increase your website's traffic and drive more organic search traffic to your website. It also helps to improve the rankings of your website on search engines by using keyword-rich copy to make your website rank higher in the organic search engine result pages.
5. Social Media Copywriting
Social media copywriting is a subset of website and email copywriting. It is an expression of content on social platforms that emphasizes the positive aspects of and uses language that appeals to the site the writer uses. Copywriting is information-based marketing that provides readers with the content they need to make a purchase or to buy into a concept. Instead of writing promotional copy, copywriters provide expert guidance and advice.
6. Product Copywriting
Product copywriting is anything from product descriptions to potential customers using on-site product pages. Product copywriting is a critical aspect of marketing your products, but good content marketing isn't a replacement for good product copy. Content marketing focuses on educating your audience and product copywriting focuses on educating potential customers.
7. Direct Response Copywriting
Direct response copywriting is a marketing technique for getting a response from consumers in a short amount of time. These responses vary between positive and negative depending on the advertising campaign. The goal of this type of copywriting is to get a response within a short period from a few seconds to a day to ensure the campaign's success.
What Is Content Marketing?
Content marketing focuses on the content of a website or information and is a strategy within the commercial industry. Content marketing includes various methods, such as blogging, social media, videos, and email newsletters to increase a company's customer base. The best practice for creating content or text is to persuade the targeted audience through advertising. Content marketing is still a growing field, as society continues to grow in the digital space.
Types of Content Marketing
1. Blog Posts
Content marketing via blog posts is one way for businesses to build an online presence and gain a voice in their respective digital market. Blog posts offer a new way for businesses to communicate and build interest in their industry and brand name.
2. Videos
Content marketing via videos is a great way to utilize resources to maintain a brand and attract new viewers. Without putting too much pressure on your marketing team, content marketing videos provide the opportunity to appear more authoritative while maintaining the flexibility to repurpose them as necessary.
3. Guides
Content marketing via guides is the most effective option. A guide provides the right help, in the right format, at the right time. You might think that due to the volume, they are the most expensive of the options, but they're worth the investment. Guides have a high ROI due to their ease of curation and sharability.
4. Case Studies
Content marketing via case studies is an effective way of marketing a product or service. This type of content marketing also benefits students, entrepreneurs, or small businesses that don't have websites, blogs, or social media channels that create engaging content for readers or followers.
5. E-books
Content marketing via e-books is the most popular growing option for people seeking to generate leads, build brand awareness, and generate organic clicks. Regarding the price of quality content marketing, e-books have a considerable price advantage over other forms, such as content marketing via blog posts. However, no matter the form of content marketing, the golden rule of content marketing remains the same: consumers know what they want before they need it.
6. Podcasts
Content marketing via podcasts is a great way to improve your audience's knowledge of a variety of topics, engage your audience, and generate content regularly. By understanding your audience and their preferences, or some way to elicit their interest, you can create successful content to integrate into a variety of your existing content marketing campaigns.
7. Social Media Posts
Content marketing via social media posts is about an ongoing conversation or promotion campaign for a social media platform, website, or product. Social media posts have the goal of continuing coverage or informing their audience about the products or services. Social media posts might also be about getting responses from the audience to activities or how to take action from content marketing.
Copy vs Content
There is a difference between copy and content when it comes to marketing. Both copy and content use a creator to create, but the difference is in the context of the content creation. Copy focuses on producing content that promotes the product or company to sell, whereas content focuses solely on creating an informative piece of work that promotes the company or product.
Copywriting vs Content Marketing – Key Differences
The distinction between copywriting and content marketing is that a copywriter writes for a specific audience, whereas a content marketer generates and distributes content on websites and blogs for the prospective audience of the content. A copywriter focuses on written content, whereas content marketers focus on continuous interaction with customers.
Content marketing is about creating content that provides information and knowledge sharing to its readers and copywriting is about convincing your audience to take a specific action that involves decision making. Content marketing also involves copywriting when it tries to achieve the goal of bringing in new followers with SEO optimization.
Is Content Marketing a Part of Copywriting?
Content marketing is a type of marketing strategy that includes creating content as well as posting it on your website, so content marketing is part of copywriting. Copywriters focus on writing the perfect headlines, attracting customers, and delivering content to an audience. On the other hand, content marketing is a broad term that includes writing and repurposing content, marketing and branding, and content management.
It could also include producing videos or writing articles and blog posts. Content marketing is also a way of managing your brand by showing potential customers that you know what you are doing by posting consistent and informative content over a long period.
How Does SEO Impact Both Copy and Content?
Search engine optimization (SEO) has a significant and broad influence on copywriting and content marketing. There is a widespread belief that copywriting is simpler to rank for keyword searches than content marketing because many of the content marketing tools we use offer alternatives for producing better optimized copywriting on the internet.
SEO's influence on content and copy is so extensive and pervasive that it is rare to find a business that does not use it for producing high-quality content.
How to Choose Between Copywriting and Content Marketing?
Choosing between copy and content is not easy. They both have their pros and cons that you must consider and measure by deciding what fits your requirements. Each project or initiative you undertake is different and customizable based on the goals. Each industry, audience, and client wants something different, so being a copy or content writer is essential for any business growth. It all boils down to choosing between what is necessary for your success and your desires.
Frequently Asked Questions:
Which is more important for marketing: copywriting or content marketing?
Copywriting and content marketing are both essential for efficient marketing. Copywriting is critical for developing engaging sales messages that force people to act, but content marketing is critical for increasing brand awareness, trust, and loyalty over time. A thorough marketing strategy should ideally incorporate both copywriting and content marketing, both of which should be tailored to the specific demands and goals of the firm.
How are copywriting and content marketing different?
Copywriting is a subcategory of content marketing that focuses on writing convincing text to sell a product or service. material marketing, on the other hand, is a broader approach that incorporates numerous sorts of material (such as blog entries, videos, social media postings, and more) with the ultimate goal of developing brand awareness, trust, and loyalty.
What skills are needed for copywriting?
Copywriting necessitates excellent writing abilities, the capacity to generate persuasive messaging, and a thorough understanding of the target audience's wants and goals. Other essential abilities include research, inventiveness, attention to detail, and the capacity to work under pressure.
What skills are needed for content marketing?
Writing, editing, storytelling, visual design, SEO, social media management, and analytics are all required talents for content marketing. A strategic approach, the capacity to comprehend and connect with a target audience, and a dedication to continual learning and growth are also required.
Closing Thoughts
What is copywriting, what is content marketing, and why is it important to learn both? Copywriting and content marketing are two different types of methods, but they both aim at selling products or services through content. Content marketing uses customer interactions to build traffic and revenue whereas copywriting tries to resolve a customer's needs. More people now prefer to make their purchasing decisions based on copywriting and content marketing as it provides their readers with the information they seek.
The best part is that both copywriting and content marketing require you, as a business owner, to learn something new, and the skills you pick up increase your chances of success. To learn more about content marketing, check out our recent blogs.
Similar Posts: