The crypto market is rapidly expanding, and so is the competition. To garner the audience constantly, you must create efficient content strategies for marking your footprints in this evolving industry. Everyone knows that content is king. Content marketing is one of the best and most cost-efficient ways of promoting your crypto business. So, if you have landed in the crypto market or are planning to launch any crypto project, crypto content marketing should be your primary focus. By the end of this article, you will learn why content marketing is a necessity and how you can implement the same to boost your business.
What Is Crypto Content Marketing?
Crypto content marketing is a gradual process that involves researching, developing, publishing, and distributing quality content to your target audience. The content can be in any form and published on different content marketing channels. This helps capture the attention of investors, NFT holders, and crypto community members. Also, content marketing in the crypto/blockchain industry helps investors and customers navigate and research the field of cryptocurrency. It is a relatively new field, hence efficient and appropriate knowledge is important. Thereby you will be educating your audience (potential investors) while creating value for your business at the same time. 
Benefits of Crypto Content Marketing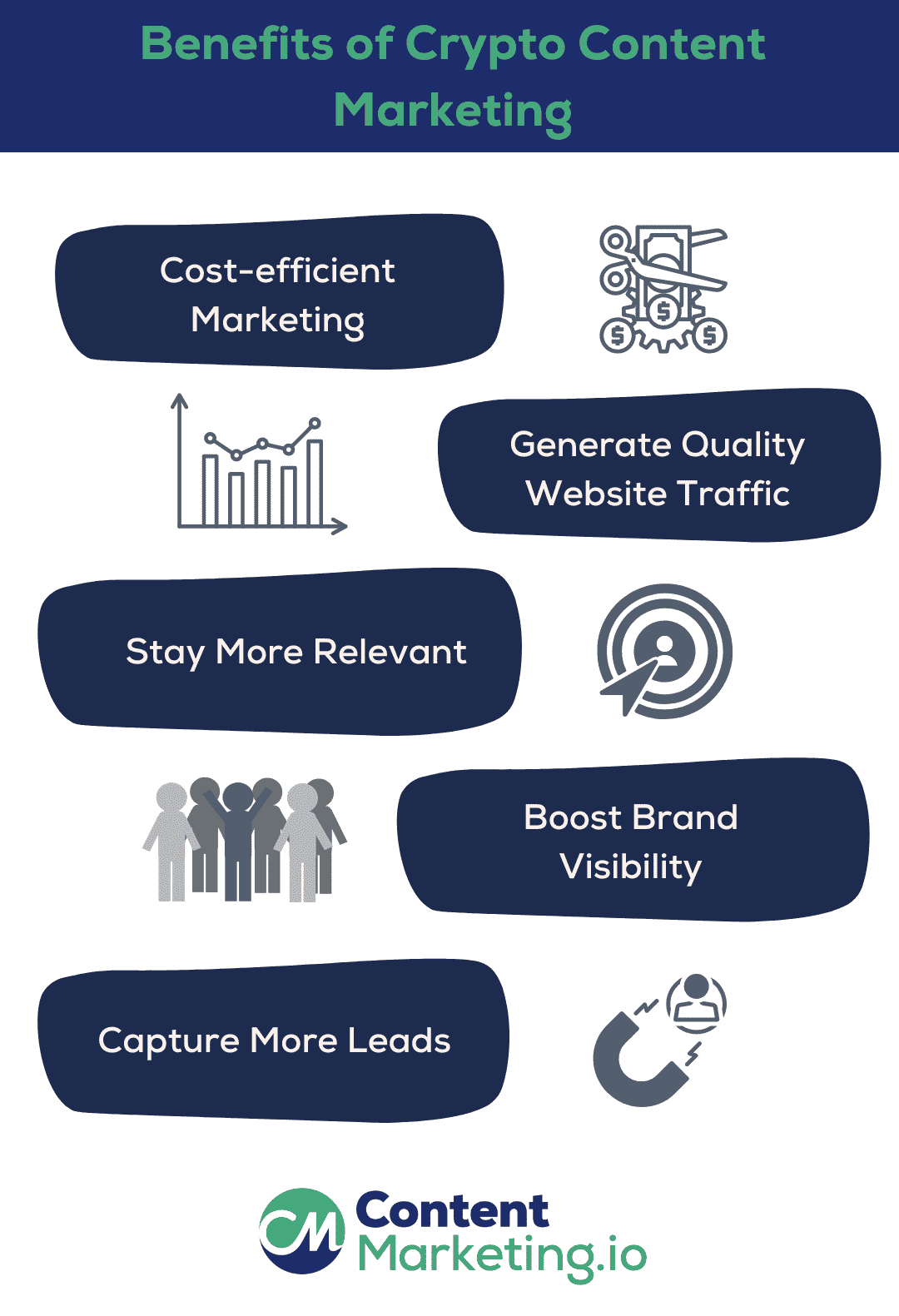 Cost-efficient Marketing
Content marketing is not like paid advertisement. It organically reaches the target audience. So, it will only cost you to hire resources to develop quality content. Once the content is released and optimized on search engines, you can rank among the top results. Utilize Organic content marketing strategy which is also a digital platform that helps you naturally generate traffic to your website rather than paid marketing approaches.
Generate Quality Website Traffic
As your blockchain content is optimized for search engines, it starts getting visibility, and your website gets traffic. People visiting your website from organic results are likely looking for specific crypto information or services, and the chances of conversions are higher. A content KPIs performance improves the content creators to measure their work to succeed and achieve their business goals.
Stay More Relevant
Content marketing is perfect for staying relevant in the industry for a long time. As you regularly create more content, search engines will likely find your content relevant in the long run. You also don't incur additional costs to keep or manage it, and it will be forever among the top results as long as it remains relevant.
Boost Brand Visibility
High-quality crypto content can help you establish your authority in the industry and raise the visibility of your crypto projects. This can result in increased trust in your business and positions your brand as an industry leader over time. It further leads to an expansive customer base.
Capture More Leads
As site traffic increases in an organic way, you can capture more relevant leads. In comparison to other forms of traditional marketing, content marketing generates about three times as many leads. These leads are likely first-time clients and can be valuable to your crypto business.
Steps to Create a Compelling Crypto Content Strategy
Let's now look at the general steps to create a robust and efficient content marketing strategy to drive your blockchain business.
1. Define Your Target Audience
Identifying and understanding your audience to craft relevant and excellent content in the crypto industry is essential. You must first create different audience groups, like existing investors, potential investors, and service users. If you are stuck in this process, survey your token holders and existing customers to make your groups. Also, make sure to define whom you don't want in your target audience, as it is equally important.
2. Research Your Competitors
Studying your competitors' content tactics is essential to see how they market their crypto services. This way, you can determine what makes you unique and why your crypto project is worth investing in. Also, competitor research can help you assess the quality of content you need to outrank them on search engines. So, it is vital to figure out your competition and create content that resonates the best with your brand.
3. Define Your Content Marketing Channels
There are different marketing channels where you can publish various types of content. For example, YouTube for videos, Spotify for podcasts, Facebook/Twitter/Instagram for short videos and posts, and so on. To decide your marketing channels, you need to check and analyze the presence of your defined audience on different channels. Also, look out for the platforms your competitors are using the most. Once you have the marketing channels in front of you, it will be easier for your team to create more relevant and efficient content for each platform.
4. Set Your KPIs
Before starting any campaign, it is important to define each marketing channel's key performance indicators (KPIs). This can help you measure your campaigns' performance to analyze what is working and what needs improvement. Let's say, for YouTube videos, the ideal KPIs will be unique users, the number of clicks, bounce rates, and social media shares. Similarly, you must define it for blog content, as well as social media channels. It will help you understand what your target audience likes.
5. Develop Your Crypto Content Marketing Plan
The final stage is to create a well-defined content marketing plan for your crypto business ventures. Once you cover all the steps mentioned above, you can start with your content plan. By focusing on the target audience on different platforms, you can curate content according to them. The content should properly address the problem and solution with clear concepts supported by credible sources. Make sure to include relevant call-to-action buttons, sharing options, etc.
Types of Content for Crypto Business
Here are some ideas to help you with the different types of content you can create.
Blogs
Through blogs, you can share a lot of information with the users in the form of how-to guides, ultimate guides, and what-is articles. You can get creative in informative blogs by introducing graphics and sharing industry insights. Also, blogs are helpful for search engine optimization (SEO).
Videos
Many potential investors and new users in the field of crypto look for relevant videos to understand various concepts. So, it provides you with a versatile medium to explain the topic, gain authority, and communicate your story in a better way.
Infographics
Infographics help convert boring stats and information into a visually appealing and interesting format. You can use infographics to break down complex information, so users can easily understand the point. This format also has an increased shareability on social media. The visualization of images that provide rich contextual information area surrounding helps to link in the content map.
Whitepapers
Whitepapers have always been substantial since the introduction of blockchain technology. These well-researched articles comprehensively cover crucial aspects of crypto projects and help establish industry authority.
Podcasts
The popularity of podcasts is again increasing and offers you the creative independence to speak about literally anything. To expand reach and brand awareness, podcasts are perfect for the crypto industry to pique the interest of your target audience.
FAQ
What is crypto digital marketing?
Cryptocurrency digital marketing is the process of building a community of people who are interested in your products or services. For this, content marketing and social media play a crucial role in driving leads and conversions.
How do you market crypto on social media?
To market crypto on social media, you must build an engaging community with consistent posting. The main mantra is to focus on creating infotainment content to keep the users engaged and entertained through your informative content. Also, do not be simply active on a single platform and give equal attention to all relevant social platforms.
Why is crypto content marketing important?
Crypto content marketing is crucial in this rapidly evolving blockchain industry because it is the most cost-efficient way to promote your crypto project to audiences. With the help of content marketing for your crypto business, you are more likely to find valuable leads.
What is the most effective content type for crypto marketing?
This solely depends on where your audience is. However, blogs and whitepapers effectively gain rankings and authority on search engines. Moreover, videos plus infographics are perfect for building brand awareness for your crypto project on social media platforms.
Final Thoughts
Crypto content marketing is a potent and cost-effective technique for promoting your crypto business. With great content and distribution, you can express your values and reach the right audience so they can understand how your services can benefit them. However, it can soon become havoc if you don't have dedicated content resources. Hiring an external team to outsource your content and develop a crypto content strategy would be the right choice to outrank your competitors. If you are planning to get started on your crypto content marketing reach out to us!
Similar Blogs: