Globally, the e-learning market is projected to reach $336.98 billion by 2026. There's a growing demand for e-learning content, including an abundance of learning scope, centralized content, time flexibility, and convenience.
The lockdown during the pandemic made e-learning content gain even more traction.
81% of the customers conduct online research before buying. To stand apart from the crowd, you must input the right strategy to yield your desired results.
Content marketing for a startup in the e-learning industry can help you achieve your business goals and attract more registrations.
We offer content marketing services that boost traffic, increase your brand awareness, keep users engaged, and attract leads.
What Is E-Learning Content?
According to Association for Talent Development (ATD), e-learning content is a structured course or learning experience delivered electronically. It can also include performance support content to monitor the learning process and fill the gap.
There are different types of learning elements that make up an e-learning course, such as live or pre-recorded lecture content, videos, quizzes, simulations, games, activities, podcasts, demos, and other interactive activities.
While ATD uses the term e-learning with a hyphen after the letter 'e,' it is analogous to using elearning and eLearning.
Typically, e-learning content is distributed and managed through a learning management system (LMS). Learning management systems are multi-user software applications accessed through a web browser. It helps organizations and institutions manage training, self-learning courses, and blended learning courses.
LMS is an automated process that:
Replaces rigorous and expensive manual work that saves time.
Helps you to organize your content and collaborators.
Tracks and reports training activity and results.
Educational institutes, like schools and universities, have started to embrace e-learning content alongside their regular curriculum to bridge the knowledge gap and improve their skills in other technologies.
Marketers are also re-strategizing to provide e-learning content to cater to the growing demand for skill updates and new certifications.
Suggested Reads
Types of E-Learning Content
In a broader view, e-learning falls into two major categories: synchronous and asynchronous e-learning.
| | |
| --- | --- |
| Synchronous E-Learning | Asynchronous E-Learning |
| Synchronous e-learning is live teaching, online learning, and virtual classroom training usually led by an instructor. | Asynchronous e-learning is self-learning, usually on a PC or laptop with or without an instructor. |
| It is conducted at the same time for all the learners distributed geographically. | The e-learning content can be taken anywhere and at any time zone. |
| It is conducted through web-conferencing or virtual classroom platforms that offer features, such as slide or screen sharing, as well as interaction tools, like chat, polling, and screen annotation. | It includes pre-recorded lecture content, video, visuals, text, assessments, simulations, and other interactive elements. |
| It has restricted or no scalability as it is a live presentation, and once a session is over, you can't include new content. | This e-learning content is highly scalable to accommodate updates. |
Benefits of E-Learning
An affordable and effective way to train employees can enhance their skills and knowledge.
Helpful in training customers and clients about your product.
Learners have the flexibility to learn at their convenient time, which can help them quickly digest the information.
It lowers training costs and L&D (learning and development) costs.
Allows you to train employees anywhere in the world.
LMS allows you to combine all types of content, such as PDFs, Word Docs, PowerPoints, and any other training material, into one platform.
Track their engagement with the course with exceptional analytics.
Provide value add-ons for your customers to retain them and grow your business.
Help your employees in their onboarding, employee training, product training, and compliance training.
How to Create E-Learning Content?
There's a lot of brainstorming that you need to do before creating e-learning content for your audience. Listed below are some of the proven methods that would make your e-learning content really worthwhile.
Start by Identifying the Learning Objectives for Your Course
This will help you determine what content to include and how to structure it and create courses and modules that resonate with your audience.
E-learning content has two use cases – academic and corporate e-learning modules. Academic e-learning covers K-12 and university study programs. The second use case, the corporate module, covers courses on product training that have seen growth in recent years.
There's blended learning, which is a mix of formal in-person learning and e-learning that is delivered in academic and corporate settings to increase knowledge retention.
For instance, academic e-learning content includes courses in mathematics, linguistics, and science. On the other hand, corporate e-learning content includes courses and certifications on products by Hubspot and Microsoft.
Create Engaging and Creative Content
E-learning content is often associated with presentation slides that summarize the key points. Usually, it is accompanied by a tutor's voice when it is a pre-recorded slide, and when used in live sessions, it is a visual tool for the presenter or the teacher.
Have slide-based content with interactive units and other multimedia elements, such as graphics, animations, and sounds.
Introduce quizzes, assessments, and knowledge checks either at the start of the course, in the middle, or at the end.
Quizzes at the beginning of the course make the learner assess their knowledge levels on the topic they have chosen. If it is an extensive and detailed course, an assessment at the end is the optimal solution.
There are a variety of training videos, such as standalone videos with video as the only content, embedded videos in the content, a webinar or live training playback, how-to video tutorials, presenter screencasts, and screen capture videos that demonstrate how to work with software.
Create podcasts for training the employees on soft skills. They are adaptable on mobile devices, available 24/7, and can be listened to on the fly.
Employee training on standard operating procedures and processes in an organization, employee handbooks are better when you circulate them as e-books. They provide a good reading experience when you use tools and make it a digital flipbook while also tracking the reading progress.
Use Simple and Clear Language
Make your e-learning content engaging and encouraging. Split the course into chapters, and have a slider that shows the progress of completion of each chapter.
Make your online learning courses fun by implementing a quiz feature, or learn to create a unique and engaging slideshow.
Use clear and concise language, and avoid jargon to ensure that the content is easy to learn. Quote examples based on the geographic location of the learner, and don't use currencies and national holidays of a specific country in the examples.
You can repurpose your content and transform it into interactive modules making learning fun.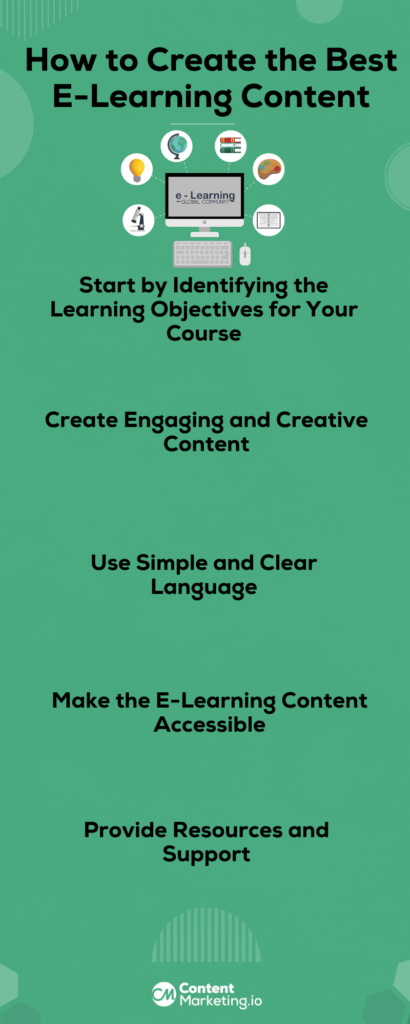 Make the E-Learning Content Accessible
Structure the e-learning content in such a way that it is easy to access. Provide a table of contents that, when clicked, jumps to the section, making it easy to scroll.
Have H1, H2, and H3 heading tags, bold font, summary tables, and infographics.
Promote your e-learning content on social media platforms, so your target audience is aware of your content.
Also, regularly review and update the content to ensure it remains relevant and accurate.
Provide Resources and Support
Along with the e-learning content, provide resources, such as a glossary of terms, discussion forums, a live chat, and contact details.
Be active on social media platforms, and respond to the questions and doubts raised by your learners.
Connect with them on social media, and track the analytics to understand their needs. Provide a customer support service number, an email address, and your corporate address for people to reach out to you.
FAQs
1. What is e-learning content?
Recorded videos, PDFs, research papers, simulations, AR/VR learning, live streams, and computer-based training are e-learning content.
2. What is LMS content?
Learning Management System (LMS) is a central repository that holds all the teaching and learning resources that are accessible to all stakeholders (teachers, students, and parents).
3. Can e-learning content be an effective source for learning?
Yes, effective e-learning content provides assignments, projects, and tests to review the quality of the learner.
Closing Thoughts
E-learning makes learning possible for people with disabilities, academically unprepared students, and for international students. E-learning is an additional source to foster learning, and it cannot completely replace contemporary teaching and learning methodology.

Similar Reads