Freelance content creators have the freedom that many content creators dream of. They can work from anywhere at any time. This freedom fuels their passion for content creating and producing excellent content, whether it is in the form of blog posts, social media posts, or videos.
What Is Freelance Content Creation?
Freelance content creation is where you decide what content to create. Either you can approach companies, or they will approach you. It is both exciting and terrifying because you may have the freedom to choose what projects you want to do, but it also means you will bear the entire responsibility of the project. Any shortcomings or obstacles are handled by you. To be precise, offering your services to a client for marketing and content writing to promote their products and services as a separate individual is called freelance content creation. 
The Pros and Cons of Freelance Content Creation
These are some things you should know when starting a career in freelance content creation:
| | |
| --- | --- |
| + | – |
| Freelancers can choose when they work, meaning they have control of their schedules. Having control of your schedule means you have the freedom to work when you want to. | Although you can make huge profits as a freelancer, it is not always guaranteed. The risks for freelance content creation are always high. |
| In freelance content creation, you have the option to create a variety of content. You can choose the projects that you find interesting and have the ability to take on projects that are different from each other.  | Most organizations provide benefits to their employees. On the other hand, being a freelancer means no special employee benefits since you are your own employer. |
| Being a freelancer means you can name your price for the services you offer. If you are an experienced and established content creator, you can charge high prices for your services.  | |
Pros and cons of Freelance Content Creation
Tips to Kickstart Your Career in Freelance Content Creation
Becoming a freelancer is not an easy task in any field. Having the strength to handle multiple projects on your own is a tough job. But, if you have the passion and qualities required for freelancing, you can surely succeed in freelance content creation.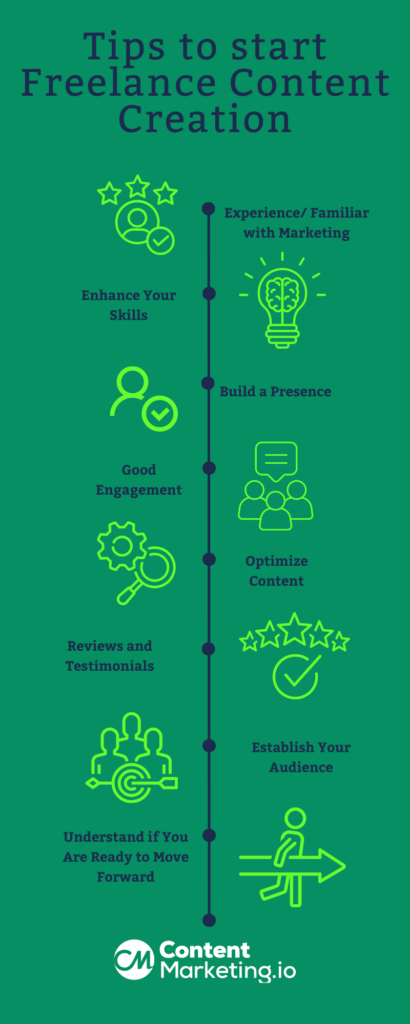 1. Experience/ Familiar with Marketing
In order to enter into the field of content creation, any kind of experience in marketing, sales, or training in journalism and business is a good thing to have. Having relevant experience beforehand can be very helpful for freelance content creation. For freshers who are just starting out, writing blogs is a good way to gain some experience, start writing, and get some exposure.
2. Enhance Your Skills
Once you start writing, it is vital to hone your skills to develop your freelance business. Being up to date on current trends and improving your writing skills must be a priority for freelance content creators. Enrolling in courses is a good way to improve your skills while also learning some new things. There are many courses available online, and most of them offer good course rates. If you have the resources and time, you can even try intense 6-month courses that will cover various topics and offer deep insights.
3. Build a Presence
To become an established freelance content creator, you must make a name for yourself. Enhance your reputation by building your portfolio. You can create a web-based portfolio to get credibility for the content you create. Based on the quality of your portfolio, you can attract new clients to provide your services.
4. Good Engagement
Making good content is not enough. You must make sure that people notice the work you've done. The content you create must have good engagement so the content that you create is read, shared, and heard about by everyone. To have good engagement with your content, you can promote your services on social media platforms, like LinkedIn and other sites, where you can show off your services.
5. Optimize Content
The internet always follows trends. You can use tools like Google Trends to discover new trends. It is imperative that you stay on top of current trends to see what is new and what works best for the present time. Make sure that the content you create is fresh and has relevant information for the current world. Optimize your content with SEO that is up to date and, at the same time, is also relevant to your client. Find out what works best for you and improve on that.
6. Reviews and Testimonials
Once you are finished with a client, ask them for testimonials that you can post on your website to enhance your presence. Also, your clients can leave reviews and feedback on professional directories about the experience they had working with you. Good reviews can have a great impact on your reputation and can provide more exposure.
7. Establish Your Audience
Establishing your audience is an important factor to consider because, by knowing who your audience is, you can make content that caters to that specific audience. Thus, making it easier for you to develop and write content. The better you know what your audience or readers want, the better you will be able to make content for them.
8. Understand if You Are Ready to Move Forward
To have a career in freelance content creation, you need to have experience, great writing skills, an amazing portfolio, and an extraordinarily good reputation. You also need to have an established web presence so that when people visit your website, the experience is smooth and easy to use. Good reviews must be made a priority so that people know you offer excellent service. There is also the financial side of things to consider. Becoming a freelancer means you need to handle all of your finances. When you feel like you have all of these aspects covered, you can take the next step and move forward.
FAQS
Is freelance content creation hard?
Freelance content creation requires hard work and consistent output of good quality content. Managing time is an area where freelancers are expected to be really good so their projects are done on schedule. 
Is freelance content creation worth it?
Yes, freelancing has great benefits, especially if you are someone wanting to make some money on the side. Freelancing is a good side hustle to have if your main job isn't sufficient enough to manage expenses. 
Is writing blogs a good option for freelance content creators?
Writing blogs is an excellent place for freelance content creators to start their careers, gain experience, and work on their creativity. Blogs can also be a great addition to your portfolio.
What are some examples of content creation?
What skills do you need to become a content creator?
To become a good content creator, you must have knowledge of what search engine optimization is and how it works. You must also have research skills, consistency, and brand value, as well as the ability to pay attention to feedback and improve.
Final Thoughts
The above-mentioned tips offered you a bit of expert advice and a formal introduction to freelance content creation. You can now start applying for content writing, copywriting, and email marketing jobs. The digital presence has compelled businesses to have a content creator work for them.
You can become a freelance content creator by checking out jobs on LinkedIn and other professional job platforms. If this was helpful you know where to come the next time you have a question. At contentmarketing.io, we provide clear and detailed answers to all your business-related questions. Follow our blogs to be abreast of the latest advancements in content marketing.
Similar Posts