We all remember the importance and impact of the healthcare industry during COVID times.
A lot of healthcare companies with unique strategies and techniques emerged. 
Though a lot of brands made their mark, some were not able to rise up to their true potential. This is where healthcare brands felt the need to improve on strategies to build their brand awareness and reach.
But, what is healthcare content marketing? Is it necessary? Is it like creating normal content? How do we create and implement healthcare content marketing? Don't worry. In this guide, we are here to help you strategize and create your healthcare content.
According to the Content Marketing Institute, "Content marketing is a strategic marketing approach focused on creating and distributing valuable, relevant, and consistent content to attract and retain a clearly-defined audience — and, ultimately, to drive profitable customer action." Going by this, healthcare content marketing's focus is to help healthcare sectors reach and engage people using digital marketing strategies.
Why Should You Digitally Market Your Healthcare Brand?
Research by TrueNorthCustom showed that 90% of healthcare brands started using digital marketing amidst the pandemic. Healthcare brands realized the potential that content marketing has created over the past couple of years. 
There is a greater need to plan, create, strategize, distribute, and optimize your marketing means more than ever. If you don't find quirks and ways to strategize and market your product, your brand is sure to duck out.
The main purpose of marketing is to educate the customers on your products. It creates an awareness of your brand. People only sign up or use brands that are familiar, popular, and trustworthy.
People demand proof of what they're signing up for. With every brand, business, and service taking up the digital means as a way to reach and gain prospects, the healthcare field is also in demand of it.
Creating Exceptional Healthcare Content
Creating content related to healthcare requires diligent and meticulous effort, unlike creating content for other niches.
Here are some important tips on how to create content for your Healthcare brand.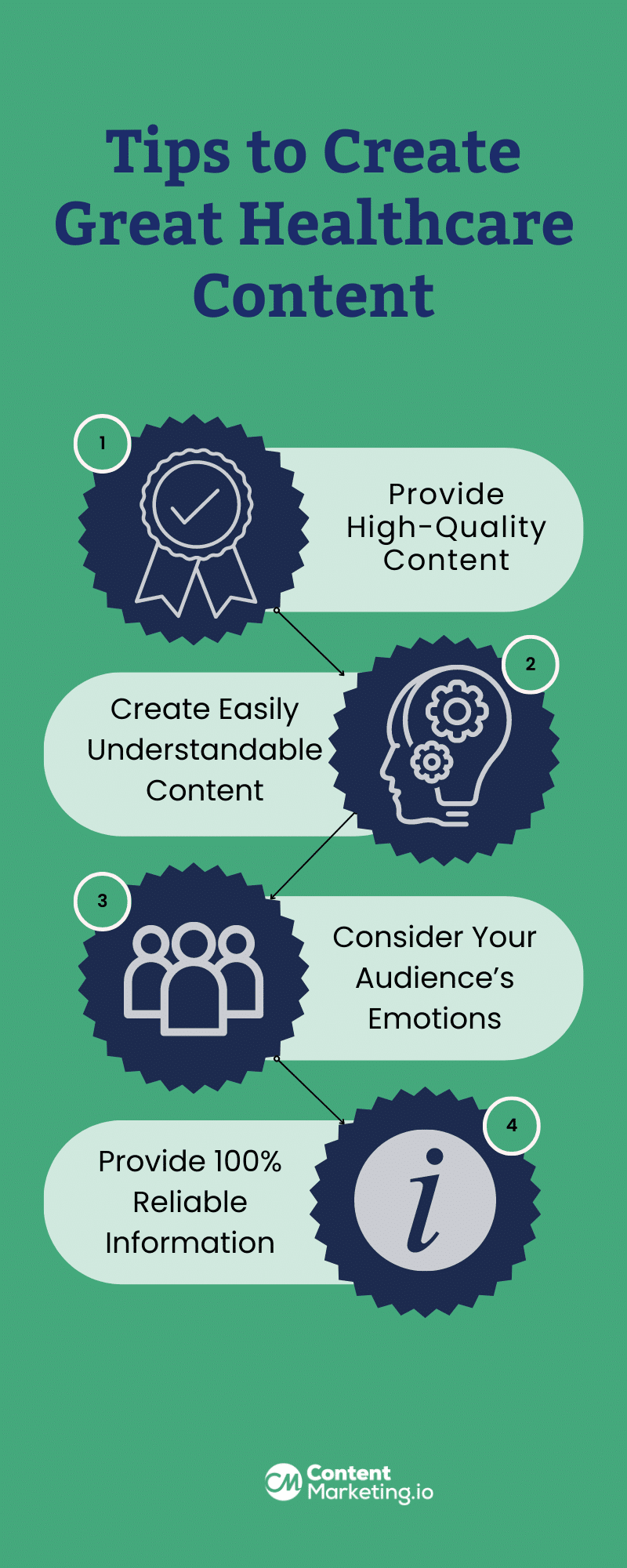 1. Provide High-Quality Content
This is one of the first and foremost prerequisites when creating content for healthcare marketing strategy.
The information that you'll be releasing can significantly affect the lives of people. It should be a hundred percent reliable and detailed with maximum accuracy. Healthcare information involves a lot of sensitive data.
Also, there will be a lot of private data which needs to be maintained in a highly confidential way. Creating content by keeping track of testimonials, achievements, and accomplishments will add as a boost to promote your content's success.
2. Create Easily Understandable Content
Healthcare content is consumed by both the general population and experts alike. The content should be easy to read, understandable, and informative. Use simple terminologies and try to avoid jargon.
Focus on providing value and information instead of sounding smart by using jargon. The general public won't be able to understand jargon so they will either get confused or find the information elsewhere. At the end of the day, your goal is to help people understand better so use words that they can understand easily. 
3. Consider Your Audience's Emotions
Making sure that your content takes into account the emotions of its audience will help them receive it better. It helps them connect, relate, and understand the content better. It makes them feel that they're talking to a person who is concerned about them instead of talking to a robot.
Be that as it may, it's still important to stay objective and informative. Emotions in the content are good but only to an extent. At the end of the day, we still need to deliver quality, accurate, and professional content.
4. Provide 100% Reliable Information
Over 90% of the people who use healthcare services fear that they struggle to find good, authentic, and useful content. With authentic content, there is a much greater chance for reach and engagement with potential customers. Make use of other trusted sources and expert opinions to elevate your content's quality. Reliable content becomes the driving force for successful healthcare content marketing.
Formulate a Healthcare Content Marketing Strategy
With the content perfected to fit the healthcare theme, let us focus on the content marketing strategy that helps deliver the content.
Healthcare content marketing is challenging and requires rigorous effort. The healthcare content marketing strategy differs based on the type of content, organizational goals, and target audience.
Here are some content delivering strategies that will help you optimize your content.
1. Always Formulate Your Content Strategy Based on Data
Creating content based on data helps deliver the right content to the right audience at the right time.
Choose the area you will be creating content on, gather your data about the content, and do an in-depth analysis. This will help you formulate your marketing strategy, your target audience, and your approach to marketing your brand.
Even after creating and producing content, keep track of data. Measure it, and optimize it for better performance and success of your healthcare content marketing strategy.
2. Centralize Your Content Based on Audience
The endpoint of our content and marketing is the audience. Knowing what your audience wants gives you an additional edge to better formulate your content marketing strategy. Some may want more content in one niche, some might want more in a different niche.
Creating content based on the audience preferences will help determine and organize your content and strategy. Ultimately, this will help you widen your reach.
3. Leverage the Current Trends
Every now and then, a new trending topic arrives and all the attention is focussed on that. Keeping track of trends will help you infer and analyze the pros and cons of your healthcare content marketing strategy. They help predict the market flow and the audience mindset. 
If you create your content and strategize it based on trends, there's a high chance that it will increase brand awareness.
4. Check-In with Experts
Healthcare is a complex field, and becoming a professional requires years of training. The field is so vast that it has become hard to find accurate content since some of it tends to get lost in translation. This is where expert opinion comes to play.
Consult with experts while creating content as they have more in-depth knowledge of the topic. Working on expert feedback improves the quality of the content and provides clarity to the user. Utilize them to help create and formulate your content and strategy.
5. Know How to Promote Your Brand
There are a variety of channels available in today's world to create brand awareness. Almost all marketers believe social media marketing to be effective in reaching a lot of people. 
Create different types of content, from videos to infographics to blogs. Participating in international conferences, hosting webinars, and getting featured on other trusted platforms will also boost the popularity and eventually the credibility of your brand.
Create content consistently, and keep reaching out to the audience. Who knows, there is a higher probability that a random viewer can become a potential client.
6. Plan Your Budget
The world is slowly prioritizing digital marketing over traditional marketing. It has become imperative for companies to have a digital marketing strategy in place if they want to remain relevant.
Fortunately, marketing your product digitally is more cost-effective compared to traditional means of marketing.
Allocating a budget for qualitative research and analysis helps stay on target. Planning your budget based on strategy and data will effectively help manage funds.
Also, administering a proper budget will help track key metrics and ROI which determines the healthcare content marketing's success.
FAQs
1. What is content marketing?
Content marketing is creating and promoting different forms of content to achieve your business goals. Content marketing is an organic promotion strategy that helps you attract your target audience and achieve your desired goals, such as buying your product or using your service.
2. What is content marketing in healthcare?
Content marketing for healthcare is a digital marketing strategy that enables doctors, hospitals, and healthcare providers to educate people through valuable healthcare content. 
3. What type of content is most effective for healthcare?
Healthcare News, Blogs, and Videos that provide healthcare tips and information are some effective types of healthcare content that draw more attention.
4. Why is it important to have content marketing in healthcare? 
The main goal of content marketing for healthcare providers is to offer patients healthcare information and educate them. Healthcare content marketing builds brand awareness, improves patient engagement and retention. They will likely return for insight and share your content when you provide them with relevant information.
As you build credibility, you establish yourself as a reliable source and an industry leader. You can increase your company's reach to grow your business from this position.
5. What are things to consider in healthcare content marketing?
– Always provide good quality content.
– Make sure the content you provide is reliable.
– Make your website sound more authoritative and be a subject matter expert that offers trustworthy healthcare news to the audience.
6. How to create a healthcare content marketing strategy?
– Define Your Target Audience.
– Determine Your Goal. 
– Use the Marketing Funnel. 
– Create Different Types of Content.
– Utilize Social Media to Distribute Content.
Closing Thoughts
With the pandemic locking us inside our homes, people are finding online healthcare techniques like teleHealth and teleMedicine to be more effective. Learning how to create your content, and knowing ways to strategize them creates an optimal path for your content marketing success.
Once you start producing your healthcare content, start looking for good content marketing strategies. Your brand's success is just a whisker away.
Many healthcare brands have already started to look for new ways to create awareness and establish their service. Do you want to be one of them? Don't miss the opportunity and start now.
Keep visiting our blogs for more interesting insights into content marketing.
Similar Posts: