The legal industry is tough to crack as far as marketing is concerned. Most law firms use content marketing to differentiate themselves from the competition and build a reputation as thought leaders.
Several competitors in the market vying for the same clientele and prospects with similar services. There is also a lot of regulation involved in the client acquisition process. Being able to present your brand in a light that is both engaging and informational is a lot harder. This blog will elaborate on law firm content marketing and why it is essential.
Table of Content
What Is Content Marketing?
Content marketing is creating different types of content such as blogs, articles, posts, podcasts, and videos to promote your product or service in an engaging way that appeals to the audience. The goal of content marketing varies according to the organization and the audience your serve. Some of the benefits of content marketing are:
Promotes brand awareness.
Improves your ROI.
Establishes thought leadership.
Builds an online community.
What Is Law Firm Content Marketing?
Law firm content marketing utilizes the creation of influential blogs, articles, and social media posts to engage with prospects and attract them to your firm.
The primary goal behind law firm content marketing is to provide content that will serve helpful legal information to prospective clients. Law firm content marketing differs from regular content; it is not like advertising your product or service. In content marketing, you give them valuable legal information expecting new clients.
It takes time, effort, and a focused strategy, but it doesn't come with many costs that traditional advertising and marketing do. The content can also be evergreen and exponential, so the more you create over time, the better it works for you.
Why Do Law Firms Need Content Marketing?
Law firms are starting to realize the value of content marketing, but most lawyers aren't sure where to begin. That's where content marketing for law firms comes in handy. By using the right techniques, law firm content marketing can help you reach out to more clients and generate more leads. 
People tend to search for law firms and attorneys online for legal consultation. While doing so, they might find your website, and the information present on your website may them decide whether to choose you or not. This is where creating effective content will help you as a brand.
Authenticity is one of the most essential traits of a law firm, and content marketing will help you earn those traits. Creating relevant content can help you build your brand authority, which can help people start to trust you. Once you begin to serve the customers' needs, you will organically get high-quality prospective leads.
Law Firm Content Marketing Strategy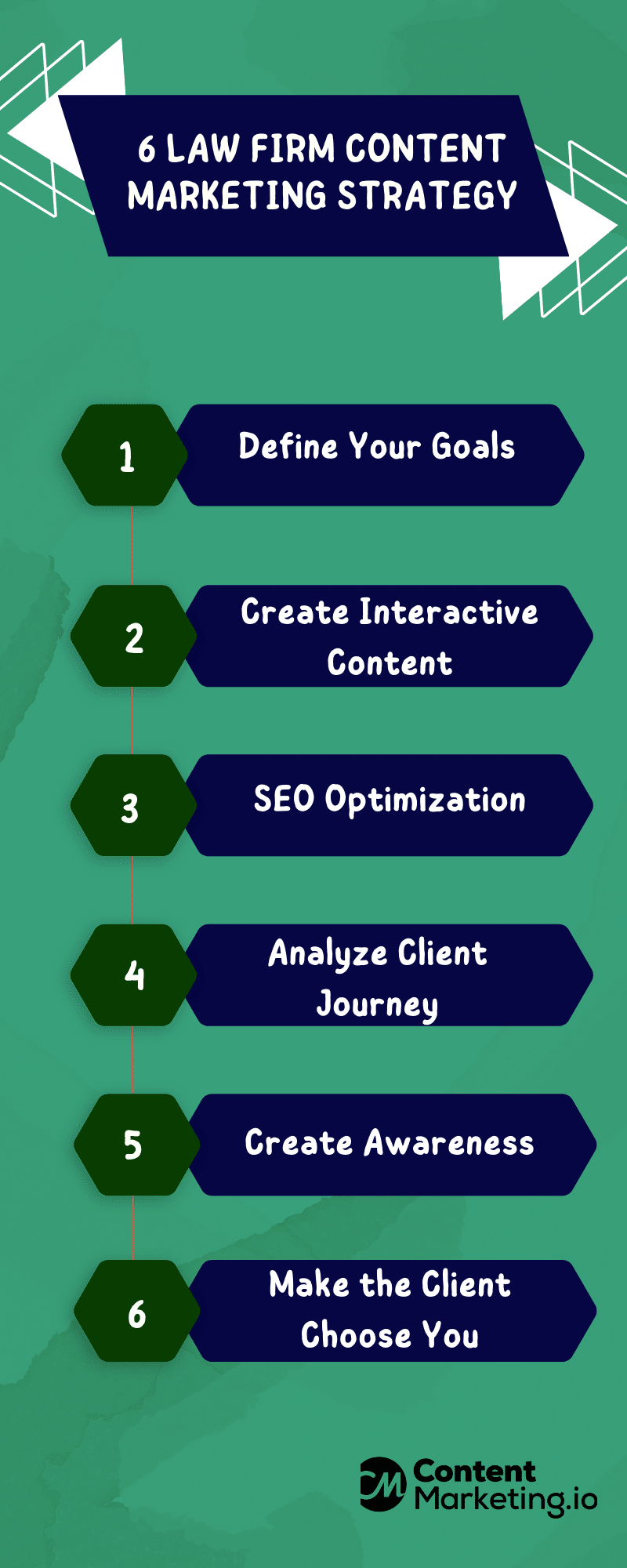 You need to have abundant legal knowledge to create engaging content that can serve the relevant information for people searching for legal queries, causing your law firm content to rank at the top of Google.
1. Define Your Goals
Before starting with your content, you need to set up your goals. Make sure your content strategy aligns with your business goals. You need to analyze what type of legal servicing you will present, such as family law or immigration law.
Taking these goals as a starting point and working backward allows you to create an editorial calendar, draw up a schedule, implement deadlines, and begin to plan and resource the writing of your content.
2. Create Interactive Content
Creating interactive content is the key to attracting potential clients. When a person searches for a query on Google and sees a post or a blog that answers their query, they will click on it. You need to make sure that your content is interactive enough to be clicked. You can answer common legal FAQs asked by the people. Source: State Bar of Wisconsin
Answering such legal questions or writing a blog or article can improve your organic traffic by bringing people to your website and enhancing lead generation and conversions. Also, If your content is top quality, this visitor will likely spend more time on your page, which boosts web traffic. 
3. SEO Optimization
You should optimize your content for the search engines whenever a user searches for the query. Search engines then act to show your content to its user. Content is essential for search engine optimization because it provides context to search engines regarding what your law firm content marketing offers, as well as who it serves. For this to occur, we need to create relevant and SEO-worthy content. Creating SEO-friendly content with desired keywords, easy accessibility, and mobile-friendliness can improve your SEO.
SEO-optimized content can help you target the keywords that users search for to find legal services in their area. So, besides effectively describing your firm's values and experience, your content can actively attract more clients to your site.
4. Analyze Client Journey
Giving out content without analyzing what your client wants can make your marketing efforts end in vain. Analyze the following questions and create a customized law firm content marketing strategy according to them. 
1) Who is your targeted audience?
2) What are the legal topics they may be interested in?
3) What are the legal problems they are facing?
4) What type of content will be most relevant for them?
5) Which platform should I choose to engage with them?
Understanding your client journey can help you create a more effective targeted marketing strategy. Consider their preferences, create content effectively, and share it on multiple social media channels to get maximum engagement.
5. Create Awareness
As a law firm, you need to create legal awareness for your audience. You can create content on common law questions. Or make them aware of the latest laws or bills that people should know about. You need to be mindful of problems that might arise in the future and what may need to be done. Suppose you want to know what makes a Will legal. You know that you need a lawyer, but you don't know the procedure behind this, what a lawyer does, or why we need one. This is where law firm content marketing helps make clients aware of their legal knowledge. 
6. Make the Client Choose You
When people are aware of the problem, they keep looking for information. So people tend to ask a lot of questions, such as:
1) Do I need an attorney for this?
2) How much will it cost for an attorney?
3) What kind of attorney should I choose?
This is where you need to stay in the mind of your prospective clients through law firm content marketing. To do that, you need to provide them with relevant information about their issues which can help them gain trust in you and improve your credibility. Later, if your content appeals to them, they will likely decide to choose you. 
For your law firm content to rank at the top of Google, you need to know legal expertise to provide exciting content that may give helpful information for those searching for legal firms.
Frequently Asked Questions
How does SEO help law firms?
The advantages of SEO services for your law firm include a top-ranking, reliable website that is optimized and well-liked by customers. 
How does a law firm market itself?
A law firm is generally a mix of digital marketing, search engine optimization, and blogging. The main motto of the law firm is to attract a new audience.
What makes content marketing crucial for legal firms?
Content marketing may help law businesses in many ways, including bringing in new clients, increasing website traffic, and establishing themselves as authorities in their regions.
How do law firms draw in customers?  
– Produce high-quality content while focusing on SEO optimization.
– Establish their online presence.
– Utilizing connections and recommendations.
– Benefit from user reviews.
What does law firm content marketing involve?
Blog posts, articles, videos, social media posts, and other factors are used in content marketing for law firms to draw customers. 
Closing Thoughts
To summarize, content marketing has immense benefits for law firms. It builds trust with potential clients, establishes a firm as a leading authority, builds the law firm's brand, brings in new clients, increases search engine rankings, and generates leads, just to name a few. We hope this blog post helped you understand the importance of law firm content marketing. To learn more content marketing tips check out our latest blogs.
Similar Reads