An Introduction to Manufacturing Industry
Manufacturing is an industry that focuses on the production, aggregation, and distribution of a wide range of different goods that are part of everyday life. The market indicates that the demand for manufactured products is steadily growing, especially in developing countries. It is not surprising that there is a growing demand for those who can make these goods; manufacturers are in high demand in the workforce. Since manufacturing continues to grow, so too has the sector of the necessary workforce to perform tasks in this sector.
The increased demand for supply chains paves a way for automation, digitally integrated marketing, and the usage of robotics in this industry.
Need for Manufacturing Content Marketing
Manufacturing content marketing is a powerful way to deliver information about what you do as a business and showcase case studies, products, and gather leads on industry trends.
The need for content marketing in the manufacturing industry increased during the pandemic because there was a major hit in the supply chain during the pandemic, so manufacturers had a tough time building marketing strategies. Market owners revamped their content creation strategies to meet consumer needs directly and provide them with the required resources.
Content Marketing Strategies in Manufacturing Industry
Each industry has a specific set of marketing practices. When it comes to content marketing for manufacturing industries, there are multiple options. Coming up with the same strategy across all manufacturing industries is not a feasible method, but there are a few proven strategies that lead to success.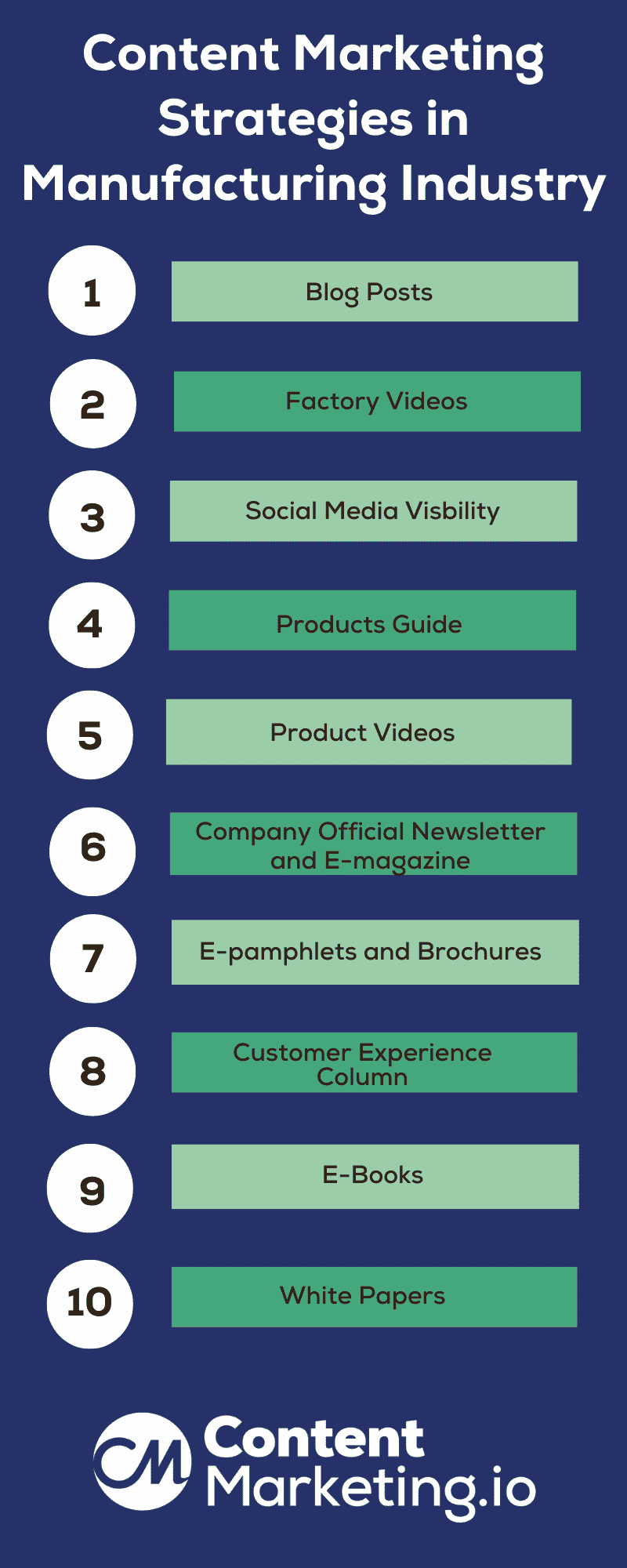 1. Blog Posts
The best way to drive traffic to your website is to post relevant and engaging blogs about industry trends, product launches, and news updates to keep driving your audience to your side. You can find trending topics using tools like Google trends. You must create blog content to provide the users with insights and knowledge about the products manufactured.
2. Factory Videos
Manufacturing industries are the ones with huge productivity and dispatch rate which have several stages of the production process. The general public and end-users are curious to see how your business manufactures its products. It drives the audience's attention and brings more views to the content.
3. Social Media Visibility
In a complex industry like manufacturing, it is critical to have a social media presence. Posting relevant content on social media platforms is going to keep your end-users closer and make them consistent customers. Increasing demand for digital marketing is also one of the reasons why social media visibility is essential to expanding a business.
4. Products Guide
The goal of the manufacturing industry is to fulfill the needs of the customers. In the case of new products in the market, not all users are familiar with how to use them, which is why the user guide and manual were introduced. You may include a product guide as a category on the website to explain the entire usage of it which gives clear information on the product's use to the consumers.
5. Product Videos
Understanding customer's thoughts and grabbing their attention through visual content has a higher chance of conversion rate, and a video can help you with that. When there is any new product launch or latest model release, you must record and upload product videos on the official product site as well as on the social media pages to increase traffic.
6. Company Official Newsletter and E-magazine
If you are a part of the manufacturing industry that is information and news-driven, then your best content marketing strategy must include newsletters and magazines. The content you create via these newsletters and e-magazines includes product relation information, industry updates, product reviews, competitor comparison statistics, and product planning.
7. E-pamphlets and Brochures
In the modern manufacturing era, brochures and pamphlets still have a place for marketing. When people visit product websites, they look for a quick product overview or want a product brief, but prefer to read pamphlets and brochures. You must create content with marketing aims for brand awareness and call-to-action strategies.
8. Customer Experience Column
When we speak of content marketing, we focus on creating content for the audience and potential end-users. In this regard, it is the customers who spread the brand's marketing through their words. When a customer shares their user experience, it creates trust and loyalty for the brand. Having this column included in your content marketing strategy benefits both the brand and the customers.
9. E-Books
E-Books are crucial in content marketing for manufacturers. From discussing the buyers' specific needs to discussing the economics of manufacturing operations, you can reflect your expertise in the sector through e-Books. Moreover, these are quick to produce, cost-effective, and easily shareable. An e-Book can also be used as a lead magnet to capture leads on the website, and through these, you will be positioning yourself amongst the industry leaders.
10. White Papers
A white paper is an authoritative, in-depth report on an important industry-related topic that presents the problem and discusses the solution. You can choose topics about problems your target audience may be facing. The white paper will serve as a problem-solving guide and be a perfect content piece for customers who find data and industry research fascinating. It takes time and deep research to create white papers, but the result is fruitful as it helps your brand position itself as a market leader.
Top 5 Manufacturing Content Marketing Areas to Invest
There are many ways to do content marketing for manufacturing industries, but not all are successful investments. Here are the top five manufacturing content marketing areas you can invest in to grow your business.
1. Events
Events for manufacturing content marketing are one major area that content marketers can invest in and enjoy benefits. Events are versatile as they offer different methods of engagement, such as the opportunity to speak in front of a large group of people and share your knowledge, create awareness, and create brand recognition. Manufacturing events also give you the chance to get feedback on your content and market your product or service to a larger audience interested in what you have to offer.
2. Media assets
Media assets for manufacturing content marketing encompasses videos, blog posts, e-journals, e-pamphlets, and company official newsletters. Media assets provide a complete marketing campaign that helps inform and nudge your potential customers and investors. This way, the manufacturers and distributors can have a better understanding of the manufacturing industry and at the same time, have enough content to maintain a stronger customer base.
3. Social Media Management
Social media management for manufacturing content marketing should favor blog posts, company official newsletter, e-magazine, product videos, factory videos, and creating content. These tactics are ideal for every investment and are often a proven way to generate interactive and passive marketing success.
4. Content Distribution
Content distribution for manufacturing content marketing is highly important because it helps manage the way businesses change in today's evolving world. With technologies like eCommerce and mass production spread on different applications, it is essential to involve your business in this practice to stay ahead in the content race. Production and manufacturing companies that leverage content marketing can compete in the industry. A competitor in this field must develop and deliver content for various users, like brands, customers, and vendors.
5. Videos
Videos for manufacturing content marketing are significant, as TV advertising is not as profitable and the effectiveness of videos continues to increase. Businesses use videos to convey their products in greater detail and variety. This makes the popularity and importance of videos rise because of their effectiveness in marketing products as they are engaging, easy to consume, and convenient for customers.
Impact of Content Marketing in the Manufacturing Industry
The whole idea behind content marketing is to get your target audience's attention and build momentum for your company in the required direction. It does so by having a well-rounded content marketing strategy that strategically builds brand awareness through various mediums. With optimized content and a proper content marketing strategy, you can turn your customers into a marketing engine for your brand, and in turn, your sales grow.
Content marketing is a necessary process for manufacturers because it makes the content personal to the target audience. When people personalize the product and service, they will like the brand more and will come to it over time, making this turnaround a win-win situation for manufacturers.
Frequently Asked Questions
1. What is manufacturing marketing?
Manufacturing marketing is more of a B2B marketing venture than a B2C as the target audience includes other businesses, wholesalers, and business end-users. This is why the manufacturing industry's advertising and content marketing strategies differ from normal marketing techniques.
2. How content marketing helps manufacturers?
Content marketing is crucial for manufacturers as it helps them connect with distributors, wholesalers, retailers, and other businesses so that the product reaches its end-users. In case studies, videos, product brochures, and guides, strategic content marketing can effectively help manufacturers.
3. How can I promote my manufacturing business?
There are many ways to promote your manufacturing business, such as press release publication, creating instructional videos, sharing infographics on social media, hosting online and offline events, and expanding guest blogging opportunities. By using different relevant channels, you can efficiently promote your manufacturing business.
Closing Thoughts
Manufacturing content marketing is crucial and necessary. In an age of knowledge and material overload, content marketing remains the most efficient means of capturing your audience's attention and encouraging them to purchase your products. The difficulties in manufacturing content marketing stem from determining what particular products to offer and how to visually sell your items across several channels. The better you understand your audience's desires, the more effective you are in content marketing.
For the best success with content marketing, you should research the industry and make sure you have a deep understanding of the field so you can generate high-quality content that connects with the target audience. Read our blogs to help yourself understand better about content marketing.
Similar Posts