It's essential to provide the audience with high-quality content at the appropriate time. To manage everything at the moment, you may need assistance. Here is a social media content calendar templates to help you organize your content, and never miss a deadline.
Were you spending a lot of time and money to organize and plan your business goal, using various calendar options? Why not build your calendar sheet using multiple templates based on your daily routine? Yes, you can create your social media content calendar templates in Google Sheets.
What Is a Content Calendar?
A content calendar helps you to organize your content, whether it is a new article or an updated one. It provides information about the focus keyword, the meta description, and the publication location.
The use of this calendar by content creators will help them keep track of their posts and plan their ideas.
Why Do You Need a Social Media Content Calendar Templates?
Each person has a unique way of working. When it comes to developing a system that works for the whole team, you may need a social media content calendar templates so you can plan and schedule the content.
There are numerous templates available on the Internet, but they may not meet your calendar schedule expectations. As a result, it is preferable if you have the opportunity to schedule the calendar as you prefer.
Why Use a Google Sheets Social Media Content Calendar?
It makes it more productive because you don't have to switch between many tabs. All content is in one location.
The plan is simple to understand, you can stay on course, and you can always meet deadlines.
Keeps you better organized and links to your previous content.
Makes it to the social media post on time because you can schedule your content in advance.
You can work together with your coworkers on the social media calendar, using Google Sheets, keeping everyone informed of due dates and tasks.
An Outline of a Social Media Content Calendar Templates
With these essential components, you can organize your social media content at a higher level:
Key
In order for them to comprehend the details of the calendar, the key should be simple to read.
URLs and UTM
It is easier to monitor social media posts and website traffic. By tracking URLs and UTMs, you can find which content engages social media users, and which content converts.
The Date and Time
You can keep track of the workflow, using the date and time without constantly updating it.
Message
A caption or brief message can help others within and outside your group understand what the post is about.
Campaign
Track your social media campaigns in your content calendar by writing a list of the campaign's names.
Image
Adding images to the content calendar helps your team members understand what you are sharing and when.
Steps to Make Social Media Content Calendar Templates In Google Sheets
Here are the steps to make calendar templates in Google Sheets:
Step 1: Open a New Spreadsheet
Open a new Google Sheet. Once you open the spreadsheet, remember to rename the file name. It helps you find the file easily.
Step 2: The Formatting Procedure
Select the columns you need to work on and merge them.
Assign the month:
Type the first date of the month in the cell, for example, 01/11/22.
Select Format → Number → Custom date and time.
Select the month and year.
Step 3: Give Your Columns a Name
The name depends on the information you have. Some topics are:
Due date
Publish date
Topic
Social media
Link
Status
Step 4: Data filling
Now, you can fill in the data in the empty column. It's optional, and you can change the font size and color.
Once the data is entered into the first cell, you can drag it to the column you want to continue.
Step 5: Add Checkboxes
The next step is to add checkboxes, and you will post the same content on other social media channels. For that, you have to add data validation to your spreadsheet. Select the cells, then click "Data – Data Validation" under the criteria, check the box, and save.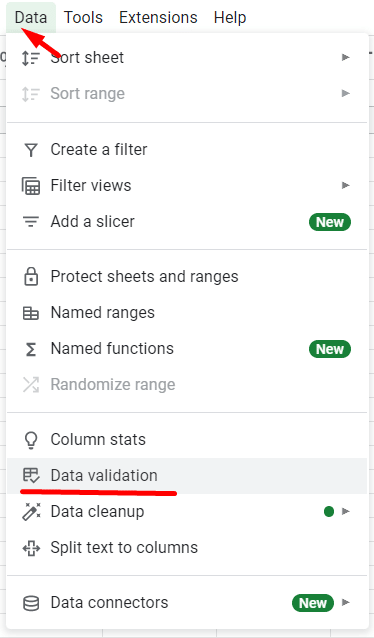 Step 6: Add Drop-Down Menu
You can add drop-down menus if you only want to type the name and post the status. Using this, you must list members' names and posts only once.
Step 7: Add color
The color can be used to draw attention to any important track, as well as a sent or pending post.
Step 8: Duplicate the file
Once you finish the calendar template, you can duplicate the file and use it for subsequent months.
Step 9: Columns and rows freeze.
To freeze the column or rows, click View → Freeze.
List of Social Media Content Calendar Templates in Google Sheets:
Dashboard Templates
Annual Templates
Schedule Templates
Strategy Plan Templates
Audit Templates
Report Templates
Templates for Editor Calendar
Dashboard Templates:
You can use this dashboard calendar template for social media campaign analysis. Certainly, individual campaigns can be scheduled. Track the performance of each post over the course of a week, or a day.
Annual Content Calendar Templates:
The annual content calendar sheets provide a yearly overview of each post along with information about the author, person, or department in charge, the status call to action, and the success measurement. Additionally, it has content archives, so you can proactively plan your campaigns.
Schedule Templates
This schedule template makes it simple to manage all the logistical information, including title, character count, document content, and posting date.
Strategy Plan Templates
Using the analysis section, you can define the target audience. Other than that, you can determine your competitor's weaknesses and strengths.
Audit Templates
To find and understand the effectiveness of your campaigns, you can use these audit templates. Changes occurred monthly and weekly for auditing the traffic, profile name, and link lists.
Reports Templates
You can do a weekly or monthly report on the content and how it reaches the audience. Organizing the reports allows you to determine whether they trend upward or downward.
Templates for Editor Calendars
Using Editor Calendar Templates, you can analyze the monthly and quarterly editorial details. Quarterly sample events, like sales cycles or holidays, are already pre-filled into the templates. By selecting the monthly tabs, you can schedule social media editorial projects and target audiences.
Frequently Asked Questions
What are the advantages of using a social media content calendar template?
A social media content calendar helps you save time by keeping all your ideas in one spreadsheet.
What are the steps to take when creating a content calendar?
– Identify the type of your content.
– Define your goals.
– Analyze the performance.
– Research your competitors.
Which tool is commonly used to create content calendars?
The preferred tool is Google Sheets, which is used to create content calendars.
How do you organize the content of a calendar?
The key components of a content calendar are the start date, finish date, publish date, content heading, and links.
Final Thoughts
So, from now on, you don't need those calendar applications that create a hectic scheduling process for you. You can create your content calendar in Google Sheets effortlessly. But if you don't have time to make the calendar from scratch, you can use the social media content calendar templates mentioned above to help you organize.
Check out our latest blogs to know more about Social Media Content Calendar Template
Similar Posts