Here's how Social Media Content Curation will give your business the boost it needs!
Social media content curation. What does that term mean? Technically, the content curation tools are the share option on Facebook, the Repost on LinkedIn, and the retweet on Twitter. Put in simple terms, it's reposting other people's content on social media for the benefit of others who follow you on the platform.
Social media is an active platform thriving with news, blog posts, reels, videos, and all that's entertaining and amusing to the audience. People, businesses (B2B and B2C), professionals, entrepreneurs, influencers, and performers post different stuff to promote themselves and their products.
To come up with new information every single day is nearly impossible. Okay, it's not impossible, but it could be very challenging. The time limitation and the impulsive flow of creative juices throw a monkey wrench to creating new stuff every day.
This is where content curation comes in handy by gathering, organizing, and publishing content on a specific topic to post on social media.
What Is Social Media Content Curation?
For a content marketer, it's important to have a content marketing strategy that includes social media posts. The social media strategy must include sharing with your audience the information they require.
For instance, Google's CEO, Sundar Pichai, recently announced the introduction of BARD AI by Google. It was a much-awaited technology after ChatGPT made waves. Sharing such news on social media pages is curated content. Retweeting John Muller, Google's search advocate, is an example of social media content curation.
Why Is Social Media Content Curation Necessary?
Nearly half a billion users joined social media in 2021, bringing the total to 4.62 billion worldwide. As social media continues to flourish, brands have a greater opportunity to be seen and gain a larger fanbase.
It's highly important for businesses to have a presence on multiple social media platforms, and tailor their content to mimic each platform's unique experience.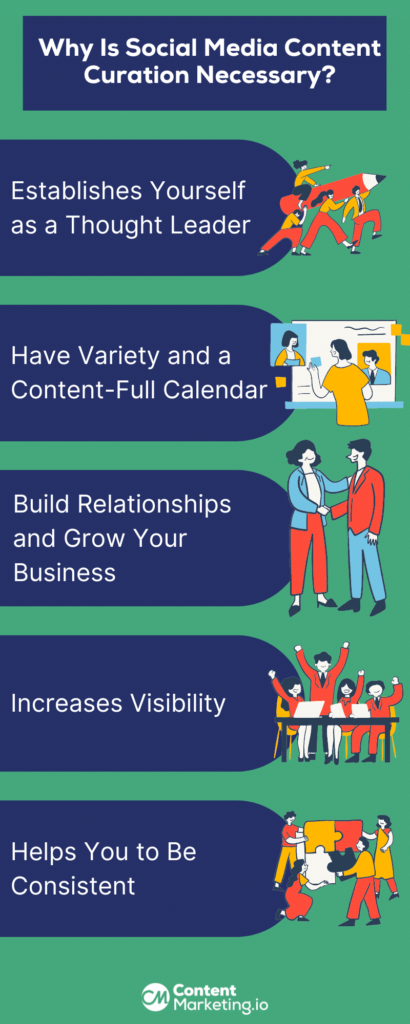 Establishes Yourself as a Thought Leader
Social media is a place where businesses happen. You need to talk about your business, what you do, and how you do it. Talk about your failures, successes, new ventures, turnover, new clients, and any tools that you use.
Your audience likes the insightful content you share about your experience, your business, and your life. It adds value to those that follow you. As you make an impact, they find motivation and show their support by linking your posts, sharing them on their pages, and, most importantly, adding comments.
Now, you can establish yourself as a thought leader in your niche. Similarly, curated content also adds value to the posts that you share. It simply means that you follow the latest posts, and technologies, and know what would be useful to share with the audience.
Have Variety and a Content-Full Calendar
If your marketing team has dedicated resources for creating content across various social media platforms, then that is well and good.
However, curated content comes to your rescue if you have a small group, and are running tight with deadlines. The audience follows you on social media platforms because they like your point of view.
As quoted above, the posts you share add value to their lives or businesses. You invite your audience to engage with you whenever you share a post.
It's not just for the sake of sharing something, but to share real content that inspires people. Some ideas for sharing curated content are:
Share infographics with great statistics.
Take snippets from the newsletter and share.
Share photos, memes, and images.
Build Relationships and Grow Your Business
Networking. It's crucial for any business, whether it is B2B, B2C, online, or offline. It's important to engage all the stakeholders through what you do.
When you share, repost, or retweet a key influencer's post, you are letting them know that you like their content, and there are many possibilities that they can turn out to be your business advisor or a potential partner.
On LinkedIn, share curated content with 'Repost with your thoughts.' Instead of just sharing them, add a personal view of yours like:
Asking a question to engage the audience as "Agreed?," or "Share your thoughts."
Briefly summarize and add a CTA, then say something like "Follow my posts to know more"'
Specifically, pick a link and give the viewers a hint about the topic.
Thank the original creator for sharing it.
There's no limit to creating social media content curation, as long as it is fresh, short, inspires, and educates. The sky's the limit to your creativity.
Increases Visibility
Gone are the days when people resorted to Search Engines for answers, looked for solutions, and found reviews about a product. Instagram boasts a 1 billion-strong user base and helps businesses make eye-catching themes and hashtags.
Craft an excellent content curation strategy and gather high-quality content in one place. For instance, add an RSS feed to your website to collect and share relevant news with your audience.
Use tools, such as BuzzSumo, UpContent, and Feedzy to automatically curate content. It builds customer relationships and promotes brand awareness across various platforms.
Helps You to Be Consistent
Social media algorithms reward brands that consistently post, and the one that generates the most engagement. Content curation provides a faster way to offer your audience the constant value they need to feel engaged.
Consistency is analogous to conversions, as curated content boosts conversions. Tools, such as Quuu can help you find great content in your niche. Then, schedule it with your favorite tools, such as HootSuite, SocialBee, and Sendible.
The curated content is automatically shared on all the platforms where you have created accounts for your business. Include CTAs that lead to your blogs, home page, or product page.
Social Media Content Curation Tools
Hootsuite – This tool helps you plan, schedule, and analyze your curated posts. It can also find the content for you. Hootsuite Streams allows you to track keywords, topics, businesses, or specific accounts to find newly posted content.
UpContent – This is a powerful content discovery tool that helps you find the highest-quality content to share across all your channels. It allows for customization, such as changing CTAs and URLs and including images to align them with your brand.
Quuu – Quuu is an automated tool to find and curate content. It allows you to overlay your own content via a custom CTA on the destination site. It also shortens the URL link, and the key facility is that you hook your audience through third-party curated content, and boost your conversions through customized CTAs.
FAQs
What is social media content curation?
Social media content curation is the gathering, organizing, and publishing of relevant and useful content for your audience, followers, and customers.
What are some examples of Social Media Content Curation?
Sharing news feeds, reposting with your thoughts, or retweeting posts, as well as posting curated content from the internet with credits to the original creator.
Final Thoughts
Content curation is becoming increasingly popular as a way of keeping up with growing customer demands for information and entertainment. If you think of social media content curation as seeing, liking, or sharing, it's not like that.
It's gathering relevant content and sharing it with your audience. The ultimate goal of this is to increase the number of followers who contain a subset of customers, so they can become loyal customers. It's a customer retention strategy.
Suggested Reads: