The social media field allows any company, whether it is large scale or smaller scale, to widen its brand to reach a worldwide audience.
Do you know how many people are using social media these days? Maintaining a social media presence for brands is not an option. It is a necessity for every brand to reach its audience, and social media is the greatest platform to reach a greater audience, uplift your brand, and increase your sales. The best thing about it is, creating and preserving your brand on social media is absolutely free of charge. What more is needed? Social media is here to help with its wider platform to connect you with your target audience and impress them with your beautiful products.
Let's cover the basics first before we get into the details.
What Is a Social Media Marketing Plan?
If you are seeking success for your brand, you may need a perfect social media marketing plan for your business. A social media marketing plan involves a list of goals your brand needs to achieve through social media marketing. With a social media marketing plan on your hands, you can create a more organized and attentive approach for your brand. The most popular social media platforms are Facebook, Instagram, LinkedIn, Tik Tok, Snapchat, Twitter, Pinterest, and YouTube.
In this article, let's look through the step-by-step process to create a strong social media marketing plan for your business: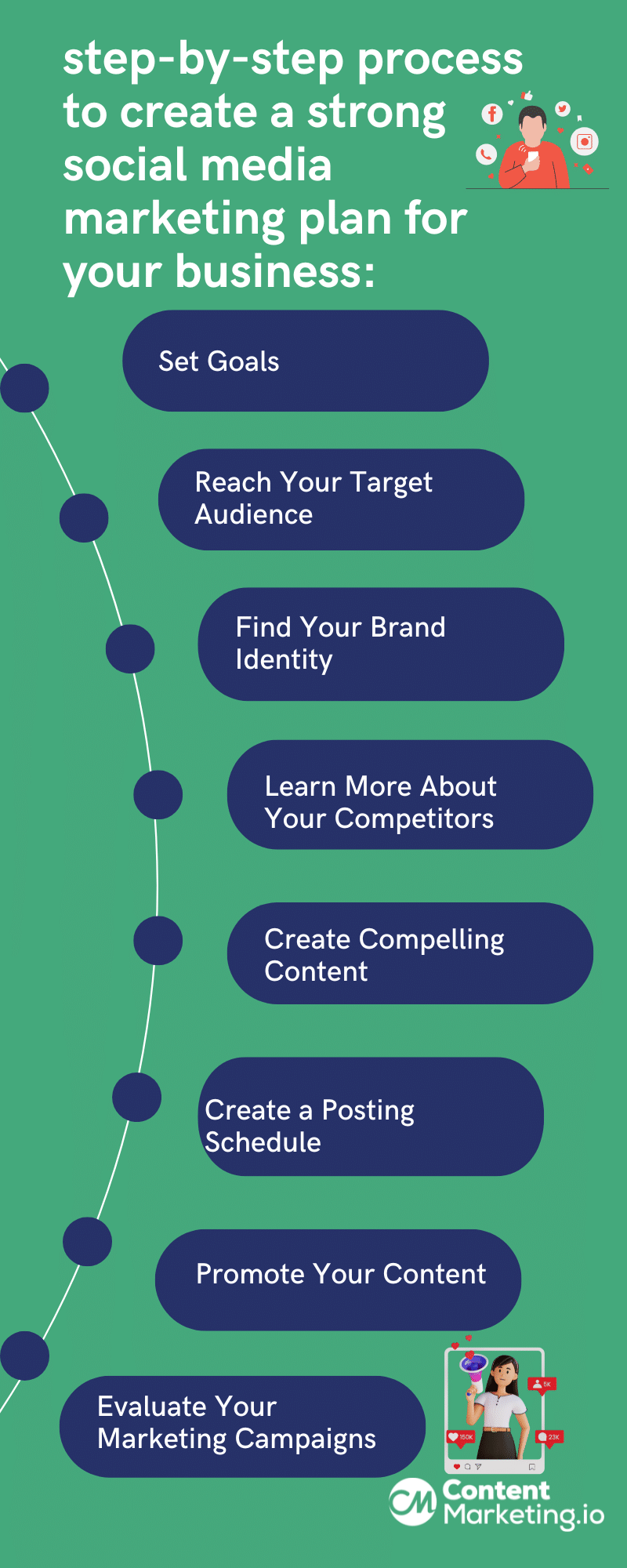 Set Goals
All social media platforms have well-defined goals. First, you need to be sure of what you want to achieve before planning your strategy. Setting goals is one of the most useful parts of a social media marketing plan. One should be aware of setting smart goals for your business to make it more popular.
SMART – Specific Measurable Attainable Relevant Time-bound
For instance, if you want to have 10,000 followers by the end of the year, or you want to increase your website traffic by 10%, you can reach your target only by the goals you set. Your goals should guide your way to reach the success you targeted.
If you want brand awareness for your business, perhaps busy engagement in your website, or to increase your followers count, your smart goals mean a lot to it. Note, the goals, and break them into smaller ideas so the goals can be attainable and realistic. Your goals might affect your other social media marketing plan, so you should be aware and make sure to invest more time to set up your goals.
Reach Your Target Audience
As a brand marketer, you should know your target audience's preferences and requirements. To create a social media marketing plan for your brand, you should know the answers to the following questions:
In which social media platform is your target audience most active?
What type of content does your target audience prefer?
What are the pain points of your audience?
What are the ways your audience engages with brands in social media?
Learn more about your fans, website followers, and customers and their needs, and figure out how to engage your audience with your content on social media. If you have a valued customer, you should know the details of that customer, like their age, location, average income, interests, and lifestyle. The bottom line is that you have to build the content and social media marketing plan to match your audience's fondness.
Find Your Brand Identity
Every company has a distinct personality. It is determined by the manner in which a brand interacts with its audience. The kind of personality a brand has is determined by the tone in which it communicates. It can significantly alter how the general public perceives something.
Understanding your target audience is essential to develop your brand's voice and personality. You must speak to them in a way that they can understand. Also, bear in mind that your brand personality must remain constant across all social media platforms. So, you must get everyone on the same page if you have several staff handling various pages.
Everything you post, from comments to status updates, ought to reflect your brand's voice. The creation of a style guide that expresses your brand voice and tone in detail is one of the finest ways to guarantee consistency.
Learn More About Your Competitors
Learning from the mistakes of your rivals is the best approach to steer clear of typical blunders in your social media marketing campaign. Examine the social media profiles of your rivals to get a sense of the type of material that resonates with users.
Not to imitate the same thing for your brand, but to draw ideas from them and design your own social media ads that correspond to the nature of your brand. You can hone your plan by observing the campaigns of your rivals.
You might even choose to use a completely different strategy. That's also alright. Several brands may benefit from very diverse strategies even within the same industry.
Create Compelling Content
One of the most important things in a social media marketing strategy is creating engaging and compelling content. Learning from the mistakes of your rivals in terms of creating content know what type of content to add to your social media marketing campaign. Examine the social media profiles of your rivals to get a sense of the type of material that resonates with users.
The core of every social media campaign is content. You should have a clear understanding of your brand's personality, objectives, and target audience preferences before you begin creating your content.
Even when you've done all the preparation, creating content could seem a little intimidating. There is a lot to cover, after all. You must avoid being overly commercial to avoid offending your viewers. What then can you do?
Here are some suggestions for your content strategy:
Finding or producing fresh content to post is a challenge for many content developers. This problem can be resolved with a clever method.
Building content themes is another simple approach to easily produce more material for social media. With Instagram and other visual channels, this strategy performs effectively.
Create a Posting Schedule
Consistent posting is essential for your social media marketing plan. Obviously, it can be difficult, but you'll need to exercise discipline. On social media, ranking algorithms prefer frequent posting, so you're likely to gain more visibility by doing so.
It also shows your clients that you are engaged and approachable on social media. To have a regular social media routine, you can also use a variety of social marketing tools. Check out the ideal time to post on the social media network you've selected before you plan your posts. Check each social media network's suggested hashtag usage as well.
How frequently to post on social media has been the subject of a lot of interesting research. Your industry, your audience, your resources, and the caliber of your updates are a few of the variables that might have an impact on the frequency at which you share specific information. Your chosen social media platform should have its own set of best practices.
Generally speaking, you can always get away with publishing more updates if people enjoy them.
Here are some recommendations we've put together for a specific number based on some incredibly useful research regarding how frequently to post on social media:
Promote Your Content
You must effectively advertise your material if you want it to be seen by a large number of people. Although organic traffic is preferable, you might need to start by using bought social media ads to achieve some momentum. You could quickly increase your visibility with its aid.
The price may differ based on the social media platform you select, your spending limit, and your sector. These platforms all share one feature, though: social media ads are pricey.
Evaluate Your Marketing Campaign
It takes time to create a successful social media marketing strategy. During the process, you could commit a lot of errors. You may lessen the number of errors you make by continually analyzing your campaign.
Determine which postings performed well and which ones had the most traffic. Make adjustments to your social media approach in light of that. Every social media channel offers you thorough insight. Google Analytics is another tool you may use to assess the success of your campaign.
Frequently Asked Questions
Who requires social media marketing?
Everyone. Every business needs a social media marketing strategy to attract its target audience. It doesn't matter if you run a large- or small-scale business, it needs a defined social media marketing strategy to gain more customers. 
Is social media marketing suitable for small businesses?
Yes, it is. Social media marketing is suitable for all businesses, whether it is small-scale or large-scale. Social media marketing is ideal in that you can connect and engage with your target audience to feature your business.
Final Thoughts
Social media is constantly changing. Your campaigns must succeed for you to be at the top of your game. If you're starting from scratch while creating a plan, it can be overwhelming. We hope that this guide will make planning your social media campaign easier for you.
What are you still holding out for? Your social media strategy should be put into action right away!
Suggested Reads