A comprehensive guide to the best Content Creation Ideas of 2023
Content is a piece of information in the form of blogs, images, photos, videos, GIFs, animations, survey reports, and slides. Content is meant to inform, educate, and entertain. Businesses need content to explain their products or services. It can be in the form of writing – words or the form of static or dynamic images, such as photos or videos.
Cold emails, a PDF of Excel formulas, a blog on how to change the password on your laptop, and a video tutorial on how to fix the broken remote are examples of content.
Some people make an earning out of content. They are called content creators. Content creation on social media is an exciting and challenging task as you need to be updated on current trends, topics, and news.
Also, creating engaging content is the need of the hour. This article explains how to create engaging content for your audience.
What Is Content and Why Do You Need It?
Content is information. Content is news. Content is the guide. You can engage, entertain, enlighten, comfort, provoke thought, instill values, and spread love or hate through content. And you can create the best content with amazing content creation ideas.
Content is of different types. For every person, content means something different. Content differs based on the platform it is posted on. With the right content creation ideas, your content will shine no matter what platform.
On YouTube, content is created and shared as videos on entertainment, food, gaming, beauty and fashion, music, sports, and travel, as well as science and technology.
Facebook supports videos, images, graphics, stories, and curated content.
Twitter is another channel that supports hosting news, blog posts, and GIFs for your tweets.
LinkedIn jobs is a professional social media platform hosting professional news, product releases, and jobs.
And on Instagram, high-resolution photos, quotes, reels, and stories are its USPs. Product photos, behind-the-screen photos, reels, UG content, contests, video tutorials, influencer content, and product announcements work well on Instagram.
With the right content creation ideas, your content will shine no matter what platform.
Create Content for People and Google
How do you think people will get to know your business? If you are a brand, like Nike or Coke, people know you by default. If you are a startup, struggling to sell your product, you need content marketing. Yes, you heard that right. content marketing.
Your entire marketing strategy must revolve around content that aligns with your audience's search intent. Google demands quality content, as it rewards high-quality and relevant content with better ranking and indexing on SERP.
When you create quality content, it tends to attract traffic. When website traffic increases, you get offers from other websites to create a backlink for your content. Content that answers' your audience' queries is shared across different platforms.
Content Creation Ideas for Engaging the Audience
Listed below are the best content creation ideas your business most probably needs to do to engage your target audience.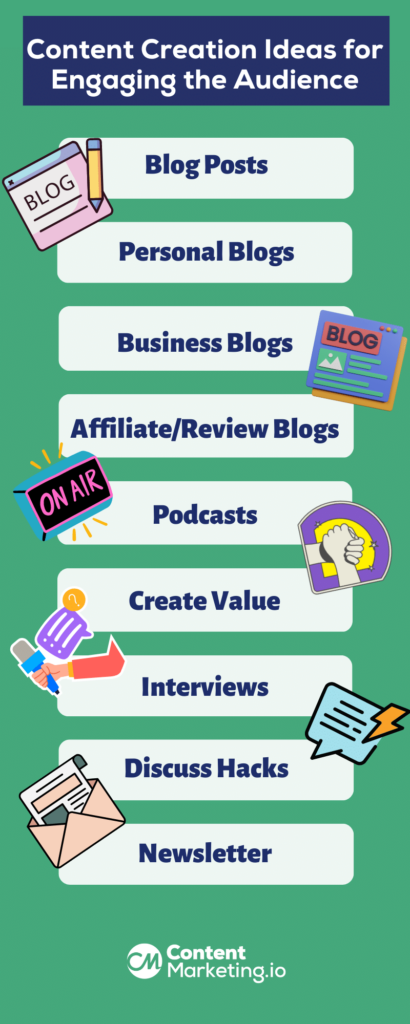 Blog Posts
When you search the internet for a query, you get information through blogs. What you are presently reading is a blog. Most of the leading entrepreneurs, like Rand Fishkin, Pat Flynn, and Brian Clark started blogging as a side hustle or to educate the audience. The blogs reached millions, and these people grew as thought leaders in their niche.
Personal Blogs
When you are clueless about what to write, the common content creation idea is to start a personal blog. Talk about your interest, hobbies, passion, and current news or trends. Extend it, and make a topic in your niche in something like fashion, lifestyle, travel, and food. Be sure to have a comment section, and invite people to engage with you. But, you must ensure that you respond as soon as possible to the reviews and comments posted by your audience.
As you mature into a prominent blogger, publish a monthly, bi-monthly, or weekly newsletter, and summarize or report about stuff your audience likes. This way, you can grow your audience list by gathering their email addresses when you have blog newsletters as calls to action.
Business Blogs
For businesses, blogs are the best ways to communicate with customers, attract new clients, and build communities. Publish new product launches, the latest technologies, upcoming events/product releases, contests, and a lot more information.
Blogs are the primary means of creating brand awareness when launching a new product. Writing and publishing about your service/product get your website the web traffic it needs and helps conversion rates. If you still want to know more content creation ideas, you can share curated content, which is another important, attractive, and informative piece of content.
Highlight quotes and insights from industry experts, statistics from a recent survey, or share the report or the infographic with proper credits.
Affiliate/Review Blogs
Whatever your blog type or the intention, your goal is to connect to the ideal customers. Affiliate blogs are written by a reviewer, user, or affiliate marketer focusing on evaluating a product or service in a specific market. As an affiliate blogger, you must write a perfect product or service review and discuss the pros and cons, pricing, and overall value.
One way to earn money is through affiliate marketing and brand partnerships. Recently, Google released an update to quality rater's guidelines, introducing an extra E to the existing E-A-T technique. The first E stands for 'experience,' indicating that the blog creator has first-hand experience in using the product and producing the blog.
Podcasts
A new content marketing strategy – podcasts are simple audio programs broadcast on a specific theme. Repurpose a blog as a podcast when you have exhausted all content creation ideas. It is a medium that content marketers turn to when it comes to building relationships with potential clients. Marketers, consultants, and creators have started using this "new" tool to connect with their communities.
Podcasts are interesting to listen to, and when the audience likes the host it's because they give value to their audience. Storytelling and educational podcasts are great to start with, and you can expand your ideas based on the audience you reach and the feedback. The thing here is consistency. Keep up with the time and day of the week every time you launch a podcast.
Create Value for Your Audience
Share your professional experience and teach them best practices that yield results. Include case studies and other real-life examples you encountered in your professional life.
Interview Brand Influencers
The catch here is don't try to get leading influencers in the market but interview people who have climbed the ladder from a humble beginning. They can offer more value to the podcast through their experiences.
Discuss Hacks
Design the podcast so it is relevant even if it is heard after some years. Create evergreen podcasts such as how to recycle paper cups, how to care for diamond jewelry and homemade remedies for headaches.
Newsletter
Email newsletters are a great way to generate leads effectively. It benefits both the business and the audience to send the latest events, job news, and messages from SEOs in the industry.
Frequently Asked Questions
How do you come up with content creation Ideas?
There are many ways to come up with content creation ideas. You can use tools, watch industry news, find and answer commonly asked questions in your industry, and more.
How often should you come up with content creation ideas?
How often you spend time coming up with content creation ideas, depends on how often you post, how vast your industry is, and other factors.
Final Thoughts
To keep the business going, you should publish content consistently. The challenge here is to generate content creation ideas to keep your blogs, podcasts, and newsletters engaging and informative. When you feel that you have no new ideas to create content, look and observe the happenings around you, follow the news, and write about them. Sometimes, you can share curated content that aligns with your niche.
Anyways, as long as you remain creative, curious, and remain joyful, there is not going to be a shortage of content creation ideas.
Suggested Reads: