Insurance content marketing is required for clear and understandable information about a company's products and services. When your website provides the right information your audience is looking for, you generate leads with whom you can engage and convert to prospects.
In the United States, the insurance industry offers property and casualty insurance that deals with home, commercial, and automobile insurance. Life and annuity insurance deals with life insurance and annuity products, as well as health insurance that covers medical treatment and check-ups.
Insurers face challenges with changing customer behavior, digital disruption, competitive marketplace, and regulatory pressures. The need of the hour is to modify the current strategy and operating models. 
Being a digital market expert, I help brands build innovative content strategies to imprint their presence in the digital market. Read on to learn what content marketing can do for your brand. 
Suggested Reads
Why Do You Need Insurance Content Marketing?
If you are still not convinced how content marketing can help you reach your target audience and accomplish your business goals, I am going to inspire you with facts that may help you better understand the nuances of content marketing for insurance companies like yours.
Establishes Your Online Presence
Yeah, you are there. You have set up a business, invested time and money, and you know the policies that can help people. How are you going to let people know? Through billboards, pamphlets, and TV commercials? Frankly, that is outdated.
Welcome to the new era of digital marketing!
Reach the digital generation right where they are. On the internet.
People spend their time on the internet. They take to search engines to learn more about the services they want.
They learn more about you when you explore virtual space.
Publish blogs and other forms of content that talk about your product, and people can find you through search engines.
Once you make your presence felt in the digital space. When people search for queries, such as 'insurance companies near me' or the 'best health insurance policies', your website pops up.
Content marketing helps you to improve your search rankings and increases traffic to your website, which gradually moves towards increased sales and revenue.
With carefully placed keywords and expert writing, Google uses your blog posts and landing pages to answer the search queries of potential leads.
Tips for Insurance Content Marketing
At contentmarketing.io, we write valuable and relevant content that generates leads. We help your business by strategizing to write blogs that offer information about your insurance products and their coverages that guide your audience to decide on the right product. 
1. Understand Your Audience
As a business owner, you should know the basic prerequisite to offer solutions or create products that are useful to your target audience. You have quality services, and now you need to market.
Content marketing services can help you to get organic traffic to your website.
Identify the audience you wish to reach, understand their needs and pain points, and create your strategy based on that.
Dig deeper into the demographics of your target audience to understand them better.
Create polls, conduct surveys, and prepare questionnaires to collect the demographical data and align your blog with them.
Gather information like
What are the policies that people are looking to buy this year?
What age group is interested in getting or renewing their policies?
What popular sites and apps do they frequently visit?
What insurance problems do they face while purchasing, renewing, or claiming?
What factors motivate them to take out a policy?
How can you provide solutions to their problems?
The answers to these questions form your content marketing strategy for your business. It is a roadmap to the technologies you must use, the resources you need, and the budget to allocate.
2. Educate Your Audience
As an insurance company, your prime need is to sell your products through marketing. Design landing pages on your website that explain your products and contain the necessary CTAs. But, if you only offer content explaining your services, you will likely not be able to attract audiences who convert to leads.
Educate your audience. Offer help and value to your audience through your blogs. Have blogs explaining the benefits of insurance and different types of insurance.
Have guides on how to apply for a new policy or file an insurance claim. All these inform your audience and can ease their pains.
Google Core Update insists on delivering helpful and reliable content for searchers.
Basically, you are providing answers through content. Searchers find your blogs through search engines or social media channels.
When your blogs have direct answers, they are likely to appear as featured snippets.
Having quality content on your website brings traffic to your website. Not just that, you are complying with Google's E-E-A-T algorithm.
Now, your audience and search engine perceive you as a credible source of information, and you build trust in them both.
3. Post Consistently
If the content is king, consistency is queen.
Google's algorithm recommends your business to searchers for their related keywords based on the relevance and searcher's intent.
When you post consistently, the Google bot crawls your website and indexes the newly published page, creating more opportunities to raise your rankings on Google.
When you start content marketing for insurance companies, I recommend having a content calendar.
Before that, check whether your website is optimized for search. Gather a list of relevant, high-volume, and less competitive keywords.
Now, create a content calendar that is optimized for these keywords.
Your content strategy must include posting what type of content on what type of platform.
Consistency is key to building an online audience in the insurance industry. A calendar will give you a content plan with a schedule that helps you to stay consistent with posting while giving your writers enough time to create valuable posts for your inbound marketing plan.
When I posted consistently, there was more content on my website. That means Google associates more keywords with my website, leading to more organic traffic, provided the content and SEO are relevant to the audience.
It might take time for your blogs to rank, but consistent posting fetches the rewards you want from your website.
4. Explore Social Media Channels for Promotion 
Social media marketing can create a greater impact on your audience. Make sure to include it in your content strategy to post on Facebook, LinkedIn, and Instagram.
Create different types of content and disseminate your posts on all channels where your potential customers hang out.
You need not create new stuff every time for every channel; you can repurpose the content in various ways for maximum reach.
Content repurposing saves you a lot of effort and gives your audience bite-sized content in the form of carousels, reels, stories on Instagram, and short posts on the LinkedIn platform.
Don't just focus content marketing on writing blogs alone. Rather, include creating podcasts, videos, infographics, white papers, e-books, and FAQs.
5. Give Importance to CTA
Engage your audience by making every blog sound like a sales brochure. Include CTAs that convert leads more effectively.
A call to action (CTA) triggers the audience to react after reading your blogs. Your CTAs must be clear and powerful to evoke emotion to take action.
Have CTAs, preferably at the blog's beginning to significantly improve your marketing ROI by increasing the number of leads in your sales funnel and nurturing existing leads with new, compelling content.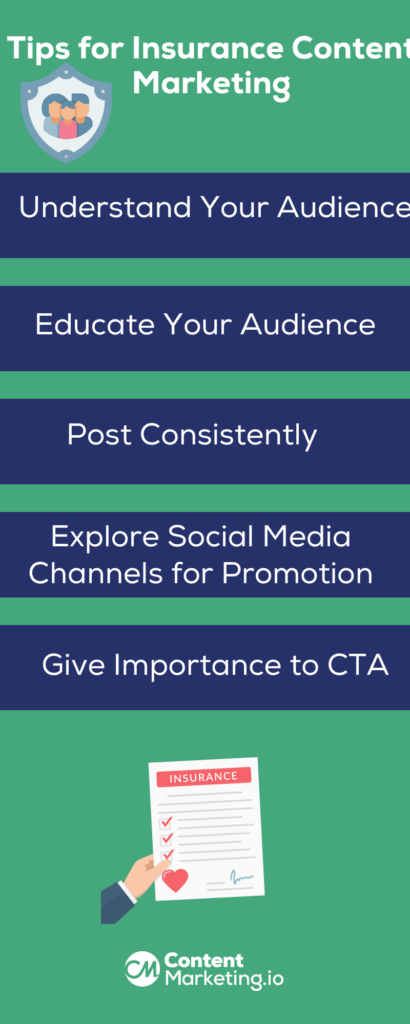 FAQs
1. What is the best form of content marketing for insurance companies?
Email marketing, blogs, infographics, podcasts, downloadables, webinars, and interactive tools, such as calculators.
2. How do you engage your audience on your website?
Create well-designed, engaging storytelling blogs to grab your audience's attention and understanding. Include visuals and interactive tools to increase their engagement.
3. Can content marketing get you the desired results for insurance companies?
Definitely yes. In about 3 to 6 months, you can observe your content getting more traffic and ranking higher on SERP.
Wrapping Up
Content marketing for insurance companies helps your brand get the right visibility, get an authoritative tone in your niche, and generate leads. Content marketing addresses your client's pain points, providing value and help. You can establish your expertise, promote trust with clients, and stimulate interest in your services.
Similar Reads