Content pillars for small businesses help you to strategize your content marketing efforts. For small businesses, it is important to have a foot in the industry.
You cannot spend most of your time and money on marketing alone, as your business has to build services to scale and cater to various customers' needs.
At contentmarketing.io, we help small businesses to increase their SERP ranking and website traffic and get more traffic.
Leave your content marketing efforts to us for SEO best practices!
Suggested Reads
Content Pillars – What Are They?
Content pillars are themes or topics your brand can use to create posts to emphasize its products, services, vision, purpose, and values. They must align with the searcher's intent and indirectly evoke your brand values and mission.
Ideally, there can be four or five content pillars, and each can be used for different purposes, channels, and types of content.
For instance, for small businesses, the first and most important challenge is visibility. Given the limited budget and giant competitors, establishing your brand presence is vital.
As a digital marketing expert and SEO-centric content marketing strategist, we recommend that small business owners identify the core pillars of their business.
Put simply, have a brief discussion with the small business owners to understand their goals.
Content marketing is not just some blogs describing your products or services.
Content marketing is creating content that is useful for your target audience. Giving them relevant content that answers their questions is most important.
You need to talk about your brand offers and all possible questions you think any user might have regarding the products or services you offer.
At contentmarketing.io, we work out a template for content pillars for small businesses. It is broadly classified into themes but not limited to the following:
Product or Service Offers
Industry Insights
Educational and Motivational Posts
Customer Success Stories
Company Culture and Values
Promotions
Challenges of Small Businesses
Besides inception, small businesses need to do on increasing:
Sales Leads
Customer Acquisition
Customer Engagement
Improve Brand Awareness
The process of finding new customers is costly and challenging, as small businesses do not have the same budget and brand name as competitor brands.
There are few methods to attract new clients with a limited budget for marketing and without acquiring a brand status.
How Can Content Marketing Benefit Small Businesses?
With these challenges faced by small businesses, content marketing resolves the problem of business owners.
Start with the following steps to make content marketing work for your business:
You must begin by positioning yourself as an expert in your industry by creating blogs and publishing helpful content that demonstrates your knowledge to potential customers.
Second, optimize your small business website for search engines and drive traffic and conversions.
Use SEO best practices, enhance the user experience, and explore social media platforms.
Track your success by monitoring the right key performance indicators (KPIs).
1. Brand Visibility
When you set up content pillars for your small businesses, you are designing a template that you can stick to create posts.
It is basically like a content calendar, or editorial calendar, that lists the content that you create, your publishing platform, and the type of content you'll make.
Content marketing is king.
Consistency is the key to winning in the digital world.
You need to post consistently and have a variety of content.
Creating and posting content consistently and having some variety in your posts offer many benefits, like engaging the user.
Create posts that your target audience wants to know.
Research and find out what they are searching for using tools like Google Trends, Semrush, and Ahrefs.
Content aligned with the user's intent will surely rank your content in search engine rankings.
Our content marketing services include publishing high-quality, relevant, useful, and accurate information.
Now, what does that mean?
It means that we are producing content that Google looks for.
Google has a concept of E-E-A-T to value content worthy enough to rank in its SERP.
E-E-A-T stands for Experience, Expert, Authority, and Trust.
Ranking top on SERP brings traffic to your website.
When other businesses observe that you have link-worthy content on your website, they reach out to you for backlinks.
Now, you have gained enough visibility for your target audience, Google, and other stakeholders.
Increased brand awareness builds a loyal customer base who instantly recognize your brand from a lineup and trust your business to meet their needs.
2. Better Conversion Rate
A customer, before purchasing a product or service, researches it through search engines or through social media.
During the course of their research, they look for customer reviews, check your websites, and check on social media.
As per the research conducted by Statista, 60% of buyers look at the website prior to buying a product in the United States.
A strong online presence for small businesses is required to reach your target audience. The size of your business and the niche you operate define the channels that you need to target.
Focus your efforts on the channels that provide the best ROI for your business.
If you need a better conversion rate, you need to generate trust with your audience. As a small business, it might take some time to generate trust.
Trust comes when you have established yourself as a brand. Unless you are heard of, people will be hesitant to purchase from you.
To create brand recognition, you need to expose your brand to your audience multiple times. You need to be here where your audience spends their time.
Create content pillars for social media posts because it is where your audience is.
For instance, if you run a jewelry business and want to reach your audience, promote it on Instagram.
Provide content that would be useful to your audience.
Ideate content pillar topics that would encourage them to buy.
For this type of business, Instagram is the right channel to explore, as it is one of the most influential advertising channels among Gen Z female users when making purchasing decisions.
You need to create and provide content that this population is looking for.
Optimize your content marketing strategies for better conversion rates that ensure that the audience moves from the top of the funnel to the bottom of the sales funnel.
At the top of the funnel, create posts, stories, and reels for brand awareness.
As the audience flocks towards the MOFU, present them with comparison posts, FAQs, and case studies.
For a jewelry business, create a blog comparing the different types of jewelry and FAQs on how to care for metals and stones. For case studies, you can highlight the user-generated content, such as their photos with the jewelry they purchased from your site.
Well-planned content marketing allows you to move your audience through the customer journey. Such a content marketing strategy ensures most of your traffic ends up converting.
3. Lead Generation
The better your content is, the more leads you will attract.
Lead generation is a content marketing strategy to create and distribute engaging, educative, and relevant content to attract customers through lead magnets.
A lead magnet is a valuable resource in getting the customer's information and nurturing them further in the customer's journey.
A lead magnet can be a subscription to the newsletter, a download of your survey or whitepaper, or a business consultation form in exchange for the contact details of the customer, preferably their email address.
Content Pillars for Small Businesses
Here are some examples of content pillars for small businesses.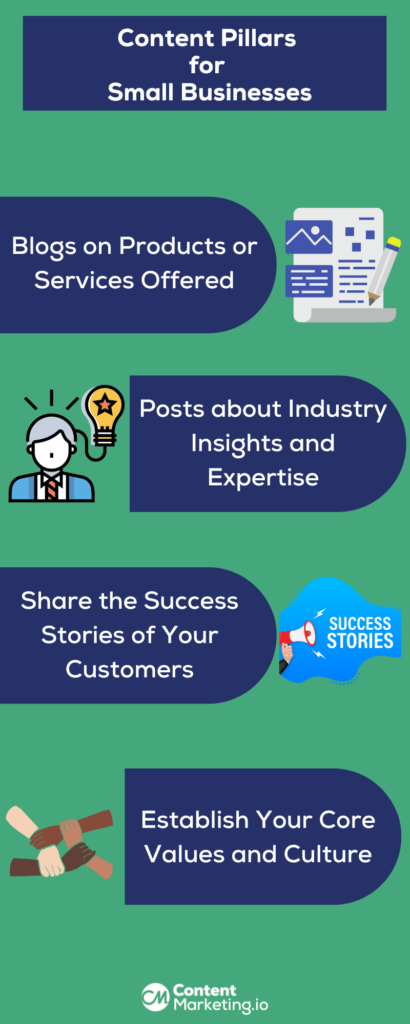 1. Blogs on Products or Services Offered 
A small business can focus on the products and services and how they are different from other businesses.
Detailed information about the features, benefits and pricing can give a better picture for a customer who is at the MOFU level of the sales funnel considering buying your product.
2. Posts about Industry Insights and Expertise
Test the grounds of social media like LinkedIn, Facebook, and Instagram by creating posts, polls, quizzes, and reviews.
Create content that positions yourself as a thought leader. And provides valuable insights and information to your audience.
Publish whitepapers and well-researched articles, and conduct surveys. Analyze the surveys, make valuable data or graphs, and share this as gated content with your customers to convert them into leads.
3. Share the Success Stories of Your Customers
82% of the customers read online customer reviews before deciding to purchase from you. Share your success stories and testimonials to encourage user-generated content.
It builds trust and positions you as a brand amongst your competitors.
Post case studies of the client projects, and present the results that are easy to understand.
4. Establish Your Core Values and Culture
Use content to showcase your culture and values, which would help your audience to differentiate you from your competitors.
Photos, videos, carousel posts, stories, reels, and podcasts are different content pillars for small businesses like yours to make the most of it.
Employee anniversaries, new employees, new product releases, project successes, customer acquisitions, and converted leads are occasions that you can use to establish your core value and culture.
FAQs
1. What should your content pillars for small businesses be?
Your content pillars must have content you want to be known for, and that your audience is looking for the most. 
2. What are the types of content pillars that can be?
You can create blogs, infographics, videos, long-form articles, podcasts, memes, live streams, ebooks, guides, educational content, or product promotion, among others.
3. What are the content pillars for social media?
Product reviews, blog promotions, influencer posts, and user-generated content.
Closing Thoughts
Content pillars for small businesses are the foundation of a content marketing strategy. Knowing what type of posts work for your business is important. Once you find out what type of audience you will target and what your KPIs are, it is easy to devise a good plan.
Also Reads