Instagram has become a popular platform for people to showcase their talents, as well as for businesses to expand their brands and communication with their audiences. There are many platforms available to expand your business, but why Instagram? Well, Instagram has about 2.9 billion daily visitors, and is also one of the top 10 most popular social media sites. 
Instagram may seem like only a place for people to share short videos and images about their lives. Still, when you see the surveys, over 200 million businesses use Instagram for brand development. Now, that might explain why Instagram is the right platform for marketing.
Sometimes, you get the right platform to expand your business, but at some point, you get stuck due to needing to be aware of what to create, where to get all your ideas for your posts, and how to differentiate yourself from your competitors. The primary key to this is strategies and action plans, but if you don't take the time to plan accordingly, you might run out of ideas, which can lead to giving repeating concepts to your followers.
This is why you need content pillars for Instagram to organize your content, and give valuable content to the target audience.
Table of Content
What Are Content Pillars?
Content pillars are commonly referred to as content buckets, content categories, and content topics. Based on your business goals and purpose, and the audience you like to target, they are categorized into several topics by conveying your brand identity.
Your content pillars should be clearly defined, and should focus on what you offer. They should tell your audience about your brand and business values.
Why Are Content Pillars Important for Instagram?
Establishing content pillars for Instagram is essential for developing content, and stories related to your brand and strategy. Your post should follow the guidelines to ensure it is relevant to your target audience.
Related Reads
Content Pillars for Instagram
Here are the content pillars for Instagram that boost your brand.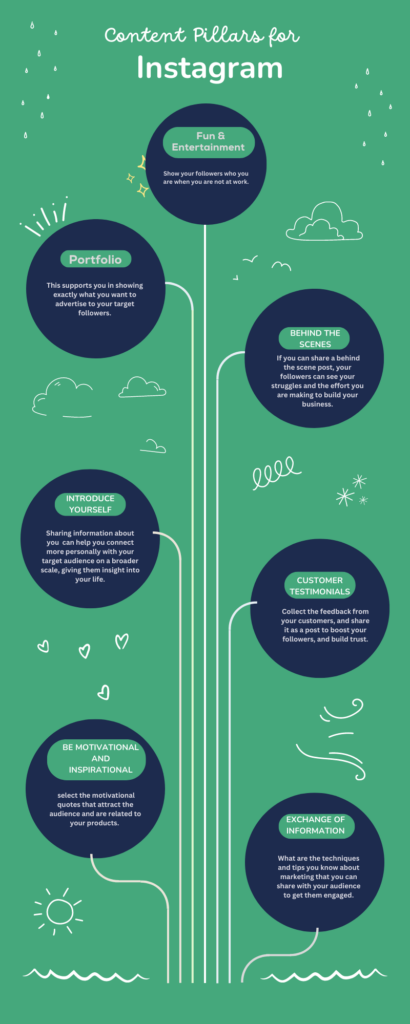 1. Portfolio
The first content pillar is the portfolio, which is a good place to show your talent. This supports you in showing exactly what you want to advertise to your target followers. In this section, you can share the videos of your project and your product, or if you have any new collaborations, you can show them to your followers. It totally depends on your work and your talent.
2. Behind the Scenes
First, you show the result of the work or project you have done. Next, you can share the behind-the-scenes details of your work. You can share the story behind the scenes as it originally was, whether boring, strange, or if funny things happen in your everyday life. For example, if you can share a behind the scene post, your followers can see your struggles and the effort you are making to build your business.
3. Introduce Yourself
Instead of only sharing posts about your brand and products, followers may be curious about who is behind the post. Through live or recorded videos, you can share your professional career, what made you start this particular business, your struggles during the marketing process, and what you have achieved. Sharing this can help you connect more personally with your target audience on a broader scale, giving them insight into your life.
4. Customer Testimonials
The other form of advertising for your product is satisfied customer testimonials. The customers who admire and enjoy your product may love to share their opinions and views about it through Instagram chats, or in the comment section. Collect the feedback from your customers, and share it as a post to boost your followers, and build trust. If you didn't get more customers to give feedback, you could share your clients' feedback with their permission.
5. Be Motivational and Inspirational
Although not all entrepreneurs suggest motivation and inspiration, it is still considered by specific audiences. You can use these content pillars for Instagram when you have less content, or forgot to plan the week's content. In that scenario, select the motivational quotes that attract the audience and are related to your products. 
6. Exchange of Information
Some of the followers on your following list are not following for a day or a week, but they are following for months or a year. They travel with you throughout your journey. They know you are an expert in that field, and have a lot of knowledge. What are the techniques and tips you know about marketing that you can share with your audience to get them engaged.
7. Fun and Entertainment
This type of content is commonly found on Instagram. Apart from your product and business, you also share your fun side, and what you do when you are off work, which makes the followers connect with you. But, if you want your page to be more professional, and only used for business purposes, that's fine. Still, when you think of the followers' situation, they could get bored, or lose interest if they only see your product and its promotions , so try to share different aspects of the business. You can share this type of content on a scheduled basis or on weekends. So, show your followers who you are when you are not at work.
These are the content pillars for Instagram. Based on this, you can determine which pillar is best for you. Of course, you don't have to try all seven content pillars simultaneously, you can split them into groups, or select one that works for you.
Content Pillars for Instagram – Startups
To organize your content pillars for Instagram content, here are five simple pillars you can follow if you are new to Instagram marketing:
1. Education 
People always like to learn about information before they experience it. So, sharing content that teaches the audience makes them build on your products and services.
You may notice that people marketing beauty products do not continuously post their products. Instead, they upload educational posts or memes to teach their followers beauty tips, but you'll notice they are all related to their product, and side by side, they use the meme to advertise their product.
Apothake skincare, for example, is a beauty product Instagram page. They share their products on this page and discuss the importance of their skincare routine with their followers. Think of the post that informs your followers and guides them to buy the product.
2. Trust 
On Instagram, trust is the most crucial type of content. If someone purchases from you, they might be interested and excited to use it. If they receive the product, but are dissatisfied because the product doesn't match the post picture, the trust can be betrayed. The next time, they won't think about buying your product.
Ensure your post is relevant to your product, and the images are original, so they trust that you and your product are genuine. . Then, they become your regular customers.
3. Promotion
They wouldn't know about your product without promotion, so the marketing stops in the middle. Ensure that the promotion process has been completed correctly. There are different methods to promote your brand by giving people offers to encourage them to visit your Instagram page.
Here are the promotion idea for Instagram:
Setting up a business profile.
The use of hashtags.
Describe your brand's history.
Share your product in the story regularly.
Promote your brand using both pictures and videos.
4. Engage
The key to growing your business is to interact with your followers. Going into one-sided discussions can bore them, and make them feel that their comments and suggestions are undervalued.
Make sure you use the poll option to engage with your customers, and make a live video to interact with them, answer questions about your product, and make them feel engaged.
5. Blog
If you are looking for a platform to post your blog on to get high traffic, you can post the image from your article on Instagram, write a brief description of the article, and a link to your post.
Instagram makes it simple for people unfamiliar with your blog to find out about it.
Frequently Asked Questions
1. How many content pillars should you have on Instagram?
There is no limit to creating content pillars, but approximately three to four content pillars make the most sense for your business.
2. What is the primary purpose of a content pillar for Instagram?
By maintaining consistency, driving web traffic, and coming up with new ideas, content pillars can help you drive more traffic to your website.
3. How does Instagram choose content pillars?
– Focus on your audience
– Utilize hashtags
– Look at market trends.
Final Thoughts
To create high-quality and engaging Instagram posts for your followers, establish content pillars. Remember to recheck your content pillars to ensure you're on track and that your content pillars are on the right foundation with your content.
Similar Reads