"Content is King" – Bill Gates (1996) 
It is no secret that traditional marketing techniques are rapidly becoming obsolete nowadays. In today's digital world, businesses are finding it increasingly difficult to reach, attract, and retain customers. As a result, they are forced to explore various types of content marketing as part of their marketing plan.
In this context, content marketing has become the proverbial messiah, here to save businesses from the onslaught of the internet revolution.
Those who quickly adopted content marketing thrived, whereas naysayers perished. This is because content marketing is probably the least expensive and most efficient way to inform, engage, and convert your target audience.
If content marketing is done right, sales lead generation will be a walk in the park for you. In fact, some studies have shown that content marketing can be 65 % more cost-effective while yielding three times more results than traditional marketing techniques. Another study by Aberdeen Group has found that the conversion rates for content marketing are nearly 6 times higher than traditional conversion rates. ( 2.9% vs 0.5%).
That's why we did some serious research and came up with this list of the top 7 types of content marketing to help you nail your online presence.
Table of Contents
Why Different Types of Content Marketing?
The answer is straightforward: It is not a good idea to put all eggs in one basket.
Diversification of content across different types and channels helps you reach a variety of audiences and mitigate risks. Besides, a monotonous content style will quickly become boring, and your audience will fall out of love with your brand.
That's why it is always better to use a clever mix of diverse content formats to reach out to an audience with diverse tastes and needs.
To put it simply, use the right tool for the right job.
For example, publishing a case study/ white paper is the right content type to share your success story. Whereas a simple social media post is the best way to inform your audience about an upcoming event/sale.
In the next section, we'll look at what each of these top 7 content types offers and how to use them effectively.
The Best Types of Content Marketing
Blog Posts
Blog posts have become the bread and butter of content marketing. They are the most widely used medium to promote businesses due to their flexibility.
Almost all businesses that started a quality blog have benefitted from increased organic traffic to their website. Regularly publishing blog posts will help you build reputable brand awareness and authority. The key is to talk about customer pain points and try to solve them using these blogs genuinely.
Long blog posts are preferred as they speak about the product elaborately, answer the user's questions, and establish your authority on that particular niche. When blogs are organized, structured, and optimized according to SEO concepts, they keep appearing in searches for a long time.
Email Marketing/ Newsletters
Emails are the best way to reach your customers if you want to inform them about new product releases or ask for feedback. It's a direct and targeted form of communication that has the potential to build a personal relationship with customers.
You can send periodic newsletters to keep your customers informed about your products/ services and engage with them. This will give them a sense of commitment and help you gain their trust.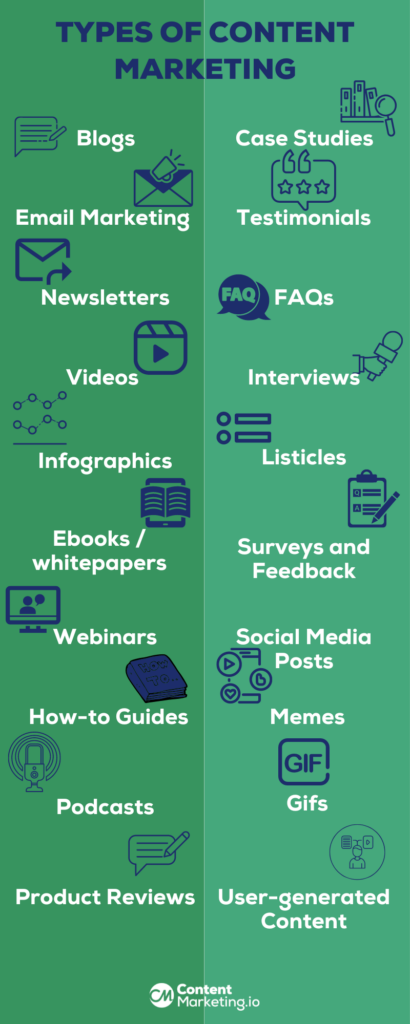 Videos
With the advent of smartphones, video content is booming like never before.
This is because videos are engaging and can convey a lot more in a shorter span of time. The majority of your audience may not have the patience to read through an entire blog. Moreover, video content ranks better in competitive terms and will complement your blog in the long run.
A short video of even 30 seconds conveys your idea and your goal effectively. They are an ideal teaching tool and are suitable for product demonstrations and troubleshooting guides.
Infographics
A picture is worth a thousand words. This couldn't be more accurate in the case of content marketing. Use infographics to summarize important information and convey complex ideas in a visually appealing format. As a bonus, you'll get more organic traffic and engagement since search engines love when you add images inside blogs. Moreover, you can share them on social media like Twitter or Instagram to gain more traction. This is one of the most effective types of content marketing you cannot afford to ignore.
Ebooks and White Papers
If you are serious about content marketing, do not ignore Ebooks. A properly written Ebook by an expert can work wonders when it comes to lead generation. Ebooks are practically a gold mine of leads if you know how to use them. This is because serious prospects are always on the constant lookout for expert guidance to solve their pain points.
If you want, you can share these Ebooks in exchange for customers' details like email ID, interests, etc.
On the other hand, white papers discuss detailed solutions to specific challenges. They are usually published after extensive research. Publishing quality whitepapers will help you rapidly gain authority in the eyes of your audience.
Webinars
A Webinar is an engaging form of content, usually comprising lectures, product releases, or live customer interactions. They can also be training videos or demonstrations of a product that might result in a customer's purchase.  You can hold them regularly using in-house experts or invite guest speakers to share their experiences and insights. 
Social Media Posts
Social media has a far-reaching influence when it comes to content marketing. Small-budget businesses can exploit this to reach a much larger audience in a shorter span of time. Social media posts offer a wide range of flexibility, ranging from posters, live-events to promotional campaigns.
Benefits of Content Marketing
Experiment with different types of content marketing techniques to bring awareness to your business. Content marketing is telling your audience the products or services that you offer. It is from content that they get to know about you.
Content educates and informs your audience. It is content that makes them land on your homepage after your website is displayed on the SERP page. If your audience finds your content to be useful and relevant, you will receive more clicks and it increases the click-through rate (CTR).
Your website sees more traffic and increased visibility. All these factors impact your sales and revenue. You inspire your audience, who are at the top of the sales funnel to become prospects and then leads through content.
Social media is a powerful platform to engage your audience. The posts that you share on these platforms become viral if it is able to touch the audience's pain points. If your audience finds the content useful, they will share it. Social media provides user engagement handles and analytics that enable the user to share, like, and comment.
There are free tools to find how many of your posts have been shared and re-tweeted.
FAQs
What is content marketing?
Content marketing is a strategic process of creating content about your business's products or services. The content helps the users to learn about your services and get the answers they search for.
Why is content marketing important for your business?
Content marketing is important for your business because it can bring brand awareness to your products. It engages, educates, and inspires users to buy your products.
What are the benefits of content marketing?
The benefits of content marketing are the following
– Builds relationships
– Engages the audience
– Creates awareness
How is content marketing different from SEO?
Content marketing is a part of the SEO strategy. You post content on various channels, and SEO tactics help these posts to rank in the search engine's algorithms.
What is a content strategy?
A content strategy aligns a content marketing plan with business objectives to reach the target audience and increase sales.
Closing Thoughts
Every type of content has a business goal, and it must be click-worthy to bring an audience and boost sales. The content is an asset to the business that you run, and you can always keep it updated. Maintain a healthy mix of these top 7 types of content marketing to stay ahead of the curve in your industry.
Keep visiting our blogs for more interesting insights about content marketing.
Similar Posts