Content marketing has emerged as one of the most important weapons in a marketer's arsenal. You can't develop an effective content marketing strategy without analytics. To create that, you need to analyze and understand content marketing analytics. This blog will outline how to utilize content marketing for your brand's success, the benefits of content marketing analytics, and some of its tools.
Why is Content Marketing Analytics Important?
Content Marketing Analytics is the process of tracking and analyzing your content performance. The content can be a blog, a post, video, podcasts, and much more.
The content performance includes measuring your page or website visitors, as well as your conversion of leads. Content Marketing Analytics gives you the information you need to improve your content marketing efforts further and make more ROI. Content Marketing analytics enables you to create a personalized content marketing strategy.
Data analytics gives you a view of optimizing your content marketing campaign and answers the questions of who your target audience is, whether your content is working and whether the content is getting traffic. You need answers to these questions to ensure your content marketing efforts are not in vain and to ensure that we need content marketing analytics.
Content marketing analytics is the tracking and reporting of crucial content metrics that impact your content and digital strategies.
It's a content marketers' dream to have a blog that consistently delivers high-quality content, drives lots of traffic, and converts that traffic into paying customers. With so much potential for content marketing, you must ensure that you get the most out of what you do. Content marketing analytics is one way to learn from past content performance. It gives you insights into your audiences, how they are behaving and what content they are interested in, which allows you to identify patterns and trends that can help you create better content for your business.
How to Create Your Content Analytics Framework?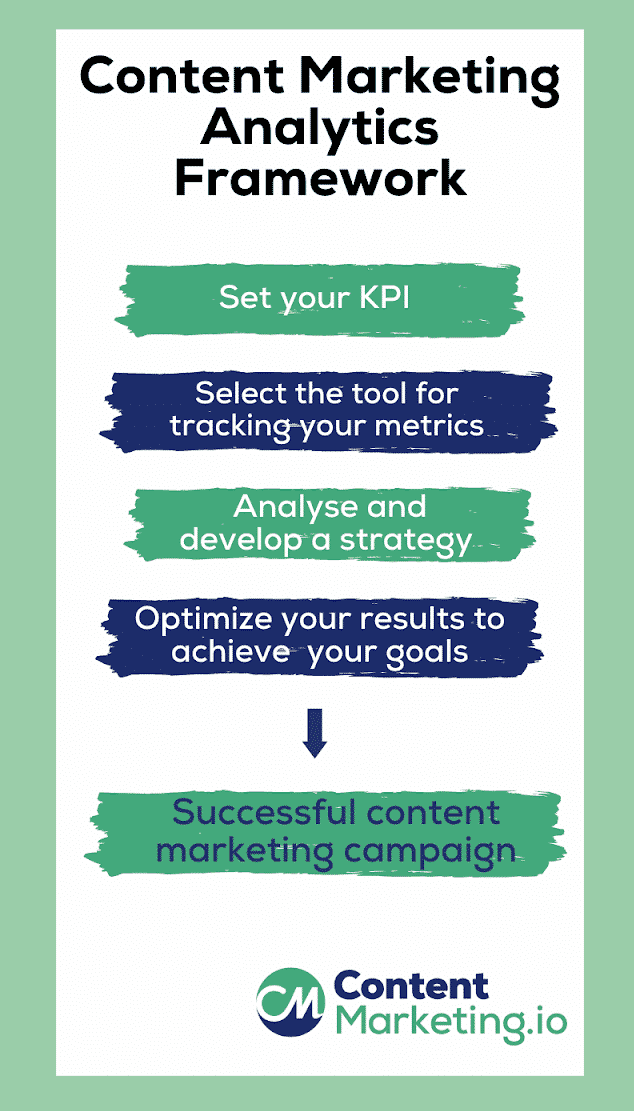 Step 1 – Set Your KPI
To analyze the content marketing analytics, first, you need to understand your goals and set your KPIs or metrics to measure the desired goal you wish to reach that will also help your content strategy. These KPIs should ideally be in line with your overall brand's marketing strategy.
Step 2 – Select the Tools for Tracking Metrics.
Before selecting the tool, set your objectives to define your content marketing framework to enable you to analyze and develop the best content marketing strategy to fit your brand. Once, that is set, you have to choose the appropriate tool to track these metrics. We'll see some of these important tools in the next section.
Step 3 – Analyze
Content marketing analytics gives you the data to facilitate data-driven decisions to improve your content marketing strategy. Analyze these results carefully, and see what went right or what went wrong. This will give you a big picture and indicate the direction you should be heading towards.
Step 4 – Optimize
If you don't understand the most significant impact that your content strategy is having on your end goals, you won't be able to identify gaps in your program or understand what areas need improving. Now, that you know what works and what doesn't work, it is time to roll up your sleeves and get down to work. Optimize your content based on the results and tweak it to suit your needs. If done right, you'll be reaping the benefits in record times.
Factors to Consider for Content Marketing Analytics
When you have robust content marketing analytics that helps you discover the results of your content strategy, you can improve your content marketing efforts and create a better digital marketing approach for your brand. We have listed some factors you should consider while measuring your content marketing analytics.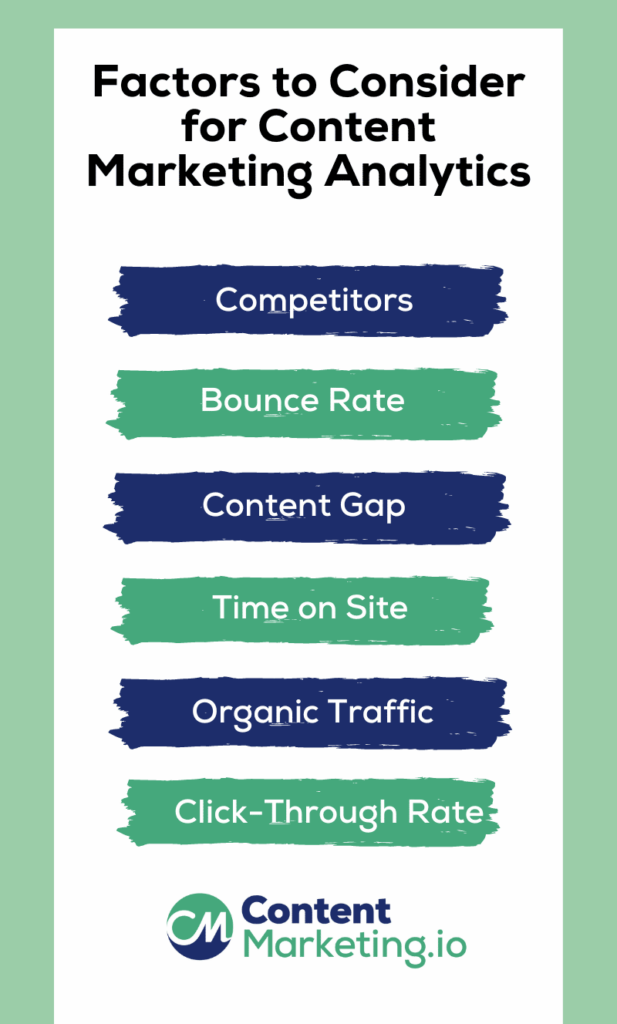 1. Competitors
To get started on content marketing for your business, analyze your competitors and track their performance. Identify their keywords, their top ranking pages, the backlinks, and how they post on their social media channels to give you an idea of where you are lagging behind and what steps you need to take.
2. Bounce Rate
Content marketing tools enable you to analyze your bounce rate. This lets you figure out which pages have the highest bounce rate, determine what is missing from them, and how to optimize it.
3. Content Gap
Content marketing tools will also allow you to find out what queries are mostly searched by users. This would enable you to revise and create personalized content that can drive new traffic.
4. Time on Site
Time on site refers to the average time spent by users on your webpage. The higher the better. This is indicative of the quality of the content you provide and the level of user engagement generated by your content.
5. Organic Traffic
At the end of the day, the organic traffic your content generated decides your bottom line. That's why it is important to measure and keep track of it periodically. While measuring it, be wary of seasonal trends and other disturbances caused by a search engine update for example.
6. Click-Through Rate
The ultimate goal of any content marketing campaign is to generate leads that ultimately end up in sales. To see how your content is performing in this area, add a call to action button or a newsletter form with your content and see how well your audience responds. You can track your click-through rate easily using Google Analytics or any other third-party content marketing dashboard tool.
Top 7 Tools Used for Content Marketing Analytics
Content marketing tools help marketers gain insight into the performance of their content marketing strategies. Below, we have listed the top 5 content marketing analytics tools that can help you get the most out of your data and metrics.
1. Google Analytics
Google Analytics is a web-based analytics platform offered by Google to track and report website traffic and other website performance indicators, like session duration, source of traffic, and bounce rate. It also provides analytics and statistical tools for SEO. It can be easily integrated with several google platforms, like Google Ads, and enables tracking of online campaigns' performance by monitoring the landing page quality and conversions. It can be used to develop appealing visualizations for both technical and casual users and help in making data-driven decisions.
To analyze the performance of your content marketing strategy, Google Analytics offers metrics for traffic, navigation, conversion, and organic search. The tool allows you to track user-level interactions to provide insight into your audience's engagement with your content.
This analytics tool also integrates with all of Google's other business software so that you can access all of your data and insights in one place.
This includes data visualization and monitoring, data collection and filtering, predictive analytics, customized reporting, and report sharing. Google Analytics can also report e-commerce stats by tracking sales activities, transactions, revenues, and other related metrics.
2. HubSpot
HubSpot is a marketing and sales application that enables organizations to manage their marketing, sales, and customer servicing activities. It helps in identifying, targeting, and converting leads into customers. It primarily integrates the marketing and sales activities in one place and delivers a smooth and focused experience to users. HubSpot provides advanced tools for SEO, customer support, web analytics, landing pages, content management, and social media marketing. It can also seamlessly integrate with different CRM platforms, like Salesforce, NetSuite, SugarCRM, and MS CRM. 
To aid the organization's requirements, HubSpot even offers consultancy services and provides an extensive resource academy to train the professionals. HubSpot is well known for its commitment to providing an all-in-one approach to marketing and sales needs.
3. SEMrush
SEMrush is a SaaS platform primarily used for marketing analytics. SEMrush allows you to analyze your competitors' performance. It also helps you with link building and has audit tools to solve issues on the website. The tools help identify effective keywords by monitoring performance metrics, like search volume.
SEMrush is used to track search engine optimization and keyword performance. Additionally, the tool tracks Google rankings and which of your web pages receive the most traffic. This is helpful because discovering what drives visitors to your site allows you to adjust the content you're presenting accordingly.
SEMrush helps companies run digital marketing strategies, like social media campaigns, content marketing campaigns, pay-per-click, and SEO campaigns.
It is well known for its ability to source keywords from Google and Bing searches, totalling over 21 billion searchable keywords. Its predictive and prescriptive analytics engine gives continuous recommendations to improve the content and increase rankings.
4. Ahrefs
Ahrefs is an SEO software similar to SEMrush with tools that can improve content marketing. This helps marketers identify the best keywords.
Ahrefs is software that offers online SEO tools that allow you to do competitor research like tracking their organic keywords and backlinks. Ahrefs will also give you an idea of how to optimize your keyword research to rank. It also gives you additional features like a website audit to identify SEO issues on your website and how to fix them. Most importantly, Ahrefs enables you to perform extensive competitor research. It allows you to track your search engine rankings. Since Ahrefs has an extensive database, it is common that they provide comprehensive analysis and provide maximum data.
5. Buffer
Buffer allows you to analyze daily reports according to your objectives, and you can optimize these metrics whenever needed. 
Buffer gives you detailed analytics in a single dashboard. This tool has engagement metrics that enable you to get data on predicting and analyzing your customer interaction with your posted content. You can measure the performance of your posts according to certain demographics as well. Social media marketers highly utilize Buffer since you can enable customized metrics for social media channels. The reports that give you up-to-date information are updated daily.
6. Moz
Moz is another popular name in the SEO world, and the platform also helps you with content marketing needs.
Moz lets you understand how your current content marketing planning and strategy impacts your SEO. You can also find out important topics, keywords, and fresh ideas to cover them in your content planning. The tool also provides detailed reports about your content performance and tracks your SERP results to keep you updated. The reports help you identify the areas of improvement, and you can also analyze how your content is reaching audiences.
7. Hotjar
Hotjar is a very different content analytics tool that can help you track users' sessions on your website. This allows you to understand how and where users spend their time on your web pages.
Hotjar offers real-time videos of the sessions so that you can see how the customers navigate and where they click. This helps you identify the pieces of content that users like the most. From these heat maps and insights, you can update and design your content in a better way for maximum engagement and conversions
Benefits of Content Marketing Analytics
Content marketing analytics helps you better understand how to optimize your digital marketing strategies.
Increases brand visibility and brand image.
Gives insight into SEO optimization and advertising.
Improves SERP rankings.
Creates an online community that can promote and improve conversions.
Offers insight into customer patterns and behaviour to optimize personalized content.
Offers insight on how to utilize data for real-time interactions with customers.
Analytics gives us the ability to make data-driven decisions.
FAQs
1. What is content marketing analytics?
Content marketing analytics is all about the metrics that help you provide crucial insights on the health of your current content strategies, campaign success, and progress towards defined goals. This involves tracking and analyzing any piece of content, from a blog post or landing page to an infographic or video.
2. How do you measure content marketing?
You must have vital analytics and metrics to measure your content marketing performance. These include tracking revenue, leads, page conversions, page views, number of visitors, and bounce rate. Measuring your performance can help you get a brief idea of your content marketing campaign.
3. How do you use content marketing analytics?
Firstly, understand and define what exactly you want to measure. Then, establish a benchmark for the metrics that you will measure. Next, assess your current content capabilities. Use a set of marketing analytics tools to measure the relevant metrics. Finally, work on the results to optimize and improve.
4. How is content marketing analytics important?
Content marketing analytics can give you insights into your content marketing journey and allow you to optimize your content strategy accordingly. This helps you streamline your marketing process and enables you to achieve your KPIs.
Closing Thoughts
In the modern world, content marketing plays a vital role in leading a business to success. It is considered one of the best ways to drive targeted traffic to a website. Content marketing enables you to attract and retain customers and audiences. Thereby allowing you to quickly increase your ROI.
Content marketing is a great way to market your business or product, but you need to know how to measure and grow your content to see results. That is where analytics will help you. Content marketing analytics gives you an understanding of what content works for your audience and what doesn't. Today there are several analytic tools available to businesses of all sizes, helping to track and measure the success of your content marketing strategy. These analytical tools allow for an ongoing evaluation of your content so that you can quickly identify and optimize the content, revise your content marketing campaigns, and reach your goals. For more exciting information and tips in content marketing, check out blogs.
Similar Posts