While brainstorming ways to keep your content organized, have you considered social media content planning? Well planned content can help you stay on the right track to reach your marketing goals, better manage your time, and avoid blockers. 
Even though it may seem obvious that you need a proper plan, not everyone is aware of how to create an effective content plan. In this article, let's cover what content planning is, and how to create a content plan for social media.
What Is Social Media Content Planning?
Content planning is the process of devising the what, where, and how elements of the type of content you are going to create. It comprises all the necessary data that is required to accomplish your set goals. It is essential to prioritize your tasks, keep you organized and execute the tasks accordingly.
Why Is Social Media Content Planning so Important?
To answer this question, let's start by comparing two different content plans.
Cluttered social media content that is posted with no fixed time schedule.
Posting content that aligns with your marketing goals in a proper structure and timing. 
Out of these two, which content plan do you think will succeed? The answer is evidently the one with proper structure, goals, and timing.
Keeps You Organized
It is advisable to keep your content batched than to post the content on the run. This way you will have a bunch of social media content ready at once, rather than writing it on the go each time.
Connects Your Social Media Goals with Your Marketing Goals
Content planning helps you focus on the bigger picture. The way you plan your content is what helps you connect the bigger picture with your daily marketing work. Just implementing these strategies in some of your social media posts is not important, rather properly planned content as a whole is what determines whether your social media strategy will fly or fail.
Prevents Eleventh Hour Changes
Imagine having to post something really important, such as a "we are hiring," on your company's social media page and messing it up with a typo saying, "we are hiking," just because it was done last minute. To avoid these last minute typos, chaos, and even writer's block, it is important that you plan ahead. Moreover, what may seem like a petty mistake can have a negative impact on your company's credibility.
Additionally, it also opens the door for creative thinking, collaboration, and effective execution.
The Components of Social Media Content Planning
Goal Setting
The whole point of social media content planning is to have a clear picture of your goals. By having a specific vision, you have the ability to judge how effective your concepts are. It is important to understand that your goals may change and evolve overtime, but having a clear plan can help you get there sooner.
Understanding Your Target Audience
Having a clear understanding of your target audience is crucial in social media content planning. If the target audience is not set, the time, money, and energy spent in the content planning process can go in vain. So, it is important to identify and understand the likes and dislikes of your target audience in the content planning phase, rather than in the creation phase.
Researching Thoroughly
Thorough research includes analyzing your competitors. By doing so, you can gather a clear understanding of what your competitors are up to, and be able to address the discrepancies on how you differ from them. This should be a part of your social media content planning. However, it is important to understand that analyzing your competitor doesn't mean you should just copy what they do. Instead, try embracing the uniqueness that your brand holds, and focus on standing out.
Choosing the Type of Content
Identifying suitable platforms to create content is an important component of social media content planning. Some of the widely used types of content are blogs, newsletters, infographics, video content, social media posts, and podcasts. Determining which medium works the best for you depending on your content source is what makes the difference.
How To Create a Content Plan?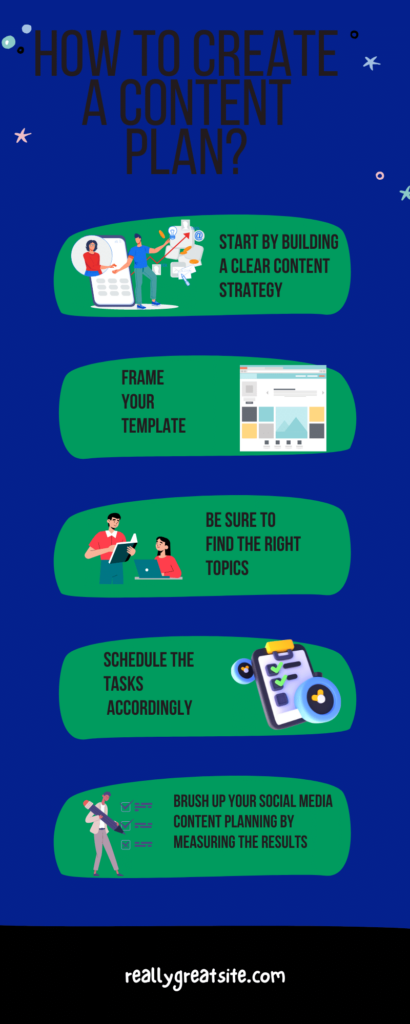 Start by Building a Clear Content Strategy
A content strategy is what defines the target audience, goals, and other important elements of your content plan, while a content plan is like the outline frame that is used to manage the execution of the content strategy.
Let's go over this example for better understanding. Let's say, you own a clothing store, and are planning to take it online.
Your content strategy would be to upload 14 pictures a week with a mix of fashion advice tips in the caption.
Your content plan on the other hand would be to upload 2 shirt pictures of colors, black, and white at 9:00 am, June 1st .
If you notice closely, your content strategy is what gives shape to your content plan. This is why content strategy always goes first. To frame a solid content strategy, you have to set measurable goals and a thorough understanding of your audience.
Frame Your Template
Creating a content plan is a simple process that can be done in spreadsheets or any other simple project management tool. It is important to understand that there is no standard format for creating a content plan, and that it differs from every company's needs and preferences.
However there are few elements that are found in common content planning, like Title, Format of the content ( video, blog, infographic, etc.). In addition to the basic requirements you will be adding special requirements as per the needs.
Be Sure to Find the Right Topics
Finding new and original topics can be challenging sometimes. However it is important to choose the right topics to have a greater impact on your content. Only by choosing the right topics can you have a great reach among your audience. Even if you research well, and put in all the hard work, if you didn't choose the right topic, it won't have much impact on your content goals.
Schedule the Tasks Accordingly
To avoid the last minute chaos and keep you more organized. This can be a helpful practice in time sensitive content, such as newsletters and social media posts. Many platforms have built in scheduling features, such as LinkedIn company pages, YouTube, WordPress, Facebook business, Instagram business, and Pinterest business.
Brush Up Your Social Media Content Planning by Measuring the Results
Content planning is a relentless task that needs to be updated constantly based on the results. To do this, you need to analyze and figure out what's working and where you are dropping the ball. This helps to change the plan accordingly per your goals.
5 Social Media Content Planning Tips
The success of a social media strategy largely relies on content planning. Many of us are under the impression that choosing a photo, writing a caption, and hitting a schedule is what social media content planning is all about. While in reality it is so much more than that.
Even if you own a world class content social media marketing strategy, it won't fly without proper social media content planning.
Below are some essential steps that can help you frame effective social media content planning.
Plan the Themes for Your Content: Picking the right theme and category before creating a content is important. This serves as the roadmap for your content and helps to guide the content creation process.
Brainstorm Ideas for Your Posts: After planning, you should have a list of topics in your hand. You need to come up with a number of ideas that you are going to create content for. The ideas should be in such a way that fulfills criteria like: 
It resonates with your marketing goals.
Brainstorming about one topic at once in the list.
Another important thing to keep in mind is that it is not about simple thinking. Rather, it is about scoping out your competitors, as well as reviewing and learning from the past.
Choose When to Post: Before getting into when the content should be posted, you need to share the what and why of it.
The What: What is about to be posted (The brainstormed content)?
The Why: Why are you posting this ( The business goal of the post)?
If your what and why are figured out, then the when should be clear.
Be Open to Mixing Your Content Ideas: You don't have to fiddle around looking for original ideas that can be incorporated into your content. Why fret when you can mix the original ideas and curated content. Successful curated content: 
Shows relevance to the audience.
Relates to your content theme.
Resonates with your business goal.
Schedule the Post in Advance: Scheduling your posts can be a real game changer. Imagine hitting all the above mentioned steps right and messing it up in the timing part. So, it is important to schedule your content ahead of time to keep it organized and deliver it efficiently. 
Frequently Asked Questions
What is social media content planning?
Content planning is the process of forming a framework for the content you are going to create and deliver. It is crucial to prioritize your tasks, stay organized, and execute the task accordingly. 
How do you create a content plan?
The steps to create a content plan are:
Build a clear content strategy.
Frame your template.
Find the right topics. 
Schedule the tasks accordingly.
Brush up on your content planning strategy by measuring the results.
What is the advantage of content planning?
Content planning means having a clear outline of the content you are going to produce.  Since your content is planned ahead of time, it can help to reduce stress, help you achieve your business goals, save you a lot of time, and improve the results.
Final Thoughts
Planning your content is more important than producing the content. This is because, when the foundation is laid right, the building rises on its own.
By forming a strong content plan, you can avoid last minute pressure, produce better quality content, and execute it well. Keep visiting pour blogs for expert most up-to-date information on content marketing trends.
Similar Reads